Roe v. Wade Ruling Is Not Motivating Women to Vote in November
Democrats are hoping to tap into the anger over the Supreme Court's recent decision to overturn Roe v. Wade in the November midterms.
The fight over abortion moved to the forefront on Friday, when the court stripped away constitutional protections for abortion in a bombshell decision that is expected to lead to bans in roughly half the U.S. states.
"We need to restore the protections of Roe as law of the land. We need to elect officials who will do that," President Joe Biden said after the court handed down the ruling. "This fall, Roe is on the ballot."
Some predicted the fallout could galvanize women and others outraged by the ruling to come out in force to vote in November and thwart GOP efforts to take back Congress.
But a new poll indicates that the contentious issue may not inspire a massive turnout among women voters that could propel Democrats to a midterm victory.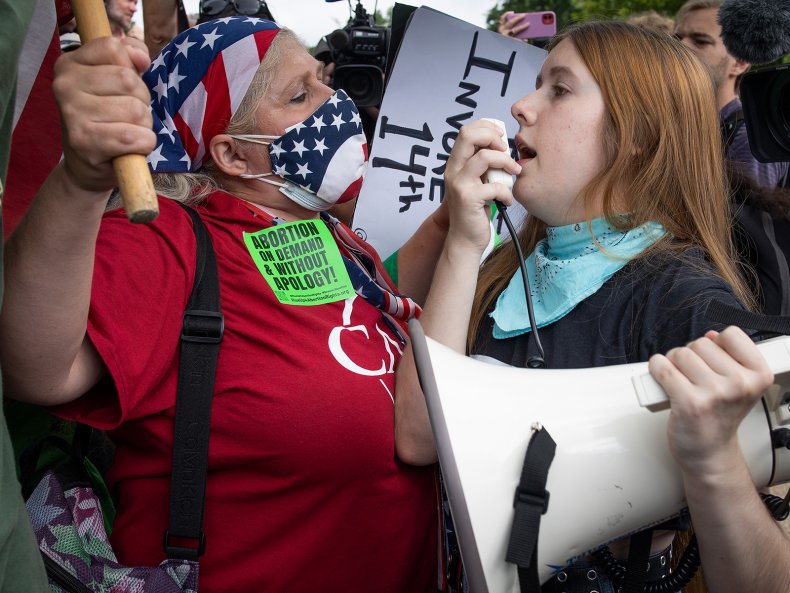 The Morning Consult/Politico survey, which was conducted on June 24 and 25 among 2,005 registered voters, did record a rise in enthusiasm about voting in the midterms among Democratic voters after the ruling.
According to the survey, 56 percent of Democratic voters said they are "extremely" or "very" enthusiastic about voting in the midterm elections—up from 48 percent who said the same in a survey conducted the week prior.
But voter enthusiasm is still slightly higher among Republicans, according to the poll, with 58 percent expressing the same excitement about voting in November.
And the survey found women—44 percent—remain less motivated to vote than men—61 percent—in November.
Still, the long-term impact of the ruling remains to be seen.
"Polls are polls, what our focus is on is training and supporting Democratic candidates, especially women, and campaigns on how to connect with voters, mobilize them and get them out to vote regardless of what the everchanging polls are saying," Ashley Arnold, director of training curriculum for the National Democratic Training Committee, told Newsweek.
The poll also found only 11 percent of voters considered women's issues including abortion, birth control and equal pay as the top set of issues on their mind when casting their votes for federal offices.
Economic issues were at the forefront for most voters, with 42 percent saying it was the most important
But the poll also found that a majority of Americans believe it's important that candidates support abortion access.
Sixty-two percent of voters said it is "very" or "somewhat" important for a candidate to support abortion access, while 44 percent said it is "very" or "somewhat" important for a candidate to oppose abortion access.
Democratic voters—65 percent—were almost twice as likely to say it's "very" important for candidates to support abortion access as Republicans—34 percent—were to say it's "very" important to oppose it.
Update 6/28/22, 10:55 a.m.: This article has been updated with comment from Ashley Arnold.