Roger Ailes, the Controversial Founder of Fox News, Explored in New Film Starring Jon Voight
Another film about the late Roger Ailes is set to debut on Friday, though unlike last year's movie, Bombshell, or the TV miniseries The Loudest Voice, the newest project is a positive look at the former head of the Fox News Channel.
The documentary, Man in the Arena, is narrated by both Ailes and Oscar-winning actor Jon Voight, and it features original interviews with President Donald Trump, Rush Limbaugh, Rudy Giuliani and Bill O'Reilly, along with family members, suggesting the filmmakers had unusual access to the controversial figure's inner circle.
Ailes was vilified not only for his conservative views but for sexual misconduct allegations leveled against him by more than 20 women.
Voight, perhaps the most outspoken conservative in Hollywood, said he met Ailes 15 years ago at a dinner party and the two remained friendly until the controversial newsman died in 2017.
"I met him at his home with his family and Glenn Beck and others at Fox News," Voight told Newsweek. "I got to know him as a straight-shooter. When I called, he picked up the phone, and I was honored to have that kind of relationship with him."
He added: "The media always portrays Roger negatively and it was important for me to show him as the wonderful man he was. The only thing I can say about those other portraits of him is that they're wrong. It's very important that people see Roger speak for himself."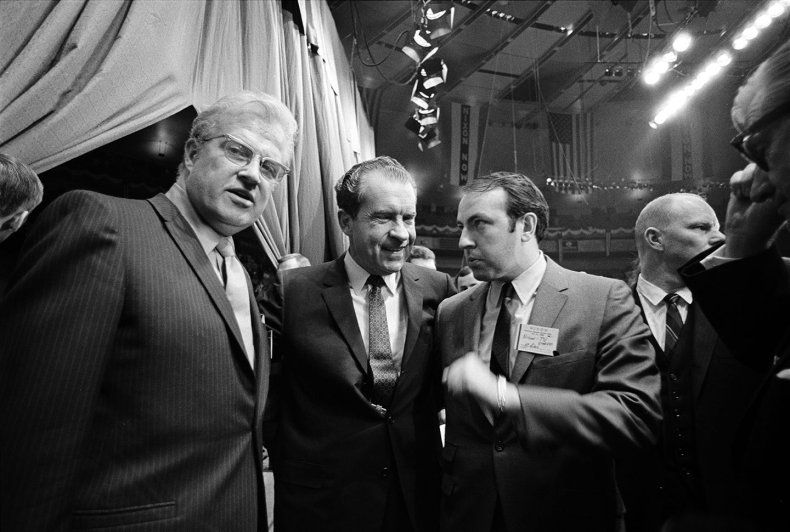 The movie was produced by novice writer, director, producer Michael Barnes, an attorney who won't reveal the source of his funding, beyond that it involved a half-dozen people. The idea originated with a conversation Barnes had with Elizabeth Ailes, Roger's widow.
The film's budget was a modest $200,000 and it had been set to debut at the White House then open at about 50 theaters nationwide, according to insiders, though the coronavirus pandemic squashed those plans. Instead, it debuts Friday at Amazon.com and heads to other digital outlets after that.
Barnes, who has raised funding for 200 movies and helped with the sale of multiple film studios, met Ailes in 2011 when the latter was considering leaving Fox News to start his own network and he needed an attorney who could keep a secret and whom he had no prior association with. After his death, Elizabeth Ailes gave Barnes access to her late husband's vast archives of audio and video, which Barnes spent four months categorizing and digitizing.
"I watched the treatment of Roger in the press and it seemed one-sided," Barnes told Newsweek. "Given his stature and accomplishments, it seemed like another side wasn't being told. That piqued my interest."
He made the movie in secret, he said, because, "We didn't want to be attacked by Roger's enemies."
Man in the Arena explores Ailes' entire life, beginning with him as a boy dealing with hemophilia and nearly dying at age 8 when he bit his tongue and doctors couldn't stop the bleeding. It doesn't ignore the sexual harassment allegations that led to his ouster at Fox News in 2016, though it certainly doesn't focus on them as other media projects have.
He was a ditch-digger who changed his medical files in an attempt to join the Air Force ROTC and who got into radio and television on a whim after appearing in a college stage play, the viewers are informed.
His first major job on TV was as a gopher (and eventually assistant director and executive producer) on The Mike Douglas Show, and the movie shows clips of Richard Pryor, Malcolm X, The Rolling Stones and Martin Luther King, Jr. engaging with Douglas.
The movie includes random celebrities like Russell Crowe and Howard Stern praising Ailes. "This guy Ailes has balls," says Stern. Ailes is even shown meeting mass-murderer Charles Manson, and a colleague describes how Ailes used to anonymously mail $100 bills to people he'd learn about from hard-luck stories he read in newspapers.
Man in the Arena partially credits Ailes with the election of presidents Ronald Reagan, Richard Nixon and the elder George Bush due to the commercials he produced for them and the behind-the scenes debate prep he helped them with. When with Reagan, he was told never to talk about his age, thus he risked his job when he told the president to prepare for Democrat contender Walter Mondale to make it an issue. When Mondale did just that during a debate, Reagan delivered the famous line crafted by Ailes: "I am not going to exploit for political purposes my opponent's youth and inexperience."
"There is a thread in me that goes to the least popular person," Ailes says in the movie. "You show me the person whose getting the shit kicked out of him by everybody and my instincts immediately are to get into that fight on the other side."
Former Vice President Dan Quayle says, "We won a decisive victory in 1988. We lost in 1992. And part of the reason we lost was because Roger Ailes was not around."
And Trump says: "What Roger Ailes did was create somewhat of a miracle. Roger really opened up a world that nobody else was able to capture ... I'm not sure that I ever would have been standing at this very powerful, important, even sacred spot: the Rose Garden in front of the Oval Office at the White House if it wasn't for Roger."
The film reveals that an NBC executive attempted to recruit him for The Tonight Show with Jay Leno, though he was instead hired to help turn around the struggling CNBC. There, he gave Maria Bartiromo a job as anchor on the floor of the New York Stock Exchange, and Ailes says, "The floodgates are going to open for women," foreshadowing the successes he had when choosing female talent at Fox News, and his eventual downfall there.
In the mid 1990s, he hosted his own show at America's Talking, the precursor to MSNBC, and he is seen interviewing James Earl Jones, Camille Paglia, Charlton Heston, Tom Selleck and the Rev. Jesse Jackson. He asks Peter Fonda: "Would you overthrow the government if you could?" and he responds: "I would. In a flash." And, presciently, he asks Trump if he'd ever run for office. "I'm not sure that somebody who calls it like it is and says, 'this is what you have to do,' I'm not sure that kind of a guy gets elected," says the man who was elected president three decades later.
An hour into the nearly two-hour film, Ailes is seen creating Fox News. "We're going to try to be different. Stimulating and a bit daring," O'Reilly says on the first episode of The O'Reilly Factor in 1996. Everything goes wrong in those early years, and Shepard Smith and Alan Colmes are shown dealing with an on-set fire on live television.
When the movie finally addresses the sexual allegations leveled first by Gretchen Carlson, who settled a lawsuit against Fox News for $20 million, the screen goes dark and a disclaimer appears: "Legal restrictions prevented the filmmakers from disclosing facts about the lawsuit ... including facts rebutting the allegations. Roger Ailes publicly and categorically denied the allegations."
But Megyn Kelly, who accused Ailes of "highly inappropriate sexual references," appears to be fair game for the filmmakers, who show the former Fox News anchor calling Ailes "loyal."
Voight told Newsweek that Ailes was largely prevented from defending himself, and that he supported his friend through the turmoil at Fox News and still does after his death. "People tried to taint him, and I'm on Roger's side. He told it like it was his entire life and I have no doubt he told the truth at the end when he said he wasn't a participant in all that."
In the movie, Elizabeth, also defends her late husband, though she acknowledges she knew of on affair. "He was sorrowful and sought forgiveness. Those were dark days," she says. "I kept my marriage together. I believe in forgiveness. And I think the world has forgotten how to be compassionate."
She also describes the day he died in 2017 after falling in the bathroom and hitting his head, and she reveals the final words she spoke to him.
When paramedics asked Ailes if he knew who was president, and he did not, "I started to cry because I realized that was a very bad sign. A man who had elected three presidents wasn't remembering who was currently president," Elizabeth says.
Just before he was wheeled into surgery, she told her husband: "Roger. We need you. Please come back to us. Please come back. I forgive you." Then she tells the audience, "A big tear rolled down his cheek, so I knew he could hear me."
As the credits roll, nine Latin names appear, such as Agrippa, Centinel, Cincinnatus and Tullius, which were pen names that some of the country's founders used to protect their identities, and Barnes uses them to thank Fox News insiders who helped with the film on the condition of anonymity.
Fox News had no comment on the film.
"I did the best I could for Roger in the film. I hope he's looking down and giving me the thumbs up," Voight said.
"Roger was a hemophiliac who wasn't supposed to live 10 years. That unlocked the question, 'Where did his drive come from?' He wasn't going to go out unnoticed," said Barnes. "Roger perceived the press was becoming hostile to conservatives and as outlets become monolithic, his creation of Fox News became a place for more voices. It touched a nerve with me."