Who Is Elizabeth Ailes? Roger Ailes's Wife 'Profoundly Sad' After Former Fox News Exec's Death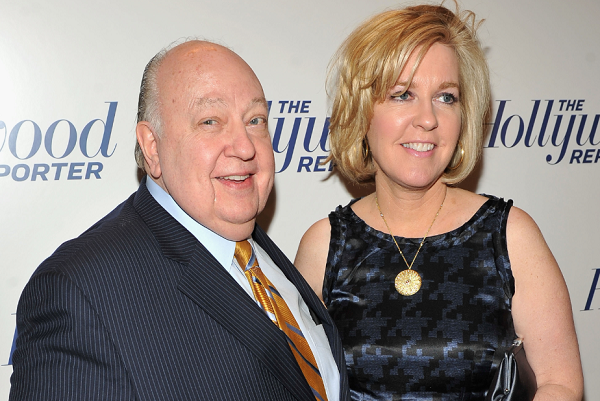 Former Fox News executive Roger Ailes has died. His wife of nearly 20 years, Elizabeth Ailes, released a statement Thursday confirming the broadcast magnate's death to the Drudge Report.
"I am profoundly sad and heartbroken to report that my husband, Roger Ailes, passed away this morning. Roger was a loving husband to me, to his son Zachary and a loyal friend to many. He was also a patriot, profoundly grateful to live in a country that gave him so much opportunity to work hard, to rise and to give back. During a career that stretched over more than five decades, his work in entertainment, in politics and in news affected the lives of many millions. And so even as we mourn his death, we celebrate his life," Elizabeth Ailes said.
Roger Ailes celebrated his 77th birthday on Monday just days before his death. No cause of death was given.
A former NBC news executive, Elizabeth Ailes (maiden name Elizabeth Tilson) married Roger in 1998, just two years after he became the founding CEO of Fox News. He had been married twice before, to Marjorie White and Norma Ferrer.
Elizabeth Ailes was also the publisher of two newspapers, The Putnam County News and Recorder and The Putnam County Courier, distributed weekly in Putnam County, New York. Her late husband owned both papers.
The couple only had one child, 17-year-old Zachary. Roger Ailes left him a memory box filled with items for his son to remember him by, including pocket-sized editions of the Constitution, articles about Roger Ailes's career, a Ronald Reagan biography, a $2,000 cash allowance and Sun Tzu's The Art of War, inscribed with a personal message.
Despite building one of the most widely recognized news organizations in the world, Roger Ailes's career was marked by a sexual harassment scandal in his later years, which included a lawsuit, filed by former Fox News anchor Gretchen Carlson, in 2016. Although Ailes settled the suit, the controversy forced him out of the network he had created—he received a reported $40 million exit package—and nearly cost him his marriage after several more women came forward and accused him of sexual harassment and misconduct.
A New York magazine exposé on his career and lawsuit cited family sources who claimed Elizabeth was "taking all of the revelations especially hard" and said she had been considering a divorce. However, the couple remained married until Roger's death.