Roger Ailes Out at Fox News After Megyn Kelly Describes Sexual Harassment, Say New Reports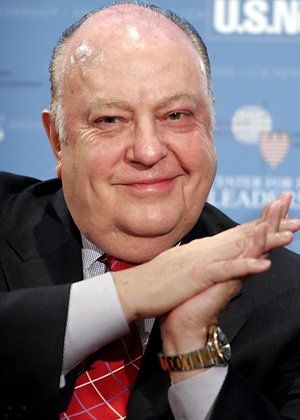 Fox News will die on August 1. The conservative news programs will remain, with the usual procession of conservative pundits putting a hard-right spin on everything from arugula in school lunches to the Benghazi attack, but it will not be the same Fox News we have known since October 7, 1996, when the network forever changed the way we look at politics and the flawed people who practice it. That's because, according to New York magazine's Gabriel Sherman, the Murdoch family behind 21st Century Fox has decided to depose Roger Ailes, the chairman of Fox News, telling him that he must leave by the first of next month or face the embarrassment of being fired.
The move against Ailes—which had been rumored for weeks—is a remarkable turn, and comes in the midst of the Republican National Convention. It will weaken a news channel that has been frequently the most effective mouthpiece for the GOP.
Ailes's fate has been gossiped about since the beginning of the month, when former Fox News host Gretchen Carlson accused him of sexual harassment in a lawsuit filled with lascivious detail. Now, though, Sherman reports that star Fox News anchor Megyn Kelly has also claimed harassment by her boss. That has apparently led Rupert Murdoch and his two sons, Lachlan and James, to decide that it is no longer feasible to keep Ailes on the job (there is also the matter of the Murdoch brothers' rivalry). It also signals Kelly's increasing worth to the news channel.
Sherman reports:
According to two sources briefed on parent company 21st Century Fox's outside probe of the Fox News executive, led by New York–based law firm Paul, Weiss, Kelly has told investigators that Ailes made unwanted sexual advances toward her about ten years ago when she was a young correspondent at Fox. Kelly, according to the sources, has described her harassment by Ailes in detail.
If Kelly's allegations are the coup de grâce for Ailes, his downfall will leave Fox News without the man who shaped its acerbic, agenda-driven coverage, which had recently earned it a victory in the cable rating wars. His departure will come at a time, too, that the brand of Republicanism Ailes helped create is under assault from Donald Trump, who brought many viewers to Fox News this campaign season despite frequently castigating it for what he deemed unfair coverage.
Trump famously feuded with Kelly last year, lambasting her moderation of a Republican primary debate by suggesting that she may have been menstruating. Several months later, after Trump petulantly pulled out of a Republican debate to be moderated by Kelly, Ailes told the Los Angeles Times that "Megyn Kelly is an excellent journalist and the entire network stands behind her."
More recently, though, Kelly refused to come to Ailes's defense in the wake of the allegations about his sexual improprieties. Lloyd Grove of The Daily Beast called her "a conspicuous outlier among more than a dozen Fox News personalities, mostly women, who in press interviews and other forums have faithfully defended the 76-year-old Ailes," who hired Kelly in 2004 and gave her a show in 2010.
Now, it appears, the reason for her silence may have become clear, with the harassment reportedly having taken place in the mid Aughts. And if, as Sherman reports, non-disclosure agreements are being waived in order to uncover the harassment of former Fox News employees as well, many others could join Carlson and Kelly in a damning chorus of accusers.
Sherman reports it is unlikely that Ailes will go quietly; he has allegedly "received advice on strategy from Donald Trump and Rudy Giuliani." Given the styles of those two men, Ailes's exit could be its own Fox News-type affair, full of counter-attacks that are light on fact but heavy on vitriol. A smear campaign against women alleging sexual assault, however, could also disastrously backfire.
What becomes of Fox News should Ailes leave? With anchors like Bill O'Reilly and Sean Hannity in place, it's hard to imagine a dramatic course correction, especially with the November presidential election approaching. Then again, the channel has never before faced a crisis like this, though O'Reilly has endured lurid allegations of sexual harassment. How Fox News emerges from the Ailes mess will be one of the biggest questions of this political season.