Roger Clemens: Fallen American Hero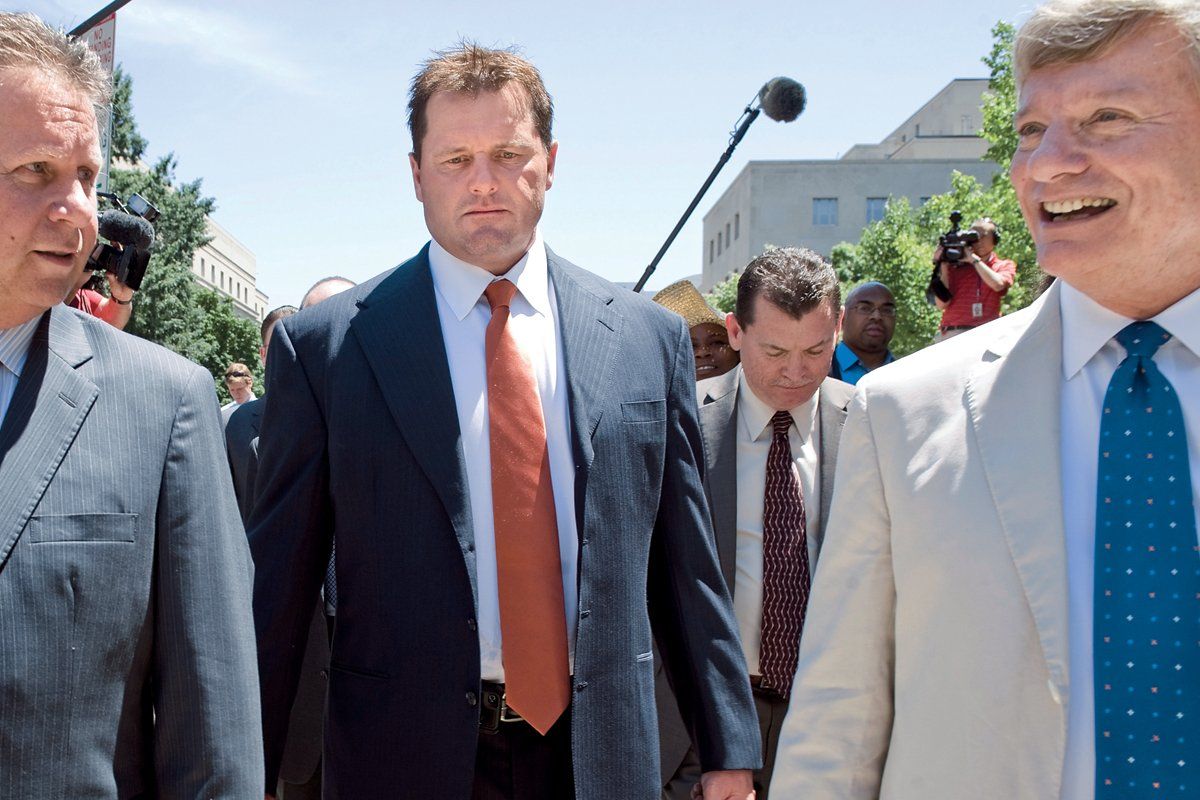 Never mind the mistrial, Roger Clemens was carrying his briefcase as though he were sentenced to be chained to it. Gods, even ones fallen steeply to earth, should not have to carry briefcases. Between the grinning lawyers he looked like a man who had mysteriously shot himself in his pitcher's foot and, however scarred over the wound, would never get rid of the moral limp.
Roger Clemens was always half galoot, half Achilles. Those of us who saw him come quickly to greatness at Fenway Park in the 1980s couldn't believe how superhumanly good he was, and how the Red Sox, doomed to live in the shadow of the Yankees' smirk, had found someone to wipe it off everyone's faces. It was the Clemens un-glamour that made his power so Bostonian: the jutting buns; the threatening scowl coming from small features crowded into a large head; the uninterested Katy, Texas, drawl; the crusher's bulky body that somehow concentrated itself into explosive release. He was so unhittable he made others' unhittable pitches look like softballs. Roger—no one called him "Rocket"—was all high-octane combustion. He was death by forkball. It killed, but it was quick. Never mind the Seattle lineup that couldn't believe what was being done to them on the night of April 29, 1986, when Clemens struck out 20; his own teammates—not to mention the whole of the Fenway faithful, unhinged for once in their jubilation—couldn't believe it either. A jaw-dropping marvel had arrived in a place better known for lobster rolls, academic muttering, and bad driving.
Things soured, as they will. Months after the Seattle stunner, the Game 6 ball dribbled through poor Bill Buckner's wickety legs. Clemens's scowl grew thinner and harder. The tungsten buns looked suddenly ungainly. Is that a paunch I behold? The ERA rose. Growly silences hung among the fans reaching for their weak beer. Many declared Clemens's Best Days Over. We didn't conclude something was wrong when at Toronto he seemed reborn. He just needed some time away. Didn't we all? The rise to triumph with the Yankees, though, was rock salt in the wound.
Or maybe something more chemically effective? I don't know anyone among the Fenway faithful who vindictively rejoices in his tarnishing. Maybe that's because Bostonians, unlike those from the heartland, expect their heroes to have feet of clay. But the country as a whole has long been needy for supermen. When America discarded its King George, it turned right away to republican majesty and found one of genuinely heroic virtue in George Washington. It has been craving another ever since: a perfect union of brawn, brains, and down-home simplicity. It has imagined such invincible all-Americans in Natty Bumppo, Paul Bunyan, and Daniel Boone. We have set presidential laurels on the brows of military immortals: Andrew Jackson, Ulysses Grant, and Dwight Eisenhower.
Only America has Halls of Fame as its national pantheon, embalming its athletes long into their golfing years. It has become a commonplace to say that whatever the truth of the steroid story, Clemens's punishment will be denial of admission. Perhaps his look of unhappiness after the mistrial was that of a man who had decided he'd rather face prison than lose a chance of vindication. There should be, rather, a Hall of Infamy: where Ty Cobb, Pete Rose, and the League of Fallen Idols could stare out at us from behind the glass, and we could stare back and see in the reflection the image of ourselves and our greedy, unforgiving age.