Roger Daltrey on the Who's Final Tour, His Hobbies and the Many Faces of Pete Townshend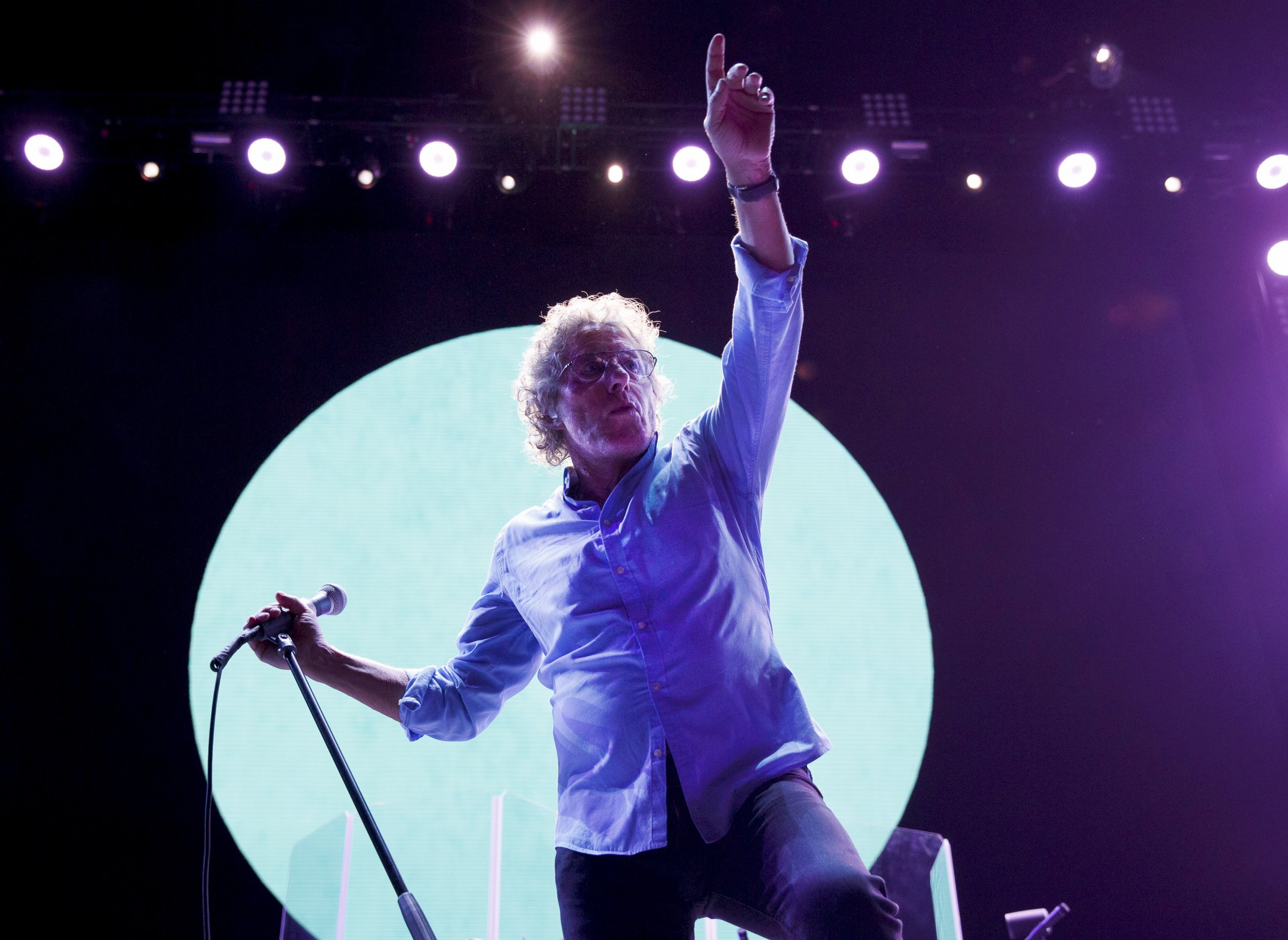 When the Who kicks off the second leg of its American tour in San Diego on September 14, lead singer Roger Daltrey admits there will be a few concessions to the fact that he is, in fact, getting old: no gigs on back-to-back nights to protect his vocal cords (doctor's orders) and some classics have been taken down a halftone. But don't get fooled: When Daltrey, Pete Townshend and the band attack songs like "Pinball Wizard," he will still be going full tilt.
"There's something about the Who's music where you just can't cheat," says Daltrey, who wrings out an astonishing reservoir of energy each time out. Knowing this is their final lengthy arena tour leaves him more determined to "leave everything out there on the stage."
Even at 71, Daltrey seems fit enough to pull off his 1970s fringed suede jacket with no shirt underneath. ("No one wants to see that," he says with a laugh.) One of the more accessible rock legends, Daltrey talked to Newsweek about the Who's music, his complicated relationship with Pete Townshend, the charity work that he is so passionate about, American politics (he calls Dick Cheney a "super snake") and his very busy future plans.
During our interview, I'd mentioned how Daltrey had been so warm and gracious in the 1980s when my younger sister, Abby—who had a huge teenage crush on him—showed up at his estate in England. He shrugs that off, saying he did it for all the fans turning up on his doorstep. But when asked if Abby would have been similarly received at Townshend's door, he acknowledges their different personalities.
"Pete's a very complicated bunch of people," he quips. "And you never know which one of him you're going to get. There's one that's so wonderful, so caring, so spiritual. But there are others that are horrendous—and I mean horrendous.... That's the madness of genius, so I accept it. I don't judge him. I love him. I love all of hims."
Ultimately, he says, Townshend is the brother he never had. And like siblings, they have taken turns asserting themselves—Daltrey started the Who, then Townshend's songwriting skills shifted the power dynamic during the band's peak years. Over the decades, Townshend has occasionally made it sound as if he is doing Daltrey a favor when they go out on tour, but the frontman scoffs at this.
"I don't need eight Ferraris and 10 boats, and he doesn't do me any favors," says Daltrey (though he did once push Townshend to tour in order to help Who bassist John Entwistle get out of debt). "Touring is what I believe the Who are all about. You don't create music to keep it in your fucking closet. It's there to share it with your audience."
These days, Townshend embraces both Daltrey and touring, entrusting the singer with the challenging task of plotting out a set list that will take the audience on a journey—although Daltrey still can't persuade Townshend to sing lead on any songs other than "Eminence Front," Drowned" and "I'm One."
Live, the band always opens with the Who's first single, the 1964 hit "I Can't Explain." "That's for us," Daltrey says. "That's our tradition." Then it's a matter of figuring out which regulars can be dropped in favor of deeper cuts, which Townshend has acknowledged in interviews is driven more by Daltrey's desires.
"We can't ever think of doing a Who show without 'Baba O'Riley' or 'Won't Get Fooled Again,'" Daltrey says. "And 'Pinball Wizard' gets people charged up still."
So it's songs like "Squeeze Box" and "The Kids Are Alright" that have been taken out on this tour in favor of tracks like "Slip Kid" and the 1966 mini rock-opera "A Quick One, While He's Away."
"Maybe we're misreading it, but it seems like those songs will be really pleasing 3,000 people [while] everybody else just goes to the toilet," Daltrey says. He is always conscious of building an interesting and emotional arc over the evening, and he says he won't even sing two songs in the same key back to back. "Love, Reign O'er Me" remains one of the evening's highlights; Daltrey even feels that the lower key brings it a new level of maturity.
"That song is the essence of life: a primal scream, an orgasm, everything rolled into one," he says, adding that "Pete wrote it as a quiet love song and initially didn't like this version. That used to hurt me deeply, but I could never quite do it the way he wanted. My way seems to be the right way, so fuck it."
While Daltrey was always seen as the tough guy to Townshend's brooding intellectual, his interests outside of the band have often belied that image. He is as exuberant talking about his favorite radio programs, model trains and the founding of his charity, Teen Cancer America, as he is about the Who.
He enjoyed a lengthy second career as an actor, from Tommy to the prison escape drama McVicar, Shakespeare's The Comedy of Errors and a staged musical of A Christmas Carol. But he has lost the hunger to chase film and TV parts. "I'm not climbing over bodies to get one," he says. "I've got so much satisfaction from other areas of my life."
For starters, there's his love of rural England, where he has long owned a farm that operates using traditional methods and equipment. (Two employees do most of the work, but Daltrey pitches in when he's around.) He also designed and created Lakedown Trout Fishery, a 26-acre site open to the public that features four spring-fed lakes. It is vital, he says, "to preserve the heritage of the way England was."
That's one motivation behind his involvement in launching a model train museum. He's an avid model train builder himself: "I love it because you do a bit of painting, electronics, woodworking." As he works, he often listens to the radio—but not to music. "Fuck music," he says with a laugh. "It's all been done, hasn't it? The best music these days for me are the birds singing."
Instead, Daltrey—who hated school but is a sponge for knowledge—listens to BBC's Radio 4, especially In Our Time, which has academic discussions of philosophy, history and culture. "I don't know if you've listened to In Our Time, but I suggest you do," he says. "It's a wonderful education." The model train museum seeks to save model railways in danger of being thrown out as their creators age, and to educate younger generations on the railroad's history. "Britain invented the railway, and it changed the world more than any one thing in connecting people before the Internet," he says.
Daltrey was at the forefront of a generation intent on upending everything that came before, yet he sees no irony in these efforts to honor the past. "My ideals are the same now—we always wanted to try and build better a community, but we wanted to do it a different way."
Still, he acknowledges that teens are still the demographic driving rock music. That's what sparked his involvement with the Teen Cancer Trust in England, which led to him founding Teen Cancer America. His personal doctor told him about teenagers and young adults with cancer, stuck in pediatric wards with children too young to experience the same fears and frustration, or in adult wards with much older patients to whom they could not relate. The charity builds teen-friendly spaces in hospitals so patients can compare notes or just hang out, enjoying video games and, of course, musical instruments. "I had no idea how involved I was going to get, but it brings me so much inner reward," Daltrey says.
In 2000, Daltrey booked two days at the Royal Albert Hall and invited Eddie Vedder, Noel Gallagher and others to join the Who. When he saw what the press attention did for the cause, he made it an annual event, building it up to a week of concerts and pestering every rock star he knows to come back for more. "They take the piss out of me when I see them, saying, 'Oh no, he's going to ask me again,'" he says, "but I don't give a shit. I've got big shoulders."
He also keeps "banging on" in the media about teen cancer because it has been overlooked in research efforts, with no improvements in four decades outside of leukemia. Teen Cancer America first partnered with UCLA's hospital and recently began working with Memorial Sloan Kettering Cancer Center in New York, where Daltrey stopped by while in town to play Brooklyn's Barclays Center in May. While the media hovered, he talked with Michael Rucci, 22, who had been treated at Sloan Kettering for leukemia, and Clayton Lapus from Manhattan, who was battling osteosarcoma while planning for college.
"Just tell me what you want for this space, man. You deserve it," Daltrey said, before telling Lapus about a girl he'd met with a similar cancer who was battling her way back.
"He's very approachable," Lapus said afterward. "And there's no pitying—he jokes around, but he also seems really passionate about doing something."
Daltrey's concern is not just for the teens. "When you look into the eyes of the moms, it hurts every time," he says, adding that "the parents don't get enough help in the system, and it's something I hope to address later on."
Meanwhile, Daltrey is keeping his day job, even though he's not sure how long he can perform at levels acceptable to his own standards. (Among '60s rock's British superstar singers, only Paul McCartney is older.) "We are in uncharted territory. No one has done it as hard as we've done it at this age."
Although this is the Who's last tour on a grand scale, there still will be occasional Who concerts, and Daltrey will continue doing his more intimate solo shows. He's working on a blues-flavored solo album, featuring tunes by artists ranging from Joe Tex to Dusty Springfield. "There's no money to be made making records, so I'm making a great record for me," he says, adding that he'd love to make a country-tinged album with his friend Robert Plant. "There's something in his voice and my voice that are so different—I've got the name in my head already, Silk and Sand."
As always with Daltrey, there's more than just music on the horizon. He's working on a memoir, contemplating a possible one-man show and hoping to finally shepherd a movie about Keith Moon to the screen. "He's an incredibly complex character. When you write down the funny things he did, most aren't very nice. It was just his personality that made him get away with it. So if you don't find the actor who could pull this off, it would be a horror film."
He says the latest screenplay has finally captured Moon's personality and dialogue, but it still needs more story development.
Even with all those projects, Daltrey refuses to get pinned down. "I'm a letterbox kind of guy," he says. "If something comes through the letterbox that interests me, I'll do that."