Roger Ebert: Sequels and Unoriginality in Hollywood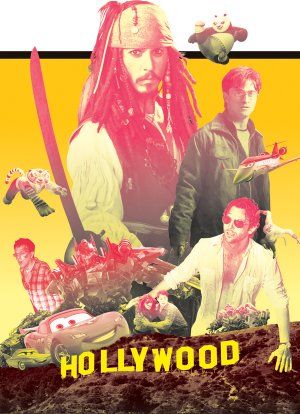 No movie executive has ever been fired for greenlighting a sequel. Once a brand has been established in the marketplace, it makes sound business sense to repeat the formula. When Procter & Gamble discovered that Ivory soap would float, do you think they came out two years later with a soap named Buoyant?
Movie critics despair of sequels as betraying a lack of imagination and originality. There is truth in that. But they address a hunger among fans of popular movies, who currently are waging an Internet war against Paramount for deciding not to make a sequel to 2004's Anchorman. Will Ferrell, who starred in the original, has helpfully called the executives who made that decision "idiots," and told the movie's fans, "You really have to assert some sort of email hate campaign to Paramount Pictures. They told us, 'We've run the numbers and it's not a good fit.' "
They've run the numbers? This is more evidence, not really needed, that a majority of modern big-studio releases are marketing decisions yoked however reluctantly to creative ideas somewhere farther down the food chain. The majors in general make good films either (1) for Oscar season or (2) purely by accident. Weekend releases between May and September might better be covered by marketing specialists than film critics.
According to Brandon Gray of Box Office Mojo, who ran his own numbers, 2011 will see a record 27 sequels. I'm just going to go ahead and list them: Cars 2;Diary of a Wimpy Kid 2;The Hangover Part II;Happy Feet 2;Hoodwinked Too! Hood vs. Evil;Johnny English Reborn;Kung Fu Panda 2;Piranha 3DD;Sherlock Holmes 2;Alvin and the Chipmunks: Chipwrecked;Big Mommas: Like Father, Like Son;Madea's Big Happy Family;Paranormal Activity 3; Transformers: Dark of the Moon.
Those are the second and third sequels. Gray's accounting is precise; he finds there will be the highest number of fourth sequels ever: Mission: Impossible—Ghost Protocol;Pirates of the Caribbean: On Stranger Tides;Scream 4;Spy Kids 4: All the Time in the World;andThe Twilight Saga: Breaking Dawn (Part One), with its own sequel set for 2012.
This year includes five fifth sequels (Fast Five;Final Destination 5;Puss in Boots;X-Men: First Class;Winnie the Pooh), two seventh sequels (The Muppets;Rise of the Apes), and the eighth Harry Potter movie (Harry Potter and the Deathly Hallows Part Two), itself a sequel.
The idea of a sequel is harmless. One Thin Man movie is not enough, nor one Tarzan, James Bond, Star Trek, or Star Wars. There may have been an excess of zeal with Francis, the Talking Mule. Some sequels improve on their predecessors, such as Spider-Man II and The Dark Knight. Others were possibly doomed, such as Sex and the City 2, because of its inexplicable decision to send the girls on holiday to Abu Dhabi. Those are Manhattan women.
The beat goes on. As the leadership of many studios is taken from creators and assigned to marketers, nothing is harder to get financed than an original idea, or easier than a retread. The urge to repeat success can be found even in the content of modern trailers, which often seem to be about the same upbeat film. EvenThe Beaver, with Mel Gibson battling mental illness, is made to look like a hopeful comedy with a cute stuffed animal.
Trailers also do their best to spoil secrets and sight gags for you. One executive told me: "We want them to feel like they're seeing the whole movie, except that it's longer." This model can also be found in the aisles of supermarkets, where you're offered a bite of cheese on a toothpick. After you eat it, you know everything there is to know about that cheese except what it would be like to eat a pound of it.
At Oscar time, the backstory of the nominees often seems to be the same: every studio in town turned them down. Some studio divisions have been forthright about their decision to stop making grown-up movies at all, focusing on superhero comic-book franchises, 3-D animation, and raunch romps. It doesn't really take a movie person to approve such films.
Complicating the situation is the increasing reliance by Hollywood on foreign markets, which are thought to be impatient with dialogue and hungry for action. That results in an irony: while European nations, for example, produce excellent films that play here in art theaters, we are represented over there by American films suggesting we are a nation of violent or moronic fanboys. I see nearly as many films about grown-ups from France alone as from mainline Hollywood studios. Our tradition of quality cinema is being abandoned.
Now the studios are in a lather to show new movies via video-on-demand within 60 days from their first theatrical release. Exhibitors have fired back by threatening to ban such films from their theaters. (This could improve the quality of the films at the average multiplex by depriving it of studio product.) If the suggested $30 price tag for a 60-day VOD is accepted, families may wait to see a new animated film at home in bright, cheerful 2-D rather than being charged a premium to see it in dim and annoying 3-D. They can make their own popcorn, which the theaters dread, because the studios take up to 90 percent of the opening-week box-office gross, and movie theaters literally make their money at the snack counter. The communal experience of moviegoing will be threatened. The erosion of community continues. Robert D. Putnam's seminal 2000 book, Bowling Alone, suggested Americans were losing their love of lodges, church groups, sewing circles, book clubs, film societies, veterans' halls, and so on. Who foresaw we might also someday be seeing new movies alone?
A doomy pall is settling over many of the best American filmmakers. Steven Soderbergh ominously announced his withdrawal from direction, then changed his mind. I heard earlier this month from Paul Schrader, whose films (Mishima, Affliction, American Gigolo, Blue Collar) and screenplays (Taxi Driver, Raging Bull) show a distinctive vision. He informed me that grown-up films and creative projects were "over" in the new Hollywood, and that many of his friends are turning to long-form television.
He emailed: "The quality of theatrically released films has been dropping so precipitously in recent years that the Academy Awards are no longer a fair gauge of audiovisual entertainment. Several decades ago audiences could expect a film such as The Social Network every week; now we are lucky to have one or two a year. Add to this the fact serious dramas have more or less migrated to television, and it's clear that the Oscars have become progressively less relevant. Last year arguably the best male performance of the year (Al Pacino in You Don't Know Jack) was not eligible for the Oscars."
That film, in which Pacino played Dr. Jack Kevorkian, was made for HBO and directed by A-list filmmaker Barry Levinson (Wag the Dog, Rain Man). It was apparently not possible for Pacino, Levinson, and a touchy subject to interest a major studio. This is a symptom of a desperate situation. It wasn't even a problem with budget (about $12 million) or running time (134 minutes). It won an Emmy, but I confess I hadn't heard of it until Paul mentioned it. Rotten Tomatoes doesn't list a single review of it. Was it eligible for the Oscars? No. "Made for TV." Kate Winslet's work in Mildred Pierce is also not eligible.
Schrader had some pointed advice for me: "A veteran film critic—by this I mean you, Roger—should take it on himself by unilaterally abandoning the distinction between theatrical and nontheatrical films in year-end best-of lists. All long-form audiovisual entertainment, released on any distribution platform, would be eligible for consideration. The Academy, of course, would regard this as a nightmare. It would downgrade the 'specialness' of theatrical films. But this is all happening anyway. Why not get ahead of the curve?"
Why not? It's tempting, Paul. I could relax before my big eight-foot home-theater screen, and the work would come to me. The problem is, that goes against my grain. A movie is shown in a movie theater, and I like to sit there and see it. That's how it's supposed to be. I'm not ready to bowl alone.
Ebert is the film critic for The Chicago Sun-Times.