Roger Goodell Is Either Incompetent or a Liar. Either Way, He's Gotta Go.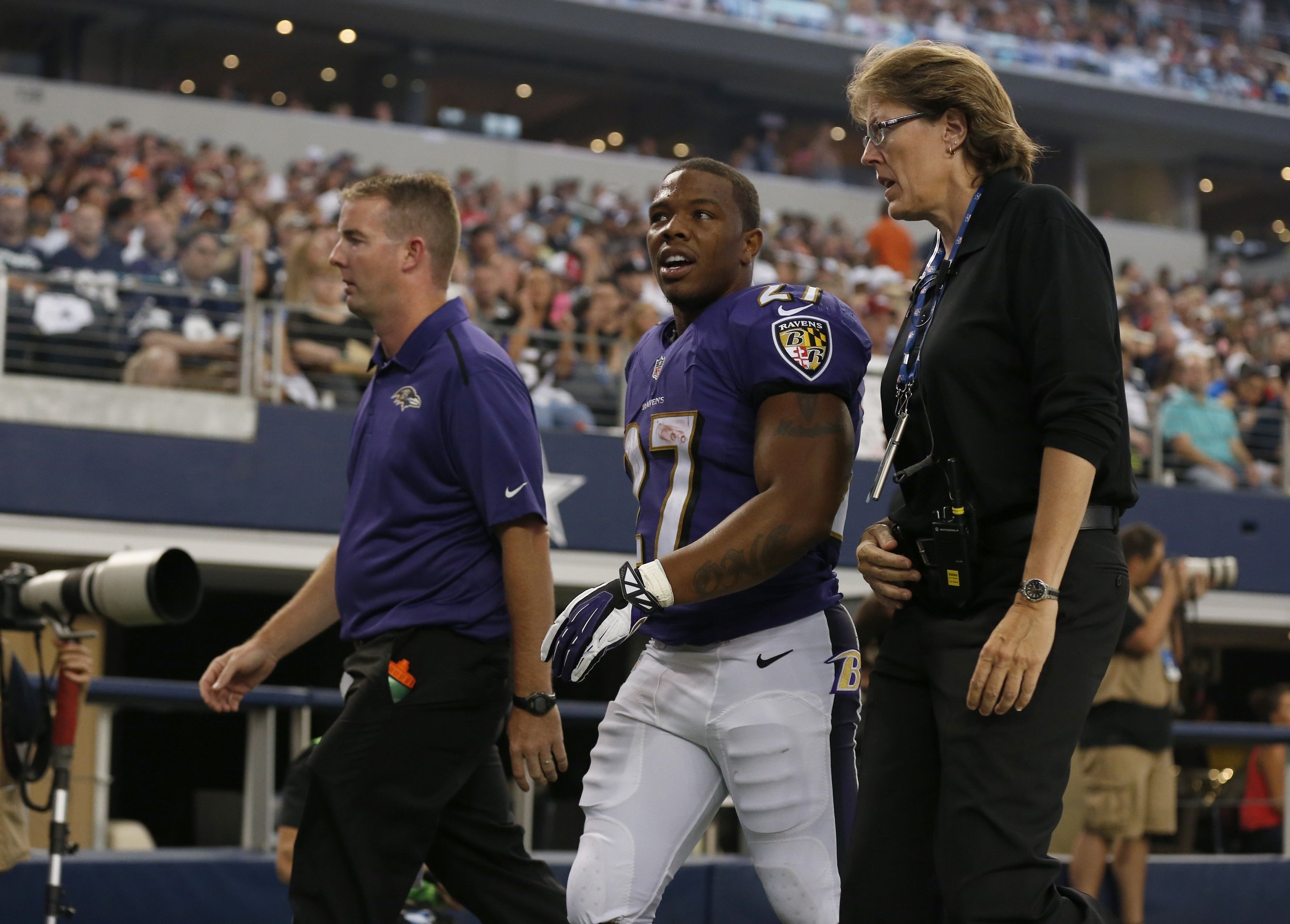 It may be time for the National Football League to punt Roger Goodell.
On Tuesday afternoon the Associated Press, citing an anonymous source in law enforcement, reported that the notorious videotape that shows former Baltimore Ravens running back Ray Rice delivering a single knockout punch to the face of his future wife, Janay Palmer, was sent to NFL offices in April. That revelation would appear to contradict the statement made by the NFL yesterday and repeated by NFL commissioner Goodell in an interview with CBS News on Tuesday that no one in his office had seen the tape…. as far as he knows.
According to the AP source, he or she sent the tape – both unsolicited and with authorization – because he or she wanted the NFL to have it before meting out punishment to Rice. The source played a 12-second voicemail from an NFL office number last April 9 in which a female voice expresses thanks and then says, "You're right. It's terrible." The source could not confirm that anyone in the NFL offices watched the video.
The NFL still maintains that no league official has seen the video. "No," Goodell told CBS's Norah O'Donnell on Tuesday when asked if anyone at league offices in New York had watched the videotape before this week. "No one in our office has seen the tape, to my knowledge."
After the AP story broke, the NFL dug its cleats in deeper, declaring again that no one in the league office had seen the videotape.
At the moment, then, Goodell and his officers retain at least a measure of plausible deniability. The AP report names no one. Until the source is willing to step forward, or the league official who allegedly left the voicemail is identified, this part of the story comes to a dead end.
That may not be enough for Goodell to save his job, though. As fiscally robust as the NFL may be – Sunday afternoon's San Francisco 49ers at Dallas Cowboys game drew 28 million viewers, the second-highest ever for a Week 1 contest on FOX -- Goodell's bungling of the Ray Rice domestic abuse case may have irretrievably damaged his credibility. High-visibility ESPN personalities such as Keith Olbermann and Bill Simmons have already called for Goodell's resignation, as has Terry O'Neill, the president of the National Organization for Women (NOW).
First, even without the more incriminating tape released on Monday, there was never any dispute that Rice had been involved in an elevator altercation with his future spouse that ended with her lying face-down and unconscious. For that, Goodell decreed just a two-game suspension back in July. By late August, with public sentiment – at least beyond a 40-mile radius of Baltimore's Inner Harbor – decidedly against the ruling, the NFL announced a new, stricter initiative on punishing domestic abuse. "My disciplinary decision led the public to question our sincerity, our commitment, and whether we understood the toll that domestic violence inflicts on so many families," Goodell said then. "I take responsibility both for the decision and for ensuring that our actions in the future properly reflect our values.
"I didn't get it right."
No, he didn't. But at the time Goodell, who earns $44 million annually, appeared guilty only of insensitivity. When TMZ Sports unleashed the second video on Monday, Goodell's – and the league's -- integrity and competence were called into question. Had the league seen the video, as some high-profile reporters with excellent NFL contacts had written back in July? And if they had not, what prevented the most powerful sports league in North America, if not the world, one that employs former FBI agents as security officers, from obtaining a crucial video tape that it not only knew existed, but that had already been placed into the hands of Rice's defense attorney?
Is Goodell's job in jeopardy and does it deserve to be? Like that Cowboys team that found itself trailing 21-3 to the 49ers after one quarter on Sunday, Goodell put himself into a deep hole with that lenient two-game penalty. Ever since he has had to combat the widely held perception that the NFL does not appreciate how serious and heinous domestic abuse is. Goodell, and the league, squandered the opportunity to be the moral authority on this issue (so did the Atlantic County, N.J., prosecutor's office, which put Rice into a pretrial diversion program that allowed him to avoid both a felony change and jail time, but that's another debacle) from the beginning.
They've been playing catch-up ever since. And with this latest revelation from Associated Press, the clock is running out. While it once beggared credulity to believe that the NFL could not obtain that second videotape, though Goodell admitted the NFL knew of it, it seems even more incredible that the AP's source and the accompanying voicemail are fabrications. Or that someone at the NFL would leave such a voicemail but that Goodell or other top officers had no knowledge of the tape's presence within their office.
On Monday the NFL suspended Ray Rice for an "indefinite" period of time. By week's end, the league just may dismiss Goodell, with nothing indefinite about it.