Roger Stone Again Asks for New Trial After Jury Foreperson Publicly Supports Resigning Prosecutors
Former Trump adviser Roger Stone has asked for a new trial, days after the original trial's jury foreperson made public statements in support of prosecutors in the case.
Stone was convicted on seven felony charges related to Russian election meddling in November. An earlier request for a new trial was denied by U.S. District Court Judge Amy Berman Jackson last week and announced on Wednesday. Jackson disclosed the new request Friday, but the defense motion remains sealed and further details are currently unavailable.
The Stone case has been the subject of controversy in recent days, with critics suggesting that President Donald Trump improperly pressured the Department of Justice and Attorney General Robert Barr to intervene in the case.
Federal prosecutors released guidelines recommending Stone be sentenced to between seven to nine years in prison on Monday. The guidelines quickly sparked backlash from conservatives, including Trump, who tweeted that he could "not allow" the "miscarriage of justice" in the early morning hours of Tuesday.
Stone was convicted of five counts of lying to Congress, one count of witness tampering and one count of obstructing an official proceeding. The charges carry a maximum possible sentence of 50 years.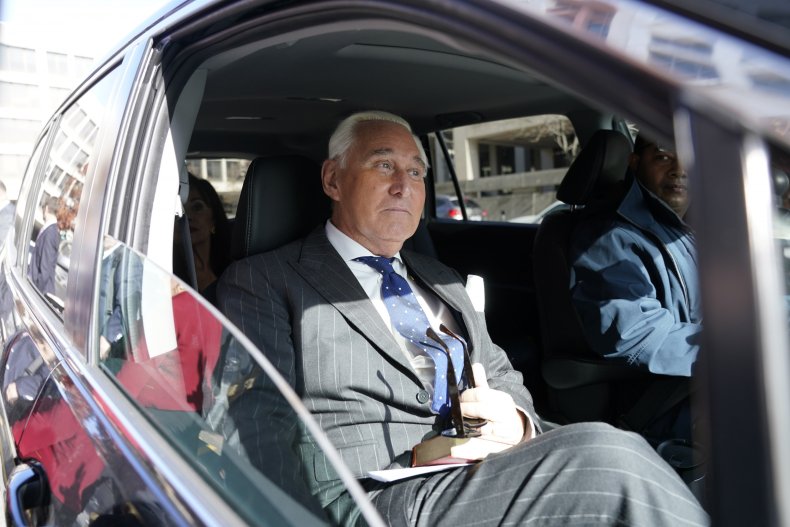 Only hours after Trump's comments about the "unfair" guidelines, the Department of Justice weighed in on the case, instructing the court to assign Stone a sentence "far less" than the recommendation. Democrats expressed outrage at the decision, with some calling for Barr to resign or be impeached.
All four prosecutors in the case quickly resigned or withdrew after the reversal.
Supporters of Stone have recently complained about jury foreperson Tomeka Hart publicly supporting the prosecutors on social media. It is unclear whether the new request is related to Hart.
"It pains me to see the DOJ now interfere with the hard work of the prosecutors," wrote Hart in a Wednesday Facebook post. "They acted with the utmost intelligence, integrity, and respect for our system of justice."
The previously denied request involved a different juror, who defense attorneys said had seen an article about the case before being picked for the jury.
"The defense has not presented grounds for a new trial," wrote Jackson in the denying the request. "Or any reason to believe there has been 'a serious miscarriage of justice.'"
Special Counsel Robert Mueller's investigation of Russia meddling in the 2016 presidential election led to charges being launched against Stone. The Republican operative is a longtime friend of the president and acted as an adviser in the early stages of Trump's campaign.
Stone is set to be sentenced on April 20.