Roger Stone Apologizes to Judge After Posting Picture Showing Her With Rifle Crosshairs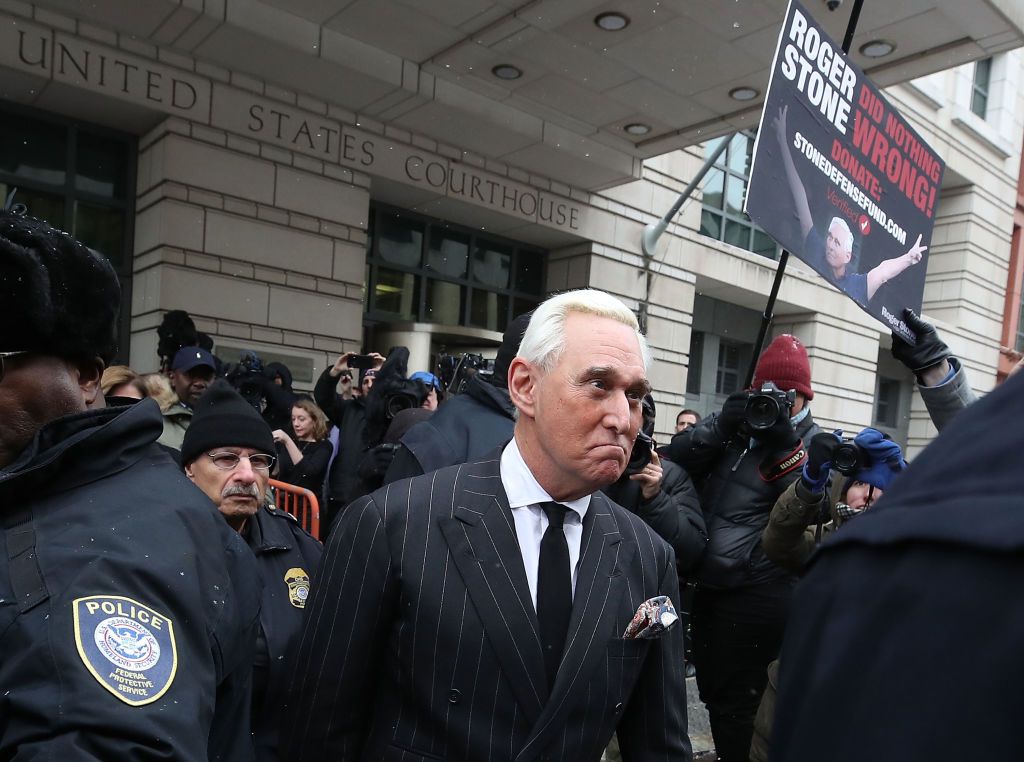 Roger Stone, a longtime associate of President Donald Trump, apologized to the judge presiding over his criminal trial on charges of lying to Congress, obstruction and witness tampering after he posted an image of her on Instagram with the crosshairs of a gun.
The image of U.S. District Judge Amy Berman Jackson, posted by Stone on Monday, was later removed. In a post accompanying the picture, which was shared online in screenshots by a number of media organizations, Stone alleged the charges against him were part of a "deep state" plot.
In a filing with the U.S. District Court for the District of Columbia cited by Reuters, an attorney for Stone said his client "apologizes to the Court for the improper photograph and comment" and said "Mr. Stone recognizes the impropriety and had it removed."
In a message posted on Instagram, Stone rejected claims that the image was intended as a threat toward the judge.
"A photo of Judge Jackson posted on my Instagram has been misinterpreted. This was a random photo taken from the Internet," Stone said in the statement. "Any inference that this was meant to somehow threaten the Judge or disrespect court is categorically false."
A self-proclaimed master of political "dirty tricks," Stone was indicted in January and pleaded not guilty to charges that he lied to Congress and sought to prevent the testimony of a potential witness by prosecutors for special counsel Robert Mueller's probe into allegations of Russian interference in the 2016 presidential election.
Mueller's prosecutors allege that Stone was directed by a Trump official to acquire emails from WikiLeaks that contained damaging information on Trump's rival for the 2016 presidency, Hillary Clinton.
Jackson imposed a limited gag order on Stone Friday and said the move was necessary to avoid public bias and provide him with a fair trial. He is banned from making statements about the case in or around the federal courthouse in Washington, D.C, but he can make other public statements. His lawyers, the prosecutors and witnesses are under broader constraints to prevent prejudicing potential jurors.
Stone had after previous hearings given impromptu press conferences outside court, denouncing the investigation against him and throwing up the V-shaped hand sign used his idol, President Richard Nixon, to mean "victory." He also launched a media and social media blitz attacking the probe as part of a partisan plot.
In court documents submitted Friday, prosecutors alleged that in 2016 Stone had direct contact with transparency organization WikiLeaks and Russian hackers who stole thousands of emails from Democrat National Committee servers and leaked them to the site.
Stone has denied the charges against him, and claims that his communications with WikiLeaks and Russian hackers Guccifer 2.0 were "innocuous" in a statement Friday.
Mueller's prosecutors had previously alleged that Stone's communications with WikiLeaks were made through two intermediaries.