Roger Stone Calls Prosecutors in His Case 'Sadistic, Arrogant'
Former adviser to President Donald Trump, Roger Stone, appeared on Fox News host Sean Hannity's television program Monday to discuss the commutation of his sentence as ordered by Trump. President Trump ordered Stone's record expunged, relieving Stone of both paying the $20,000 fine levied against him and serving any time in jail.
Stone had been sentenced to 40 months in prison for witness tampering and making false statements to Congress in connection with investigations into Russian meddling in the 2020 election. Trump decried Stone's indictment, calling it a "horrible and unfair situation" in February.
Stone said his trial was "the most horrible experience you can have because I see now why 99 percent of the people who choose to plead not guilty and go to trial lose."
"When you're up against the horrific, and deep-pocketed resources of the federal government and these really sadistic, arrogant, politically motivated prosecutors—I had a biased judge, I had a stacked jury, I had a corrupt jury forewoman." Stone continued. "As my friend [Fox News host] Tucker Carlson said, my trial was over before it started. When you go through something like this, you find out who your real friends are and who the people are who never really were your friends."
Stone was scheduled to report to a federal prison in Georgia to begin serving his sentence in July. Originally faced with a maximum sentence of nine years, the Department of Justice (DOJ) stepped in after a tweet from President Trump and recommended shortening Stone's sentence. In response, four DOJ prosecutors recused themselves from Stone's case.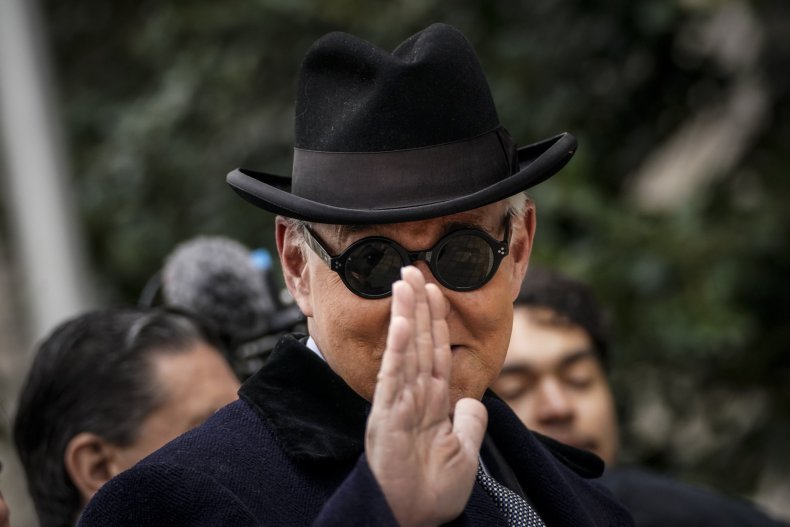 Stone also attempted to gain a retrial after it was uncovered in April that the foreperson of the jury in his case had posted anti-Trump opinions on her social media pages. Judge Amy Berman Jackson denied the motion by Stone's legal team, claiming no prejudice against Stone had been uncovered.
"While the social media communications may suggest that the juror has strong opinions about certain people or issues," Judge Jackson wrote in her ruling, "they do not reveal that she had an opinion about Roger Stone, which is the opinion that matters."
Stone told Fox News host Tucker Carlson in April that he believed going to prison for any amount of time would amount to a "death sentence" because of the prevalence of coronavirus in the prison system.
"At 67 years old with some underlying health problems, including a history of asthma, I believe with the coronavirus it is essentially a death sentence," Stone said.
In a July statement issued after Stone's clemency was announced, the White House referred to Stone as a "victim of the Russia Hoax," further saying that there was "never any collusion between the Trump Campaign, or the Trump Administration, with Russia."
Trump's commutation of Stone's sentence drew criticism from some Democratic lawmakers.
Utah Republican Senator Mitt Romney called Trump's decision "unprecedented, historic corruption" in a Saturday tweet. "An American president commutes the sentence of a person convicted by a jury of lying to shield that very president."
In a Saturday statement, House Speaker Nancy Pelosi said legislation was needed "to ensure that no President can pardon or commute the sentence of an individual who is engaged in a cover-up campaign to shield that President from criminal prosecution."
Trump defended his decision by saying Stone was the target of a "Witch Hunt."
"Roger Stone was targeted by an illegal Witch Hunt that never should have taken place," Trump tweeted Saturday. "It is the other side that are criminals, including Biden and Obama, who spied on my campaign—AND GOT CAUGHT!"
Newsweek reached out to Stone for further comment.