Roger Stone Warned by Judge to Halt Media Tour as She Weighs Gag Order: 'This is Not a Public Relations Campaign'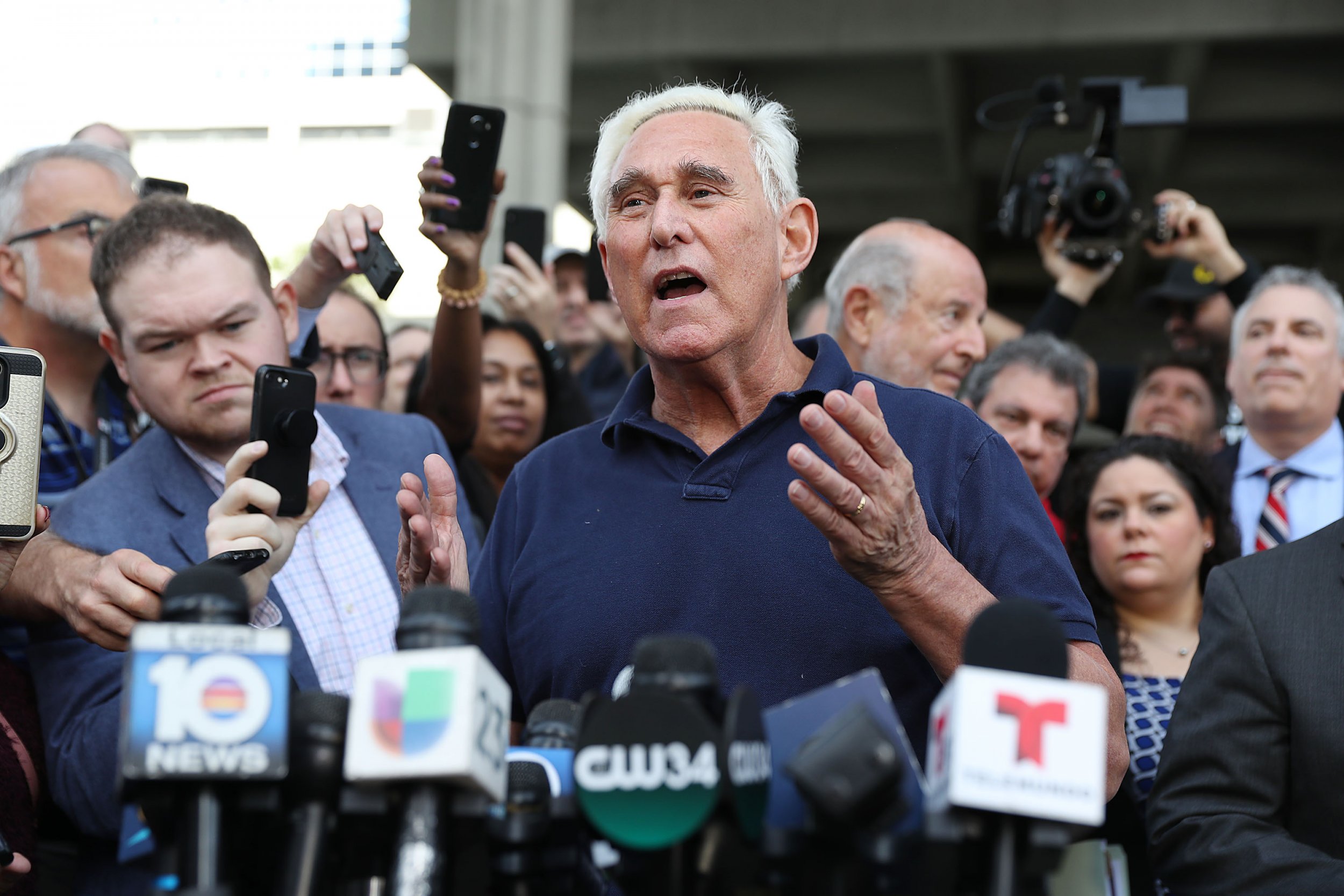 Roger Stone, the longtime Donald Trump adviser and GOP "dirty trickster" who's been charged with lying to Congress, witness tampering and obstruction, was officially put on notice Friday for treating the pretrial period of his criminal case like a "public relations campaign."
During his court appearance in Washington, D.C., U.S. District Judge Amy Berman Jackson did not impose a gag order barring Stone from making further media statements, but said she is seriously considering issuing such a rule. She asked that attorneys for Stone and special counsel Robert Mueller's office provide her with written arguments by February 8 as to why she should or should not impose a gag order.
"Since this is a criminal proceeding, not a public relations campaign," Jackson said, it would be in Stone's best interest to "refrain from making further statements to the media or to the public." Such publicity could taint the juror pool for when his trial begins later this year, she said.
The possible gag order would not prevent Stone from having press communications altogether, Jackson noted, informing him that he could still discuss "foreign relations, immigration or Tom Brady."
"My responsibility is to assure he has a fair trial," Jackson said, noting that it was ill-advised for Stone to defend his case on the "courthouse steps or talk show circuit." While Jackson said she understood Stone's desire to defend himself against the crimes he's pleaded "not guilty" to, she warned him not to treat the "pretrial process of this case like a book tour." The defendant should be aware, Jackson highlighted, that any public statements could be "used as evidence against him at trial."
Indeed, Stone has been making the rounds in the media, giving press conferences and conducting interviews with national media outlets, including TV appearances. Asked by reporters on his way to the courtroom whether he would be speaking afterward, Stone said he did not yet know.
Paul Manafort, Trump's former campaign manager who's been convicted on charges that also emerged from Mueller's Russia probe, was previously issued a gag order by Jackson.
Prosecutors predicted Stone's trial would likely begin sometime in October, while Jackson said she'd prefer July or August. Stone will appear in court for another status update on March 14, where a more structured schedule for how and when to proceed with his trial is expected to take form.