Roger Stone Dodges $2 Million Tax Bill, Funds 'Lavish Lifestyle,' Lawsuit Says
The Department of Justice (DOJ) filed a lawsuit against former President Donald Trump's ally and confidante Roger Stone on Friday, alleging that Stone avoided paying about $2 million in taxes and fees to fund his "lavish lifestyle."
The suit claims that Stone and his wife Nydia Stone used the company Drake Ventures as an "alter ego" to avoid paying $1,590,361.89 in taxes, interest and fees for the tax years 2007 to 2011, along with another $407,036.84 for the 2018 tax year.
"Although they used funds held in Drake Ventures accounts to pay some of their taxes, the Stones' use of Drake Ventures to hold their funds allowed them to shield their personal income from enforced collection and fund a lavish lifestyle despite owing nearly $2 million in unpaid taxes, interest and penalties," the complaint states. "As the Stones' alter ego, Drake Ventures is liable for the taxes."
The complaint goes on to note that Drake Ventures is "dominated and controlled" by the Stones to such an extent that it "does not exist as an independent entity," with the company having no website or phone number and the Stones' private residence listed as the address. Nydia Stone is said to be listed as the managing member of Drake Ventures, while all other members are also members of the Stone family.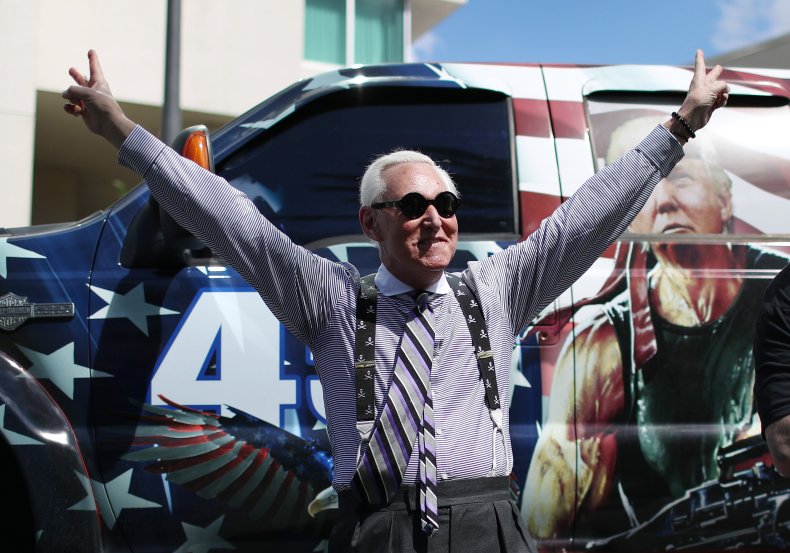 The DOJ says that Stone created the Bertran Trust after he was indicted in 2019 on charges related to the Mueller investigation into Russia tampering in the 2016 presidential election. The Stones then purchased a home in Florida, allegedly fraudulently transferring it to the trust before defaulting on a $19,485 per month installment agreement that they had entered into with the IRS.
"They purchased the residence shortly after Roger Stone's indictment and placed it in the name of the Bertran Trust just prior to defaulting on their installment agreement with the IRS," the suit claims. "The Stones have long owed back taxes, and they have been parties to numerous installment agreements, some of which were terminated by the IRS. They were aware that their default would result in IRS collection activity."
In addition to repayment of the unpaid taxes and fees, the DOJ is seeking that the house the Stones transferred to the trust be declared their own property rather than that of the trust, allowing it to be included in tax liens that could collect the unpaid balances.
Stone's attorney Grant Smith declined Newsweek's request for comment.
In November 2019, Stone was found guilty on charges of lying to Congress, obstruction and witness tampering. He was sentenced to over three years in prison. Trump commuted the sentence days before Stone was set to enter prison in July 2020. The former president granted Stone a full pardon weeks before leaving office.