Roger Stone Says He 'Really' Misses Donald Trump as He Laments He Hasn't Spoken to President in Almost Two Years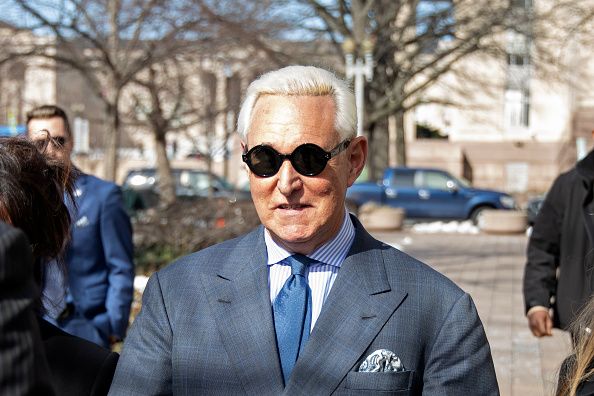 Longtime Donald Trump associate Roger Stone, who has been placed under a strict gag order and faces jail time on charges that include witness tampering and making false statements, said that the worst part about the ordeal was "being broke" and not being able to talk to the president—whom he "really" misses.
"I've known him for 40 years," Stone said of Trump in an interview with SiriusXM's Jim Norton & Sam Roberts show on Thursday, adding that he and the president had not spoken in nearly two years.
"We're very good friends. I don't agree with everything he does. I agree with a lot of what he does," Stone said. He shared that he was at two of Trump's weddings, that Trump attended his wedding and that he was at the funerals of both of the president's parents.
"I do miss him," Stone told the radio show.
Stone was indicted by a federal grand jury in January on charges that stemmed from special counsel Robert Mueller's investigation. He was charged on seven counts, including witness tampering and misleading House Intelligence Committee investigators over his communications with WikiLeaks founder Julian Assange during the 2016 campaign.
Assange was arrested in London on Thursday, after seeking asylum in the Ecuadorian Embassy for almost seven years to avoid arrest and possible extradition. He now faces a U.S. charge of conspiring to hack the Pentagon computer network in 2010. His arrest was not related to WikiLeaks's publishing of thousands of hacked emails from the Hillary Clinton campaign during the 2016 election.
Since his arrest, Stone has maintained his innocence and has vowed to fight the charges. As a result of his fight, D.C. District Court Judge Amy Berman Jackson placed Stone under a strict gag order for posting an Instagram picture of her in crosshairs.
Stone also said that his legal and lawyer fees have left him completely broke.
"I've lost my home, my insurance, what little savings I had, my ability to make a living because people pay me to write and talk, and of course the things they want me to write and talk about are the very things I'm not allowed to talk and write about. In the blink of an eye, you can lose everything," he told SiriusXM.
He added that he was forced to move from a nine-bedroom house to a one-bedroom apartment. In the move, which he said he had to do himself with a rented a truck, his wife had "kind of a freak accident. The truck slips out of gear and rolls over my wife's ankle, breaking it."
Stone also said that he was disappointed in conspiracy theorist and InfoWars host Alex Jones for not contributing to his defense fund and for not selling Stone T-shirts, whose sales could help pay his legal fees.
"I am grateful for Alex Jones for giving me a platform," Stone said. "He is a friend of mine. I like the guy, I like hanging out with him. I do not agree with everything he says, I agree with some of the things he says. He probably doesn't agree with everything I say. But you know, the check would be nice."
Stone's trial is scheduled to start on November 5 and is likely to last two weeks, according to the court.