Roger Stone Indictment is a 'Serious Problem' for Donald Trump, Majority of Voters Say in Poll
The majority of Americans believe that Roger Stone's indictment is a serious problem for President Donald Trump according to a new poll by the left-leaning coalition, Protect the Investigation.
The survey, conducted by GBA strategies prior to Stone being charged on Friday, found that 33 percent of respondents thought an indictment of Stone by special counsel Robert Mueller would be a very serious problem for the president while 30 percent said it would be a somewhat serious problem. Nearly 60 percent of Independents and 38 percent of Republicans also agreed that the situation would bad for the president.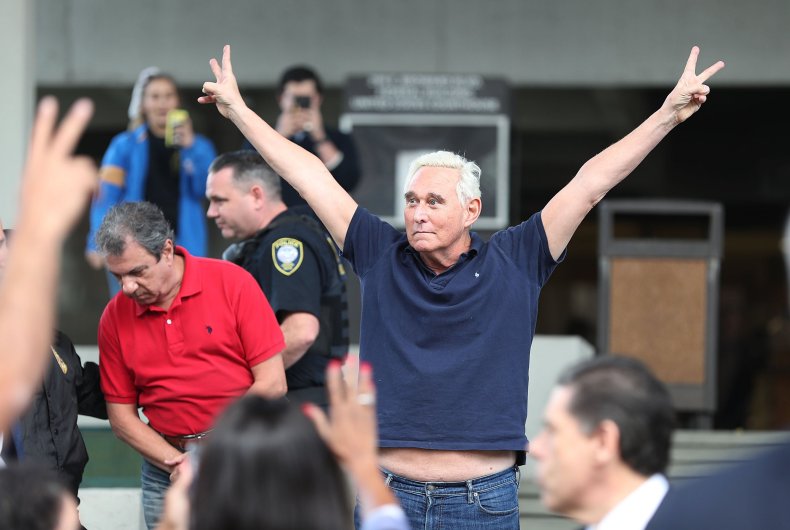 "The Roger Stone indictment presents a sea change for Donald Trump," Max Bergmann of the Moscow Project told Newsweek. "I think in the media and general public's minds there was this idea that maybe there had been some collusion between Russia and some of the president's associates but not the president. The sea change is when people say that the president could have been directly involved."
According to Mueller's indictment, a senior Trump official was directed to ask Stone to make contact with WikiLeaks and ask about damaging information on presidential nominee Hillary Clinton.
"Who was above a senior campaign official?" asked Bergmann. "We forget that Trump ran the Trump campaign. We know this from Trump himself and countless campaign reporters. It was Trump's show, he had singular control over everything. He micromanaged his own campaign."
Stone denied any collusion on Friday afternoon. "I look forward to being fully and completely vindicated," he told reporters from the steps of a federal courthouse in Florida. "There is no circumstance whatsoever under which I will bear false witness against the president."
White House press secretary Sarah Huckabee Sanders also worked to distance Trump from Stone's alleged actions. "This is something that has to do solely with that individual," she told CNN. Stone is "somebody who has been a consultant for dozens of Republican presidents and candidates and members of Congress," she said of Trump's longtime friend and associate.
But the damage to Trump's reputation has already been done, said Margie Omero, a pollster for GBA strategies. "It's a sign that president has really damaged his image," she told Newsweek. "He may have an enthusiastic base, but voters who identify as Republican and agree with him on policy issues want to make sure that no one is above the law."
Stone was indicted Friday by Robert Mueller as part of his investigation into meddling in the 2016 election. He has been charged with obstruction of justice, witness tampering and lying to Congress.
GBA Strategies conducted the survey on behalf of Protect the Investigation and polled 1,500 registered voters nationwide. The survey was conducted January 18-21.