Roger Stone Drafted Pro-Russia Tweets at Trump's Request During 2016 Campaign
Roger Stone drafted several pro-Russia social media posts at the request of then-candidate Donald Trump during the 2016 campaign, according to a new report.
On Tuesday, the Senate Intelligence Committee released the fifth and final volume of its years-long bipartisan investigation into Russia interference in the presidential election. The report found that Stone drafted tweets for Trump that "attacked Clinton for her adversarial posture toward Russia and mentioned a new peace deal with Putin" in July 2016—around the same time Stone was predicting a WikiLeaks dump of hacked emails from Hillary Clinton and the Democratic National Committee.
Trump and his senior campaign officials sought information on the WikiLeaks dumps through Stone, the report said. Trump apparently spoke with Stone about WikiLeaks on "multiple occasions," even though the president told former special counsel Robert Muller that he didn't recall doing so.
The committee determined that Russia "took advantage" of the "relative inexperience in government" of the Trump transition team's members. Acting chairman Marco Rubio (R-Fla.) said in a statement that the committee "found absolutely no evidence" of collusion. But ranking member Mark Warner (D-Va.) said the report highlights a "breathtaking level of contacts between Trump officials and Russian government operatives that is a very real counterintelligence threat to our elections."
Newsweek contacted Stone's lawyer for comment on the report but did not receive a response in time for publication.
In response to the report's findings, White House spokesman Judd Deere told Newsweek: "After a Special Counsel, numerous other committee investigations, and four prior reports from this Committee, the Senate Intelligence Report affirms what we have known for years. There was absolutely no collusion between the Trump Campaign and Russia—a fact verified on page 181 of the Mueller Report. This never-ending, baseless conspiracy theory peddled by radical liberals and their partners in the media demonstrates how incapable they are at accepting the will of the American people and the results of the 2016 election. They should stop wasting tax-payer dollars with partisan witch hunts and actually work to accomplish things for this country."
Trump commuted Stone's sentence in July, days before Stone was set to report to a federal prison in Georgia. The presidential pardon released Stone from 40 months in prison, along with 24 months of supervised release and a $20,000 fine.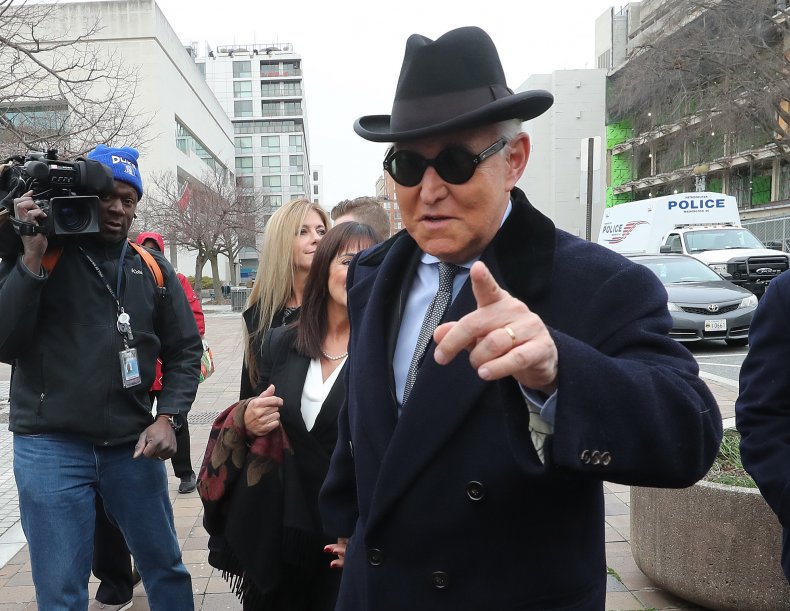 Stone was convicted in November 2019 on seven charges, including lying to Congress, witness tampering and obstructing a congressional committee proceeding. Among the things he misled Congress about were his communications with Trump campaign officials during the 2016 election.
"Roger Stone is a victim of the Russia Hoax that the Left and its allies in the media perpetuated for years in an attempt to undermine the Trump Presidency," the White House said in a statement at the time. It added that Stone was "treated very unfairly, as were many others in this case. Roger Stone is now a free man!"
Stone, who has vehemently denied any wrongdoing, was appealing his conviction but suddenly dropped the case early Tuesday morning. In a lengthy statement posted to his website, Stone said it was "time to move on with my life."
"I regret not going forward with the appeal to fully expose all that happened, with the hope that by doing so, I could help prevent it from happening to anyone else ever again; but I had to decide based on what is best for me and my family," Stone wrote.
He continued, "The political taint that exists in the U.S. District Court in the District of Columbia, from the prosecutors to the judge to the jury pool, is so deep and abiding that the possibility of achieving a just result on the merits is as nonexistent as it was when this process played out the first time."
08/18/20 (4:13 p.m. ET): This story has been updated to include comment from the White House.