Roger Stone, Found Guilty for Obstructing Justice, Faces Decades in Prison
Roger Stone could serve decades in prison for lying to Congress, witness tampering and obstructing lawmakers' efforts to investigate election interference in 2016.
The guilty verdict came Friday, the second day of deliberation by the Washington D.C. jury, which convicted Stone on all seven felony counts against him.
As a first-time offender, the former Trump adviser could be a good candidate for a smaller sentence, according to several reports. Judge Amy Berman Jackson will preside over Stone's sentencing hearing Feb. 6.
The charges came from a two-year investigation by special counsel Robert Mueller that studied Russian interference in the 2016 presidential election. Stone was indicted in January for lying before the U.S. House Intelligence Committee about his dealings with WikiLeaks.
The Mueller report failed to prove collusion between the Trump campaign and Russia, but couldn't rule it out, either. Among other things, Mueller discovered that Trump's election team repeatedly tried to acquire Hillary Clinton's deleted emails and had a plan in place for their release, should WikiLeaks provide them.
Stone was apparently their intermediary, according to prosecutors. In a written response to Mueller last spring, the president said he "did not recall being aware" of any talks between the site and his campaign officials, but he spoke with Stone by phone at least three times during that period, prosecutors said.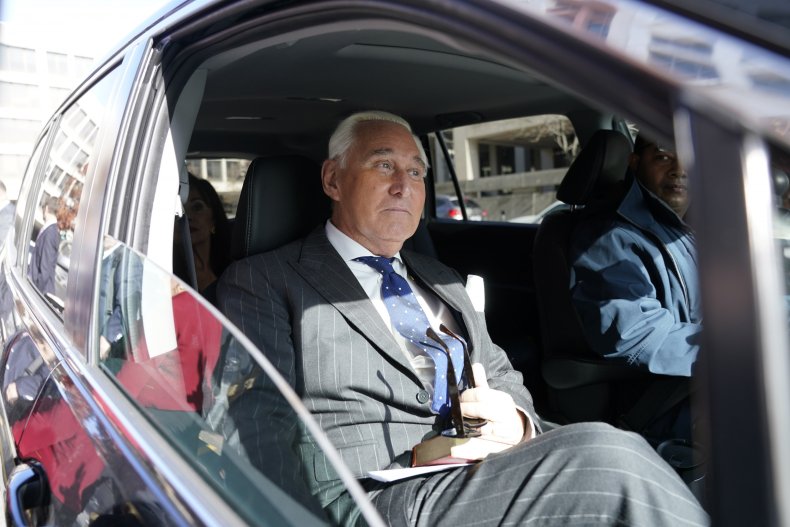 In the trial, deputy campaign chairman Rick Gates also testified that Trump spoke with Stone, including a few days after WikiLeaks released a treasure trove of emails embarrassing the Clinton campaign, according to the New York Times. Trump then declared that "more information was coming," referring to future leaks, Gates said.
WikiLeaks published thousands of emails stolen from Democratic National Committee servers and Clinton campaign chairman John Podesta in July 2016 and October 2016, respectively. At the time, Podesta's notes revealed CNN commentator Donna Brazile shared town hall questions with the Clinton campaign in advance.
Stone lied about certain text messages and emails with WikiLeaks folks to lawmakers and tried to convince radio host Randy Credico not to testify, according to the prosecution. Credico was recruited to serve as a kind of buffer between Stone and WikiLeads should these talks fall under scrutiny, they said.
Credico denied that claim but confirmed that Stone pressured him into supporting his lies to Congress and threatened his dog, Bianca, according to The Guardian.
"The evidence showed that Stone not only tried, but succeeded in impeding the committee's investigation," Assistant U.S. Attorney Jonathan Kravis said in his closing statement Wednesday.