Longtime Donald Trump associate Roger Stone likely violated a strict gag order imposed by a federal judge last week with his latest comment about Michael Cohen and WikiLeaks.
Stone pushed back against allegations made by the president's former personal attorney during his public testimony before the House Oversight and Reform Committee on Wednesday morning. Cohen told lawmakers, under penalty of perjury, that Stone had informed Trump about plans to dump damaging emails about Hillary Clinton at the height of the 2016 campaign.
"Mr. Trump responded by stating, 'Wouldn't that be great,'" Cohen said.
In a statement to multiple news outlets, including Newsweek, Stone refuted the account. "Mr. Cohen's statement is not true," he said.
But Stone's defense may have violated a full gag order imposed by U.S. District Court Judge Amy Berman Jackson last week, according to former federal prosecutors. The gag order was issued in relation to Stone's involvement with special counsel Robert Mueller and the Russia investigation.
Under the judge's order, Stone "may not speak publicly about the investigation or the case or any of the participants in the investigation or the case. Period." This includes making statements to the media, holding press conferences or posting about the case on social media.
Peter Zeidenberg, who worked as a federal prosecutor at the Justice Department for 17 years, told Newsweek on Wednesday that Stone's statement likely breached the court order.
"In my opinion, this statement probably does violate the gag order," Zeidenberg said. "It's way too close to the line for comfort, that is for sure. He's playing with fire."
Renato Mariotti, a former federal prosecutor and legal analyst, told Newsweek that Stone's statement "appears to violate the gag order, although he will argue that it is a profession of innocence and thus does not violate the order."
Mariotti added that Stone "was foolish to risk violating the order, but I doubt there will be consequences because he did so in a fairly minor way."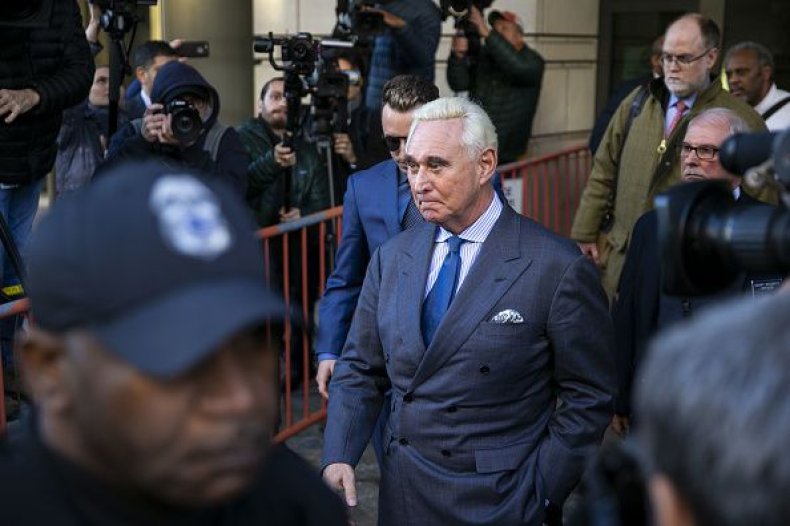 Stone was indicted by Mueller's grand jury last month and charged with seven counts, which incluced witness tampering and misleading House Intelligence Committee investigators over his communication with WikiLeaks founder Julian Assange during the election.
While appearing in court last week, where he was issued with the gag order, Stone said that he was being treated for "emotional stress." He also said that his income was "virtually nonexistent" and that he could barely afford his legal fees.
Cohen has appeared before lawmakers this week to testify about his relationship with Trump before he begins a three-year prison sentence for a multiple financial crimes, including tax fraud, lying to Congress and campaign finance violations.
During the Wednesday hearing, Cohen tesified that he was in Trump's office when Stone called about WikiLeaks just days before the Democratic National Convention in July 2016.
"Mr. Trump put Mr. Stone on the speakerphone. Mr. Stone told Mr. Trump that he had just gotten off the phone with Julian Assange and that Mr. Assange told Mr. Stone that, within a couple of days, there would be a massive dump of emails that would damage Hillary Clinton's campaign," Cohen testified.
WikiLeaks responded to Cohen's account with a statement on Wednesday, tweeting: "WikiLeaks publisher Julian Assange has never had a telephone call with Roger Stone. WikiLeaks publicly teased its pending publications on Hillary Clinton and published > 30k of her emails on 16 March 2016."
Cohen also told lawmakers that Stone was not acting as an agent of the Trump campaign but rather as a "free agent."
"He frequently reached out to Mr. Trump, and Mr. Trump was very happy to take his calls," Cohen said. "It was free service."