Roger Stone Demands John Brennan is 'Hung for Treason' in Latest Right-Wing Attack Against Former CIA Director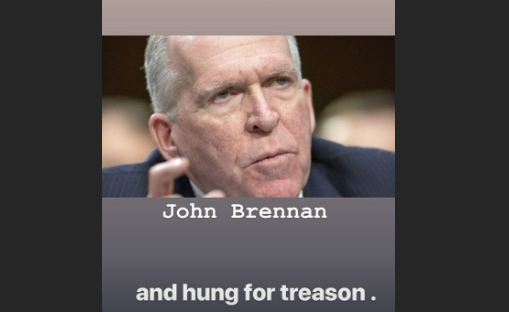 Longtime Trump confidante Roger Stone posted a message Saturday night calling for former CIA Director John Brennan to be "hung for treason."
Stone, a veteran Republican Party operative, has battled against federal prosecutors who say he obstructed the House's Russia probe this year. He has frequently used social media to request "defense fund" donations, but in a series of Saturday night Instagram videos and memes, Stone went after Brennan, who some Republicans say — alongside former FBI Director James Comey — is responsible for unfairly sparking the Justice Department investigation into possible connections between the Trump administration and Russia.
Stone's Instagram video story featured a picture of Brennan next to the message: "This psycho must be charged, tried, convicted...and hung for treason."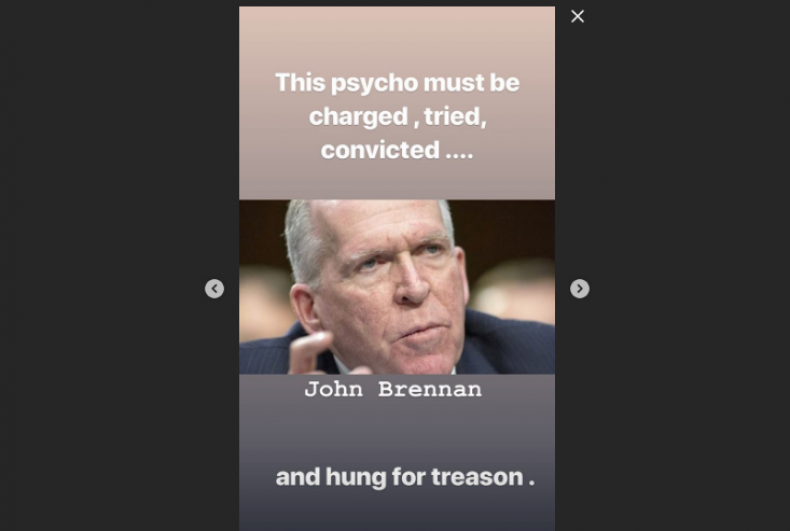 The same series of Instagram stories featured a video of Stone eating at a New York City restaurant and urging people to donate money to his legal defense fund.
Search warrants served earlier this year on Stone's properties in Florida indicated he was in touch with a hacker group known as Guccifer 2.0 with ties to Russian hacking of the Democratic National Committee. Stone is also accused of conferring with Wikileaks, the organization that disseminated emails stolen from the DNC in the lead-up to the 2016 presidential election.
Several top Republicans, including Trump himself, have accused Comey and Brennan of leaning too heavily on a dossier prepared by British intelligence figure Christopher Steele in order to secure warrants and initiate the investigation of the Trump campaign. But Brennan has rebuffed right-wing critics and said federal authorities had an obligation to investigate and it was not solely reliant on the dossier.
"[The dossier] did not play any role whatsoever in the Intelligence Community Assessment that was done that was presented to then-President Obama and then-President-elect Trump," Brennan said on Meet the Press last year. "I do think it was up to the FBI to see if they could verify any of it."
Trump has fueled much of the ire toward Brennan and Comey that has resulted in accusations of "treason" and "collusion" from Republicans similar to Stone's Instagram post.
Trey Gowdy, speaking with Fox News' Sean Hannity last year led the charge that the people who started the Russia investigation should themselves be investigated. ​"Whoever is investigating this, tell them to look for emails between Brennan and Comey in December of 2016."
Stone is no stranger to social media controversy. In 2017, Stone was first kicked off Twitter for lashing out at Trump critics in profanity-laden tirades. He has also been one of the loudest voices along with Donald Trump Jr. in accusing big tech companies of censoring conservatives on their platforms.
"I have been inundated on Twitter with bloggers threatening to kill me, my wife, my kids and even my dogs, yet Twitter seems unconcerned about that," he told The Wrap in October 2017. "This is just part and parcel of the tech left's effort to silence conservative voices."