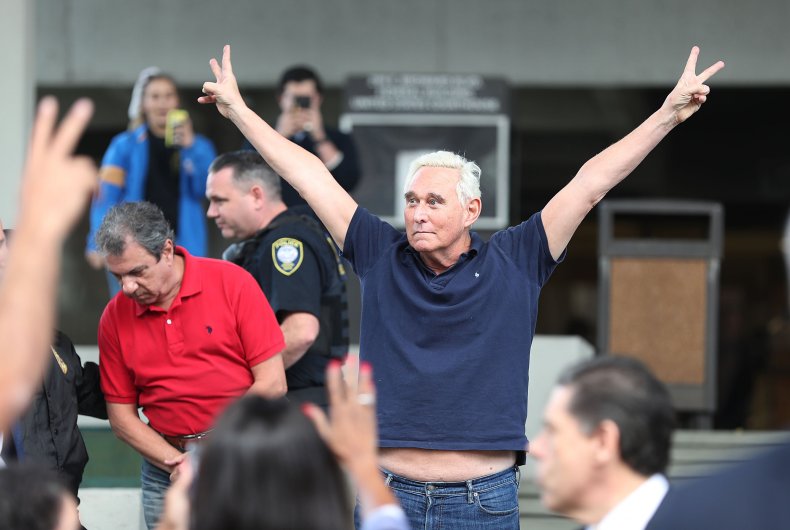 Juror Number 3 in the trial against political operative Roger Stone, who was recently found guilty on seven counts related to obstruction of Congress, has penned a new op-ed pushing back against right-wing criticism of the decision to convict.
In a Washington Post essay on Friday, juror Seth Cousins described the carefully deliberative process he and each of his 11 colleagues engaged in to reach their conclusion about Stone's guilt.
Stone, a self-described dirty trickster and longtime associate of Donald Trump, was prosecuted for lying to the House Intelligence Committee during its Russia probe, obstructing the committee's investigation and witness tampering.
The jury deliberated for just eight hours before convicting Stone last week on each count federal prosecutors had advanced.
"Since we delivered that verdict, I have been taken aback by the accounts of pundits and politicians that our decision was somehow the product of a deeply polarized, partisan divide," Cousins recalled. "Let me be clear: We did not convict Stone based on his political beliefs or his expression of those beliefs."
During closing arguments, prosecutors argued that Stone's omissions and misrepresentations to Congress caused the House Intelligence Committee to issue a final report inaccurately concluding there was "no evidence" of Stone's foreknowledge of WikiLeaks releases.
Evidence presented during trial showed that in addition to obstructing Congress, Stone also sought to stymie the congressional testimony of a possible WikiLeaks intermediary, comedian Randy Credico, who denies ever serving as a point of contact.
Stone alternately coaxed, urged and threatened Credico into forgoing congressional testimony. Credico would ultimately invoke his Fifth Amendment privileges against self-incrimination.
Testimony from former senior Trump campaign official Rick Gates, who testified as part of a cooperation agreement with prosecutors, revealed that Stone apparently knew in advance of some hacked material WikiLeaks would release. Stone also apparently communicated this knowledge to Trump in a July 2016 phone call.
Almost immediately after the announcement of the verdict, Trump railed against the jury's decision in a tweet.
"So they now convict Roger Stone of lying and want to jail him for many years to come," the president wrote. "Well, what about Crooked Hillary, Comey, Strzok, Page, McCabe, Brennan, Clapper, Shifty Schiff, Ohr & Nellie, Steele & all of the others, including even Mueller himself?"
Cousins ardently defended the process that led 12 independent jurors to reach the same conclusion. Furthermore, he lamented the erosion of faith in democratic institutions and assault on objective truth that is currently plaguing political discourse.
"Our unanimous conclusion was this: The truth matters. Telling the truth under oath matters," he wrote. "At a time when so much of our public discourse is based on deception or just lies, it is more important than ever that we still have places where the truth can be presented, examined and discerned. Congress is one of those places. That's what the case was about."
Stone faces a maximum penalty of 50 years' imprisonment, although sentencing guidelines would likely recommend substantial leniency. A sentencing hearing is scheduled for February 6.