Roger Stone Nixon Pose and Tattoo: Why Does Trump Associate Keep Bringing Up Disgraced Former President?
Roger Stone, fresh from his arrest by the FBI on charges of obstruction of justice, witness tampering and lying to Congress, stood on the steps of a federal courthouse in Fort Lauderdale, Florida, Friday afternoon and greeted a gaggle of press with former President Richard Nixon's famous "V for Victory" pose.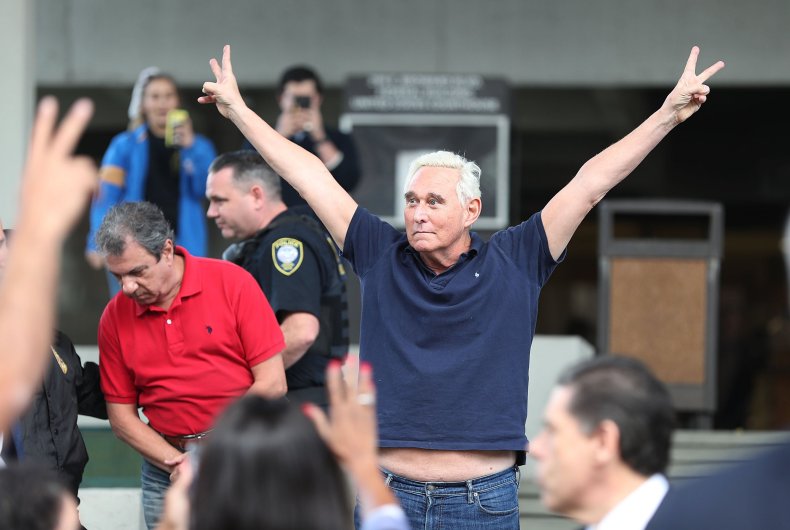 Stone, who has long been a target of special counsel Robert Mueller's investigation into Russian meddling in the 2016 election, began his national political career working for Nixon, decorates his multiple homes with large, framed images of the president, who resigned after facing the threat of impeachment, and has a large upper back tattoo of Nixon's face.
Stone's latest book, Stone's Rules: How to Win at Politics, Business, and Style, hands down political advice that Stone received while working under the disgraced president. When this reporter met with him last May, Stone made a martini inspired by Nixon's own recipe.
With Democratic calls for the impeachment of President Donald Trump reaching a fever pitch, it's hard not to draw comparisons between the current White House incumbent and Nixon, who allegedly ordered and then helped cover up a break-in of the Democratic campaign headquarters, in a controversy widely known as Watergate.
But why would Stone, who claims to support the president completely, encourage these comparisons?
"He's a career-long dirty trickster who models himself off a guy who disgraced the office of the presidency and was extremely corrupt in office and ordered a break-in of Democratic election headquarters," Max Bergmann of the Moscow Project, an initiative by the Center for American Progress Action Fund, told Newsweek. "It's on point, but it's not helpful to him or Trump to invite the comparisons to Nixon."
Stone has acknowledged that he did some "dirty tricks" for Nixon, but said that he was not involved in anything unlawful.
Stone, a former adviser to the Trump campaign and longtime friend of the president, reportedly communicated with senior officials from the Trump campaign about WikiLeaks and potential information that founder Julian Assange might have to damage the Hillary Clinton campaign.
Stone denies all allegations. "I look forward to being fully and completely vindicated," he said Friday. "There is no circumstance whatsoever under which I will bear false witness against the president."
White House press secretary Sarah Huckabee Sanders said shortly after Stone's arrest that the indictment had nothing to do with the president. "This is something that has to do solely with that individual," she told reporters. She downplayed the president's long friendship with Stone, calling him "somebody who has been a consultant for dozens of Republican presidents and candidates and members of Congress."