Roger Stone Pleads 5th to Every Question Posed by 1/6 Panel, Calls Probe 'Witch Hunt 3.0'
Roger Stone told reporters Friday that he pleaded the Fifth Amendment for every question posed to him by the congressional panel investigating the January 6 attack on the U.S. Capitol.
Stone, a former adviser to former President Donald Trump, was called in for a deposition before the House select committee. The longtime Republican political consultant was subpoenaed in late November.
"I did invoke my Fifth Amendment rights to every question not because I have done anything wrong but because I am fully aware of the House Democrats' long history of fabricating perjury charges on the basis of comments that are innocuous, immaterial or irrelevant," he told reporters.
Stone was convicted in November 2019 of seven felonies, including lying to Congress, but he received a last-minute pardon from Trump.
Stone said Friday that he didn't trust the legitimacy of the probe, criticizing House Speaker Nancy Pelosi for rejecting the Republicans that Minority Leader Kevin McCarthy suggested for the committee. Instead, Pelosi chose GOP Representatives Liz Cheney and Adam Kinzinger—whom Stone referred to as "anti-Trump Republicans"—for the panel.
"This is witch hunt 3.0," he said.
After exiting Washington's Thomas P. O'Neill Jr. Federal Building, where the deposition took place, Stone flashed his well-known Richard Nixon victory sign.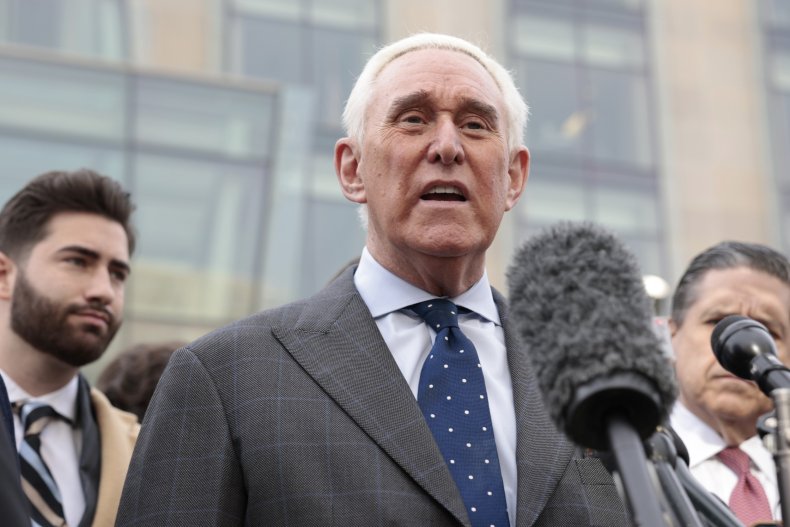 The select committee said Stone was in Washington, D.C., on January 5 and 6 and was scheduled to speak at the "Stop the Steal" rally. Stone was ultimately not one of the 12 speakers for the event.
"The select committee is seeking information about the rallies and subsequent march to the Capitol that escalated into a violent mob attacking the Capitol and threatening our democracy," the committee's chairman, Representative Bennie Thompson, said in a statement on November 22.
"We need to know who organized, planned, paid for, and received funds related to those events, as well as what communications organizers had with officials in the White House and Congress," Thompson said.
The Mississippi Democrat said at the time the panel believed that Stone, as well as the other witnesses subpoenaed that day, possessed "relevant information" regarding those inquiries.
Stone told reporters Friday that he was "disturbed" by the inquiry into his activities the day before the Capitol riot, which he asserted were constitutionally protected free speech and assembly.
"I stress again that I was not on the Ellipse, I did not march to the Capitol, and I was not at the Capitol," Stone said. "And any claim, assertion or even implication that I knew about or was involved in any way whatsoever with the illegal and politically counterproductive activities of January 6 is categorically false."
Update 12/17/21, 1:20 p.m. ET: This story was updated with more information and background.