Roger Stone Reportedly Pleads to Trump Through Alex Jones As Jury Deliberates His Fate: Please 'Pardon Me'
Longtime Trump associate Roger Stone on Thursday reportedly begged President Donald Trump to pardon him through a message sent to InfoWars far-right conspiracy theorist Alex Jones as the jury deliberated his fate.
Stone, 68, a former Trump 2016 campaign adviser and longtime Republican operative, reportedly sent a message to Jones asking to be pardoned while being tried in federal court in Washington D.C. over seven charges of lying to Congress about his relationship with WikiLeaks.
"Roger Stone's message is this," Jones said during Thursday's broadcast of Infowars' The Alex Jones Show, "He expected to be convicted. He said, 'Only a miracle can save me now,' that was exact words to me last night and this morning."
"And he said to me, 'Alex, barring a miracle, I appeal to God and I appeal to your listeners for prayer, and I appeal to the president to pardon me because to do so would be an action that would show these corrupt courts that they're not going to get away with persecuting people for their free speech or for the crime of getting the president elected,'" Jones continued, adding that Stone asserted, "If we don't do that, it will embolden their criminal activity."
Stone is at the heart of the question of whether Trump's 2016 campaign worked with WikiLeaks or Russia to leak private emails from the Democratic National Committee (DNC) and 2016 Democratic nominee Hillary Clinton's campaign during the election. Stone and Trump have been friends for over 30 years and if he is convicted, he faces up to 20 years in prison. However, Stone could serve a lesser sentence as he is a non-violent first time offender.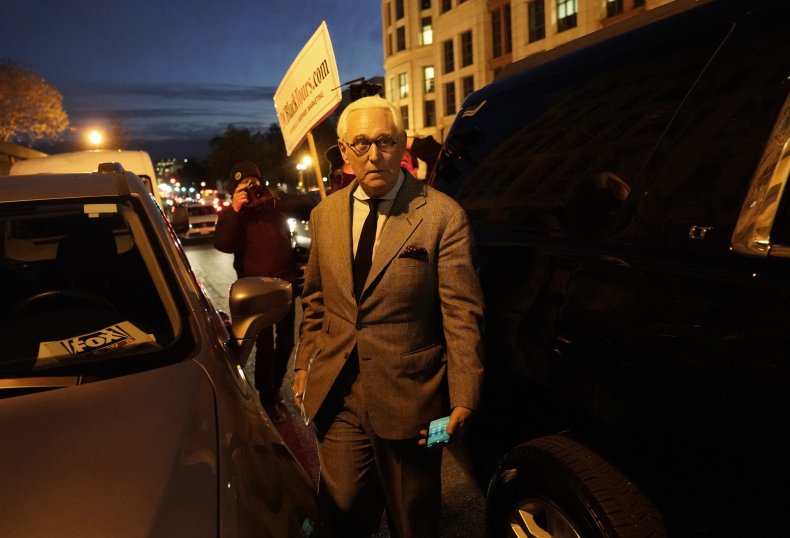 The jury in Stone's criminal trial ended Thursday, the first day of deliberations, without reaching verdict as to whether the political consultant lied to Congress. He has plead not guilty to all seven counts of obstruction, witness tampering and issuing false statements to lawmakers in the House of Representatives during an Intelligence Committee investigation into possible 2016 Russian campaign meddling.
Later in the segment, Jones speculated on whether Trump will grant Stone a pardon.
"So will the president listen to his cowardly advisers and not pardon Stone because he believes if he does that that somehow validates the Russia connection?" he said. "When this man has not been indicted for Russian connection."
He added: "These libtard jurors know damn well he's innocent. But they want to sit there and feel all officious and powerful and send him to prison, hoping for some victory against flyover country that they despite so much, that they're so angry they don't have control of."
Stone was indicted and arrested in an early morning raid by the FBI in January. The charges stemmed from former special counsel Robert Mueller's length investigation into possible Russian interference in the 2016 presidential election. Stone previously hosted War Room, an InfoWars show.