Roger Stone Open to Cooperating 'Honestly' With Mueller Investigation, Rejects Russian Collusion Claims
Republican strategist and former Trump campaign "trickster" Roger Stone said Sunday he will dispute special counsel Robert Mueller's seven-count indictment against him, but left open the possibility he'd cooperate with investigators.
Stone told ABC News' George Stephanopoulos Sunday morning he believes he is being wrongly accused of making false statements but if others in then-Republican presidential candidate Donald Trump's 2016 campaign committed illegal acts he would relay that information to Mueller's Russian collusion investigators.
Stone said the FBI "terrorized" his family during a Friday pre-dawn raid at his Fort Lauderdale, Florida, home, where he was arrested on several charges including one count of obstruction of an official proceeding, five counts of false statements, and one count of witness tampering. Federal prosecutors are looking into Stone's electronic devices over "dozens" of emails and text messages tying the campaign to Wikileaks, Julian Assange or other potential conspirators.
"You say you won't bear false witness against President Trump, are you prepared to tell the truth about your dealings with him to the special counsel, the truth about your dealings with the campaign, any chance you'll cooperate with special counsel Robert Mueller if he asks?" ABC's Stephanopoulos asked Stone Sunday.
"That's a question I'll have to determine after my attorneys have some discussion if there's wrongdoing by other people in the campaign that I know about, which I know of none," Stone replied. "But I'd certainly testify honestly. I'd also testify honestly about any other matter incuding any communications with the president. It's true that we spoke on the phone but those communications are political in nature, they're benign and there's certainly no conspiracy with Russia.
"The president's right, there is no Russia collusion," Stone added, stating that he and Trump have never discussed any possibility of a "pardon" should Stone be convicted of the federal charges.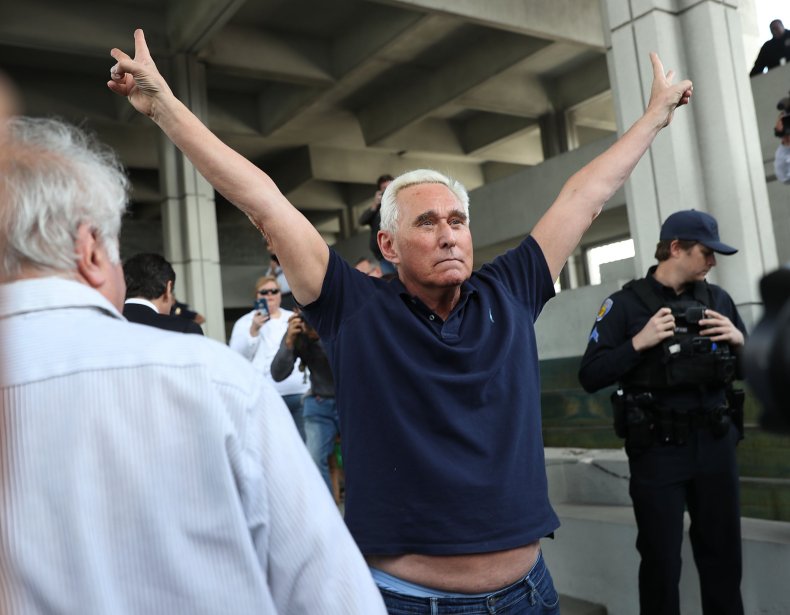 Stone was pressed by Stephanopoulos after claiming "I did forget on some occasions" about damning texts and emails procured by investigators given that he'd previously testified about correspondence with associate Randy Credico on the same day. Stone complained Credico hasn't been charged with crimes after lying to a grand jury about being his source.
"I will prove in court that any failure of memory on my part was without intent and is immaterial," Stone continued. "I am human and I did make some errors but they're errors that would be inconsequential within the scope of this investigation."
Stone, 66, made statements immediately following his court appearance Friday over loud chants of "lock him up!" making it clear he's preparing to fight the charges. But he is also reveling in cable news network's latest bit of interest in his political life.
"As I have always said, the only thing worse than being talked about is not being talked about," Stone said to reporters and the raucous crowd heckling him. He added that he was being "falsely accused of making false statements."