Roger Stone Says He Does Not Believe He Will Be Convicted Of Mueller Charges
Longtime Trump confidant Roger Stone said late on Friday that he does not believe he will be convicted of the charges laid against him in special counsel Robert Mueller's ongoing Russia investigation.
Stone made the assertion during an interview with CNN's Chris Cuomo. After being asked whether he believes Trump might pardon him, Stone said he had "never" had any discussion on the topic with the U.S. leader.
"I have never had any discussion with him or communication with him regarding that. I have no idea what he might do," Stone said.
Asked whether he would accept a pardon, the former informal adviser to Trump said: "I don't expect to be convicted, so I'm not going to address it. I don't address hypothetical questions."
Newsweek subscription offers >
Stone was indicted by Mueller late Thursday and arrested early Friday morning on charges including making false statements to Congress, obstructing a congressional investigation and witness tampering in connection with the special counsel's ongoing probe into Russian meddling in the 2016 election and possible collusion between the Trump campaign team and Moscow.
In his interview with Cuomo, Stone maintained his innocence, asserting: "I know that I am innocent. My intention is to plead not guilty and to fight the charges and I've had no discussion with anyone regarding a pardon."
Asked whether he is afraid that the case could not go his "way," Stone said "I believe in God, I know what I have and have not done."
The longtime Trump confidant said that he is seeking to raise $2 million through online crowdfunding in order to help pay his legal expenses, which he said "have been very damaging, very devastating."
Newsweek subscription offers >
In the lead-up to his arrest, the informal Trump campaign adviser had faced mounting scrutiny from Mueller's Russia probe, particularly over his alleged ties to WikiLeaks and its publishing of Democratic emails that U.S. officials have said were hacked by Russian operatives ahead of the 2016 election.
Mueller's seven-count indictment accused Stone of lying about his interactions related to WikiLeaks' release of hacked emails during the 2016 election race and of obstructing the House Intelligence Committee's investigation into Russian interference.
The indictment alleged that Stone made "multiple false statements" about his communications surrounding WikiLeaks and "falsely denied possessing records that contained evidence of these interactions." It also accused the Trump confidant of having "attempted to persuade a witness to provide false testimony to and withhold pertinent information from the investigations."
Stone, who is now the sixth associate of Trump's to be arrested in the ongoing Russia probe, is expected to be arraigned in federal court in Washington, D.C. on Tuesday.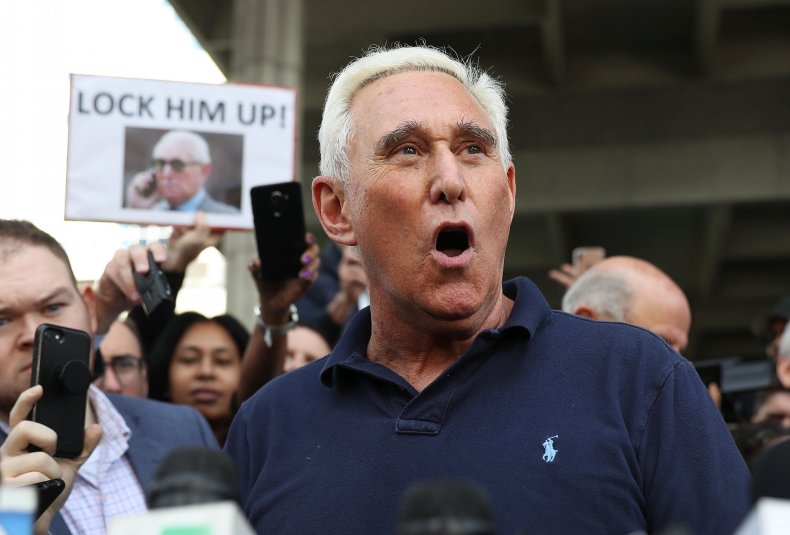 Roger Stone Says He Does Not Believe He Will Be Convicted Of Mueller Charges | U.S.