Roger Stone Says He Won't Retire From Politics Because It's 'Struggle Between Good and Evil'
Roger Stone has declared that he isn't leaving politics, citing a need to protect the U.S. from impending "darkness."
"We are in an epic struggle," Stone said during an appearance at the Reawaken America tour. "This is not a struggle between two different political parties that both love America, but just have different governing philosophies. Don't believe it."
"This is a struggle between dark and light," Stone continued. "This is a struggle between the godly and the godless. This is a struggle between good and evil. And if we fail, America will step off into a thousand years of darkness."
The ex-advisor of former president Donald Trump has been outspoken about politics in America, specifically pertaining to Trump. In mid-2020, Stone stated in an interview with In The Matrixxx that he hoped that right-wing conspiracy figure QAnon had information that would allow Trump to win the 2020 election.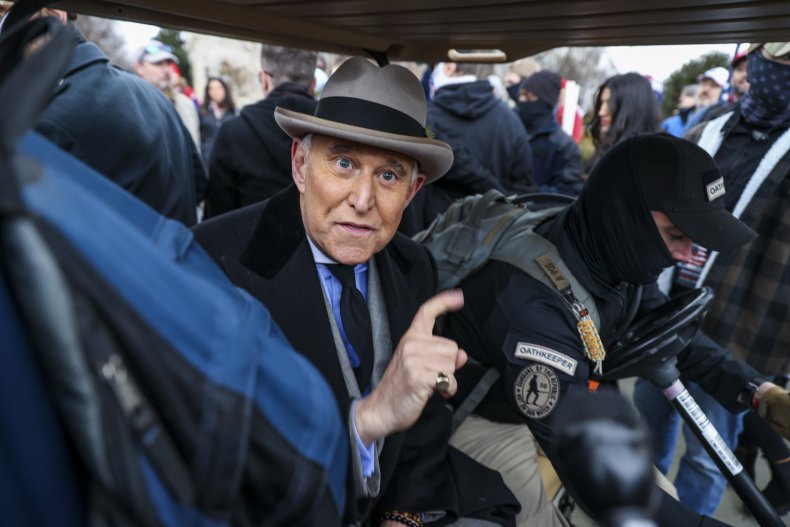 "I do a lot of interviews and I meet with a lot of patriot groups, and I always get the question, 'Mr. Stone, is Q real?" Stone said. "And I always say, I don't know, but let me tell you this: I certainly hope Q is real, and there are a number of indications that the information that is being disseminated has been of enormous value in this fight for freedom."
Stone has also had alleged ties to extremist groups such as the Oath Keepers and the Proud Boys.
In 2019, Stone was found guilty of witness tampering, obstructing a congressional investigation, and lying to the U.S. government with relation to Russian dealings in the 2016 presidential election. The Department of Justice recommended a lighter sentence for Stone, prompting four DOJ prosecutors to leave his case altogether.
In July 2020, then-President Trump commuted Stone's sentence right before he was scheduled to begin his 40-month imprisonment. The White House's then-press secretary, Kayleigh McEnany, released a detailed statement regarding Stone's release.
"Roger Stone is well known for his nearly 50 years of work as a consultant for high-profile Republican politicians, including President Ronald Reagan, Senator Bob Dole, and many others," McEnany said at the time. "He is also well known for his outspoken support for President Donald J. Trump and opposition to Hillary Clinton."
"Mr. Stone was charged by the same prosecutors from the Mueller Investigation tasked with finding evidence of collusion with Russia," McEnany continued.
"Because no such evidence exists, however, they could not charge him for any collusion-related crime. Instead, they charged him for his conduct during their investigation. The simple fact is that if the Special Counsel had not been pursuing an absolutely baseless investigation, Mr. Stone would not be facing time in prison."