Roger Stone Says North Korean Boats Delivered Ballots Through Maine Harbor As Trump Boosts Fraud Claims
Former Trump adviser Roger Stone claimed without evidence on Wednesday that North Korea had interfered in the U.S. presidential election. Meanwhile, President Donald Trump continued to assert that fraudulent activity was prevalent during the November election.
Stone, who has previously spoken of his respect for some members of the QAnon conspiracy theory movement, was sentenced to 40 months in prison for lying to investigators in connection with the Mueller probe into Russian election meddling during Trump's 2016 campaign. Trump commuted Stone's sentence in July.
With the Electoral College expected to meet on December 14, Trump has intensified his claims of widespread election fraud. Democrat President-elect Joe Biden was widely projected to be the winner of the election despite Trump's protestations. During an interview on The Alex Jones Show, Stone baselessly said he had received proof of election fraud.
"I just learned of absolute incontrovertible evidence of North Korean boats delivering ballots through a harbor in Maine, the state of Maine," Stone said. "If this checks out, if law enforcement looked into that and it turned out to be true, it would be proof of foreign involvement in the election."
In a statement emailed to Newsweek on Thursday, the office of Maine's Secretary of State denied Stone's allegations.
"Discussing a rumor such as this only legitimizes it," said Department of the Secretary of State Director of Communications Kristen Schulze Muszynski. "We have no evidence of any interference in our election, and we have completed our certification of the official results. We take voter fraud and interference allegations seriously and look into any substantiated claims. At this point, this vague rumor has absolutely no validity."
Stone told Jones that he prayed daily for Trump to be "strengthened" in his fight against "an epically corrupt deep state that has no problem in what appears to be the cyber-manipulation of the votes of the American people."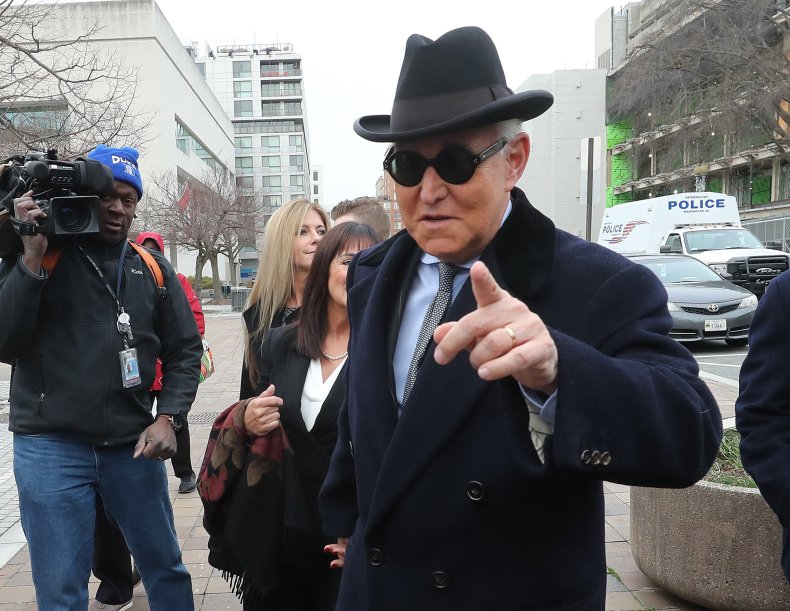 In a July interview, Stone praised some members of the QAnon movement as "great patriots." Many of the theories espoused by QAnon adherents revolve around Trump leading a covert battle against Democrats, some members of the business community and individuals in the entertainment industry. According to the theory, those individuals are involved in pedophilia, human trafficking and satanic worship.
While Trump has declined to distance himself from the QAnon movement, his claims that Democrats conspired to win the election have continued. On Wednesday, Trump released a 46-minute long video on his Twitter feed detailing his allegations of election fraud.
"The Democrats had this election rigged right from the beginning," Trump said, citing claims of voting machine manipulation, improper mail-in ballots and insufficient signature checks.
Trump has alleged that many of the mail-in ballots, which skewed Democratic, were illegally counted. Those ballots allegedly helped swing the election in Biden's favor. "If we are right about the fraud," Trump said, "Joe Biden can't be president. We're talking about hundreds of thousands of votes."
Trump's legal team has filed litigation in some battleground states contesting the election process. However, many of those lawsuits have been dismissed by judges.
"What a disaster this election was," Trump said. "A total catastrophe, but we're going to show it, and hopefully the courts—in particular, the Supreme Court of the United States—will see it and respectfully, hopefully, they will do what's right for our country."
According to the Associated Press, Biden was projected to win the election with 51.3 percent of the popular vote to Trump's 47 percent. Biden received 306 electoral votes, more than the 270 electoral votes required to be officially declared president. Although some litigation on behalf of Trump is still ongoing, states have until December 8 to certify their election results before the Electoral College convenes on December 14.
Correction: This story has been updated to say that Stone had no evidence for the comments he made.
Update (4:28 p.m. EST, 12/03/2020): This story has been updated with a statement from the Department of the Secretary of State of Maine.