Roger Stone Served With Capitol Riots Lawsuit During Radio Interview
Ex-Trump advisor Roger Stone was served legal papers live on the air during a radio interview for his alleged role in the January 6 capitol riots.
On Wednesday, during an appearance on the Real Talk 93.3 radio show in St. Louis, Missouri, Stone was interrupted while answering a question regarding Trump's run in the forthcoming 2024 election.
Former federal prosecutor Ron Filipkowski posted the radio clip onto his Twitter page. In the clip, Stone could be heard saying, "Hold on a second, I have a process server at my front door about to serve me in the latest lawsuit."
"Alright, I have just been served in the January 6th lawsuit—live, right here on your radio show," Stone continued. "This is a big, big stack of papers, which is good because we're out of toilet paper."
Filipkowski then posted an unidentified screenshot of what appears to be a statement from Stone shortly after he was served.
"I was served with this baseless, groundless, unsubstantiated harassment lawsuit filed against President Trump and me this morning. Lawfare! Help me fight these left-wing vultures by going to StoneDefenseFund.com," Stone stated.
The website that Stone mentioned is dedicated to raising money for Stone and his family against what he calls, "a new baseless falsehood" surrounding his alleged involvement in the Capitol insurrection.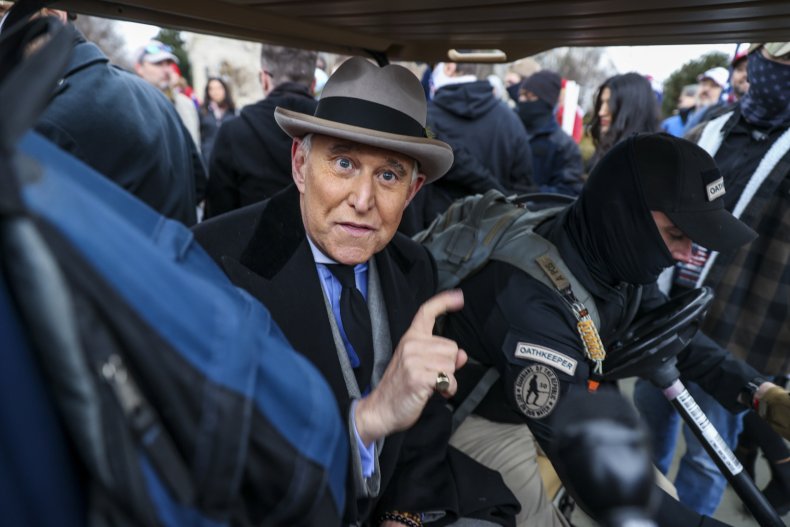 On August 26, U.S. Capitol Police filed a lawsuit against former President Donald Trump, Stone, and numerous individuals and "violent extremist groups" such as Oath Keepers and the Proud Boys. The lawsuit alleges that the defendants "conspired to stop Congress from confirming President Joe Biden's Electoral College victory through the use of force, intimidation, and threats," according to court documents.
Their actions also violated the Ku Klux Klan Act, which is meant to protect persons against political violence, intimidation and related laws.
Although Stone wasn't directly involved in any attacks, the Republican consultant had a number of interactions with Oath Keepers and the Proud Boys the night before and the day of the insurrection.
On January 5, Stone spoke at the "Rally to Save America" event in Washington, D.C. where Stone pushed for "an epic struggle for the future of this country, between dark and light, between the godly and the godless, between good and evil."
Stone was then seen with Oath Keepers who he called his "bodyguards" during a meet-up at a Washington hotel prior to the insurrection. Three of the men in the Oath Keepers group have already been charged in a separate U.S. federal investigation.
In 2019, Stone was found guilty of witness tampering, obstructing a congressional investigation, and lying to the U.S. government with relation to Russian dealings in the 2016 presidential election. The Department of Justice recommended a lighter sentence for Stone, prompting four DOJ prosecutors to leave his case altogether.
In July 2020, then-President Trump commuted Stone's sentence right before he was scheduled to begin his 40-month imprisonment.
Newsweek has reached out to Stone for further comment.