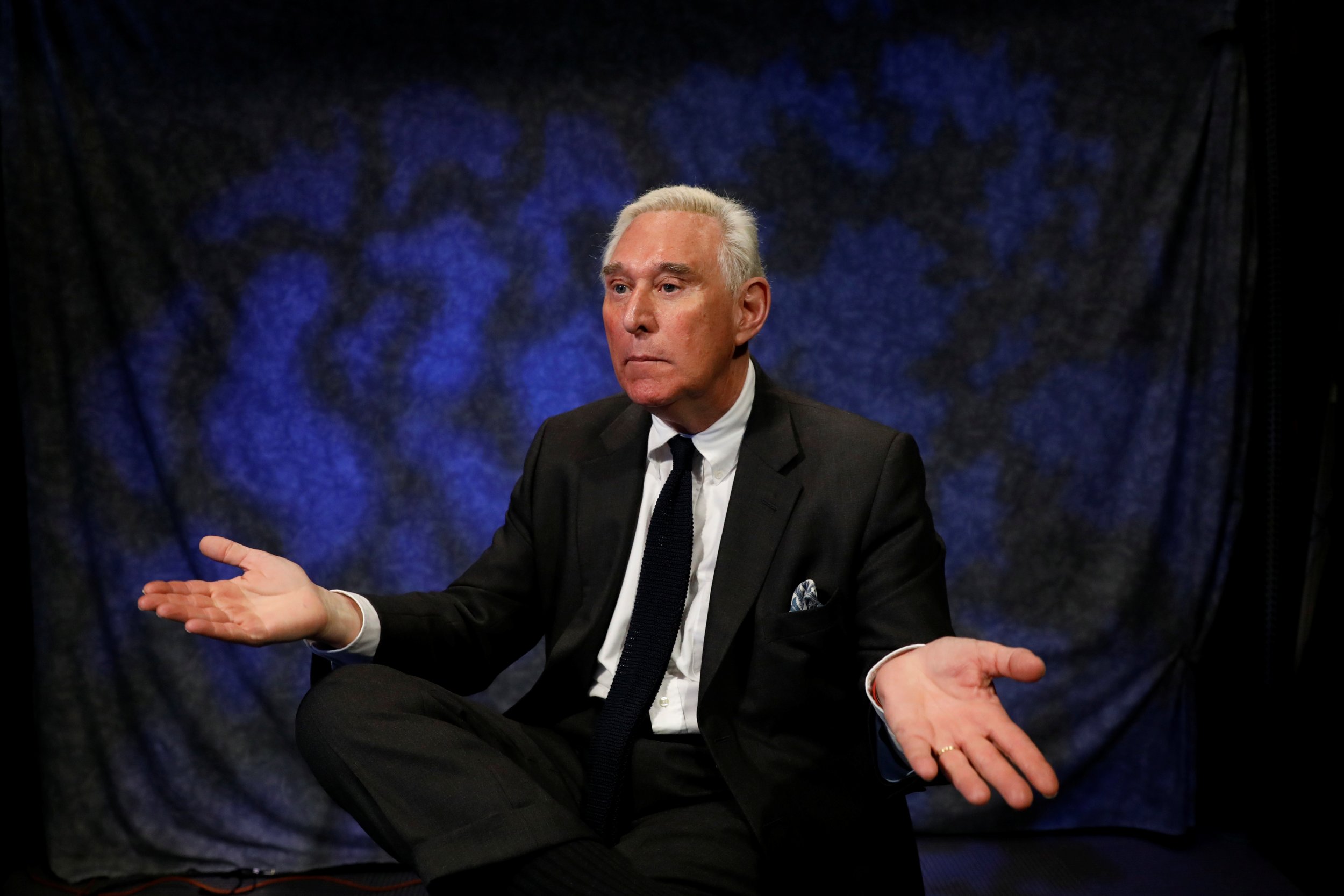 The Stone Zone has been taken off Twitter.
Incendiary Republican adviser Roger Stone has been suspended from the social network — and might be gone for good — after unleashing foul-mouthed insults at two prominent reporters.
Stone seemed to have crossed the line with a Friday night rant aimed at two journalists — CNN anchor Don Lemon and New York Times columnist Charles Blow — who have been sharply critical of President Donald Trump.
Stone directed most of his rage at Lemon, calling him "a buffoon," "a dull-witted arrogant partyboi," "fake news," a "dumb piece of shit" and "dumber than dog shit."
In one tweet, he wrote that Blow is a liar and an "arrogant fake news piece of shit."
Stone's account disappeared soon afterward. It's unclear how long he will be kept off Twitter.
The rabble-rousing Republican told BuzzFeed News he would be suspended "for 3 hours and 12 minutes" because "the stark truth offends some people."
"I'll be baaaaak," he wrote in a text.
But sources also told the outlet Stone's ban is permanent.
Twitter did not comment on Stone's suspension, and it has a policy against speaking about individual accounts.
As of Sunday morning, Stone's main account is still suspended, but he has kept lashing out at critics through two lesson-known accounts tied to him.
"Strike me down, and I will become more powerful than you could possibly imagine. #StopCensorship #TwitterVSRogerStone #RogerStone," he wrote on the Stone Cold Truth account.
The same account thanked WikiLeaks founder Julian Assange for his "support" after Assange complained about Twitter's Stone slap.
Stone, who advised Trump and many other Republican presidential candidates, is notorious for his unfiltered rants against his enemies and Trump critics, as well as his elaborate tricks and media stunts during campaigns.
He has also found himself tied into the web of Trump-Russia investigations, where he is one of several Trump campaign associates suspected of colluding with the Kremlin to help Trump's campaign.
Stone has repeatedly denied any collusion, and he last month insulted House Intelligence Committee investigators after testifying before them. He accused members of the panel of making "false allegations against me in public session in order to ensure that these bogus charges received maximum media coverage."
In the testimony, Stone also denied any direct communications with Assange, which he had alluded to in the past. Stone now claims he only spoke with Assange through a "mutual friend," and played no part in WikiLeaks publishing documents stolen from Democratic operatives during the 2016 campaign.