Roger Stone's Motion for New Trial Denied, Must Report to Prison in 14 Days
United States District Judge Amy Berman Jackson denied a motion requesting a new trial for Roger Stone, the convicted former adviser to President Donald Trump, in a Thursday ruling. Court documents show that Stone must appear in person "at the institution designated by the Bureau of Prisons" within 14 days to serve out his sentence. Stone is currently out on bond.
Stone was found guilty in 2019 of obstructing an investigation conducted by Congress, witness tampering and making false statements to the U.S. Government in relation to alleged meddling in the 2016 election by Russia.
In her decision, Judge Berman concluded that Stone's defense had not presented the grounds for a retrial and had not given the court "any reason to believe that there has been a 'serious miscarriage of justice.'"
Legal counsel for Stone requested a new trial after the foreperson of the jury, Tomeka Hart, was revealed to have posted anti-Trump sentiments on her social media pages. Allegations were also made that Hart lied on her jury application to appear as if she were not biased against Republicans.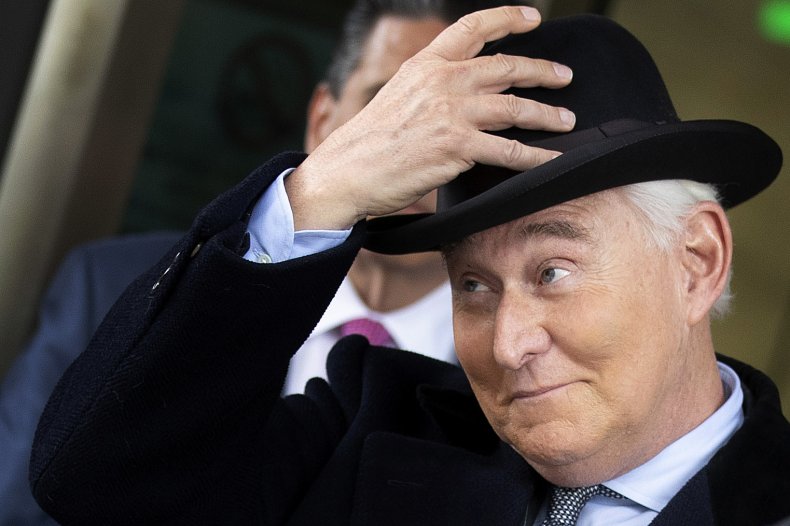 However, the judge's decision indicated that Hart had made her political leanings known when answering questions during the jury selection process.
"The juror's personal affiliation with Democratic politics was set forth in her written answers," Judge Berman's opinion read. "She said straight out that she had opinions about the 'officials' on the list of people who might be mentioned in the case, and Donald Trump was the most prominent, if not the only, 'official' named."
"At this time, the Stone team is reviewing the decision and will determine how to proceed in the coming days," said one of Stone's defense lawyers, Seth Ginsberg, in a Thursday statement to Newsweek.
Prosecutors originally recommended a sentence of up to nine years for Stone, prompting a tweet from President Trump in February.
"This is a horrible and very unfair situation," Trump tweeted. "The real crimes were on the other side, as nothing happens to them. Cannot allow this miscarriage of justice!"
However, after indications from the Department of Justice that Stone's sentence could be lightened in repudiation of the sentencing recommendation, the prosecution team resigned. Hart, who had remained anonymous, came forward in defense of the prosecutors in February.
"It pains me to see the DOJ now interfere with the hard work of the prosecutors," Hart wrote. "They acted with the utmost intelligence, integrity, and respect for our system."
Trump commented on Stone's trial during a February rally in Las Vegas where he claimed that after Stone's conviction, Hart was "jumping up and down."
"When [Stone] was convicted and then a statement was made," Trump said, "she started jumping up and down screaming, 'Yes, yes,' and started telling everybody and everybody said, 'Wait a minute, wasn't she just a juror?' The woman was totally biased."
Stone was eventually sentenced to 40 months in prison.
Judge Jackson's decision concluded that Hart had done no wrong and "did not engage in misconduct during the trial."
Other jurors in the Stone trial wish to remain anonymous and asked the court on Wednesday not to release their private information to a writer who has requested it.
"I try to stay away from danger, but now it seems like the danger is coming to me," wrote an individual known as Juror H. "This whole situation blows me away, because all that I expected before the trial was simply appearing for jury duty. I feel that I should be protected for performing my civic duty."
Updated 8:31 p.m. EST 04/16/2020: This story has been updated to include a statement from Roger Stone's defense lawyer, Seth Ginsberg.