'Rogue One' Cast Spill Details on Newest 'Star Wars' Story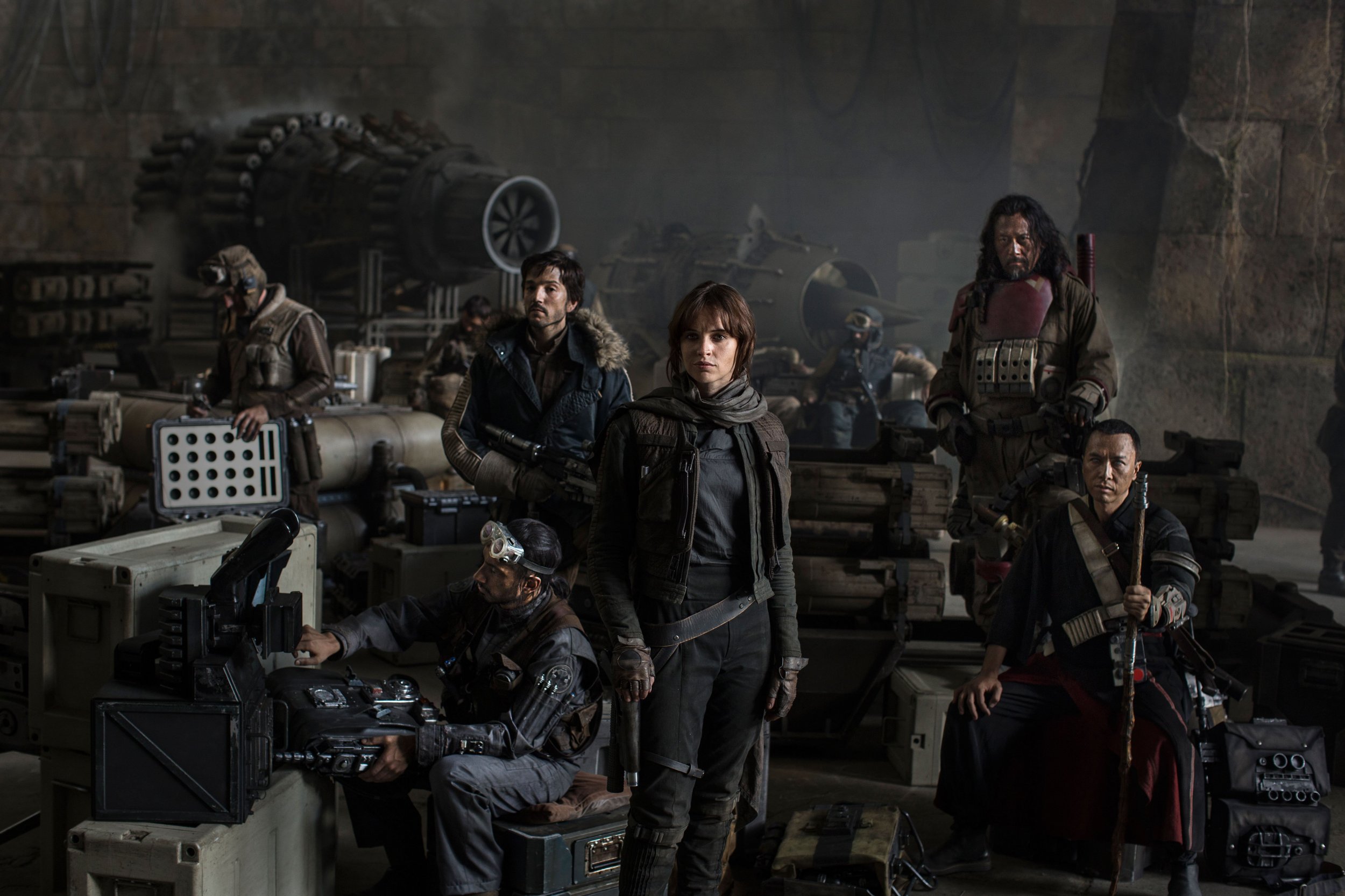 Perhaps the biggest surprise for Star Wars fans tuning into the London-based Rogue One: A Star Wars Story panel at Star Wars Celebration on Friday was that the three-minute trailer they were expecting wasn't a trailer at all; it was a three-minute sizzle reel of action scenes and short interviews from the director and cast of the film.
Fans were eagerly anticipating the simultaneous worldwide release of this "trailer" on ABC's Good Morning America, especially the supposed visual reveal of Darth Vader in the film. Instead, the sizzle reel was debuted, which doesn't contain a sliver or a mention of the famous Sith Lord. It looks like fans will have to wait longer for the actual trailer, which was screened exclusively for attendees of the panel.
Yet fans didn't seem disappointed as the main cast of the film made an unexpected appearance at the panel, along with the previously announced guests, director Gareth Edwards and president of Lucasfilm Kathleen Kennedy. Each gave a brief description of their role in the film and revealed new information about it.
Here is what we learned from the stars and their characters:
Felicity Jones (Jyn Erso): Jones talked about her character and how she was different from other heroes in the franchise. "I feel there's one major difference between Jyn Erso and...Rey and Luke," she said. "She's not a character who's asking 'Who am I?' and 'Where do I come from?' We know where she comes from, and that fact is what propels the story, and it's the beginning of Jyn's journey to find out what her reason is and her cause."
Diego Luna (Captain Cassian Andor): Luna revealed a key plot point about the film: it starts with his character and Jyn Erso being charged to (presumably) steal plans for the Death Star from the Empire. He noted that his character is a steady hand for the movie's band of misfits. "Like on any team there's friction and issues, and it's Cassian who has to keep them together," he said.
Alan Tudyk ( K-2SO): Tudyk plays a droid, K-2SO. Tudyk revealed to the audience that K-2SO was an Imperial droid whom Cassian captured and reprogrammed to serve the Rebellion, and noted that his character may not be alright in the circuits due to this. "[Cassian] did the data wipe, and he's not 'quite all there' as a result. He speaks his mind and says things that can be unsettling. He's honest. If you know any old people it's like that!"
Riz Ahmed (Bodhi Rook): Ahmed said his character works for the Imperials on his home planet. "Bodhi is a pilot, and he works for the Empire to earn a living. You know people work at big organizations and they don't like everything they do."
Forest Whitaker (Saw Gerrera): Whitaker initially appeared in the animated series Star Wars: The Clone Wars. On Friday he spoke about the status quo of the Rebel Alliance. "Saw Gerrera is a rebel fighter. He's been fighting for years against the Imperial occupation. He's been controlling a group of rebels that's been out to the extreme. There's a series of different rebel groups coming together as an alliance, and all these people are different parts of that."
Mads Mikkelsen (Galen Erso): Having accidentally revealed that his character is Jyn Erso's father in April, Mikkelsen made a point to keep details about his character relatively vague. "He's a scientist, and he at one point invented something so beautiful, so fantastic that it might change the universe."
Ben Mendelsohn (Orson Krennic): Mendelsohn plays the main villain of the film. He didn't offer many details about his character, but he did joke Krennic differed from other Imperial villains because he is an "Australian kind," and thus "smarter," "more inventive" and "a bit sexier" than his British-accented Imperial compatriots.
'Rogue One' Cast Spill Details on Newest 'Star Wars' Story | Culture