Rohingya Risk 'A Very Bleak Future' Because of Education Deprivation and 'Unimaginable' Persecution
Children's rights organization Save the Children warned on Monday that 70 percent of school-aged Rohingya children living in Bangladeshi refugee camps lack access to education.
The group warned that depriving children of education limits future opportunity and sets "an entire generation of children up for a very bleak future."
"More than 327,000 Rohingya children are currently out of school in Cox's Bazar," Save the Children's Bangladesh Director Mark Pierce said. "They are being deprived of the right to learn basic skills like reading and writing, which would empower them to build a brighter future for themselves and their families. Education isn't an optional luxury; it's a lifesaving intervention. It brings hope and opportunity to children, providing them with a return to familiar routines while helping to alleviate the psychosocial impact of violence and displacement."
Save the Children is operating approximately 100 learning centers with the help of the Bangladeshi government in the city of Cox's Bazar, according to Turkish state-run news agency Anadolu. The organization issued its statement ahead of a visit by the U.N. Secretary-General Antonio Guterres and World Bank President Jim Yong Kim to the refugee camps on Monday.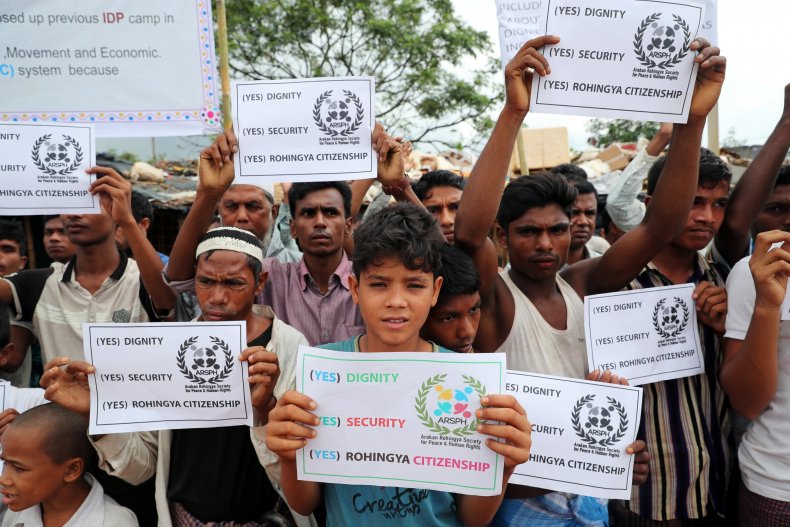 "In Cox's Bazar, Bangladesh, I've just heard unimaginable accounts of killing and rape from Rohingya refugees who recently fled Myanmar. They want justice and a safe return home," Guterres tweeted.
Furthermore, recent monsoons have threatened the safety of Rohingya refugees, and many live in exposed, elevated areas. "Over 29,000 people have already been affected by the rains," according to the United Nations Population Fund. "Dozens have been injured and at least one person has been killed."
The secretary-general tweeted that up to 200,000 refugees need to be relocated, adding that "The Rohingya are one of the most discriminated against and vulnerable communities on Earth."
Guterres's visit to the refugee camps follows a warning by the International Committee of Red Cross that Rohingya should not yet be repatriated to Myanmar, although the country has said it was ready to receive the refugees. The U.N. announced in May it had reached an agreement with Myanmar to allow the refugees to return to their home country, but the deal does not guarantee the Rohingya will be granted citizenship.
"Much more has to happen in terms of reception structure, preparations, also preparation of the communities to receive again those who came from Myanmar," Red Cross President Peter Maurer said.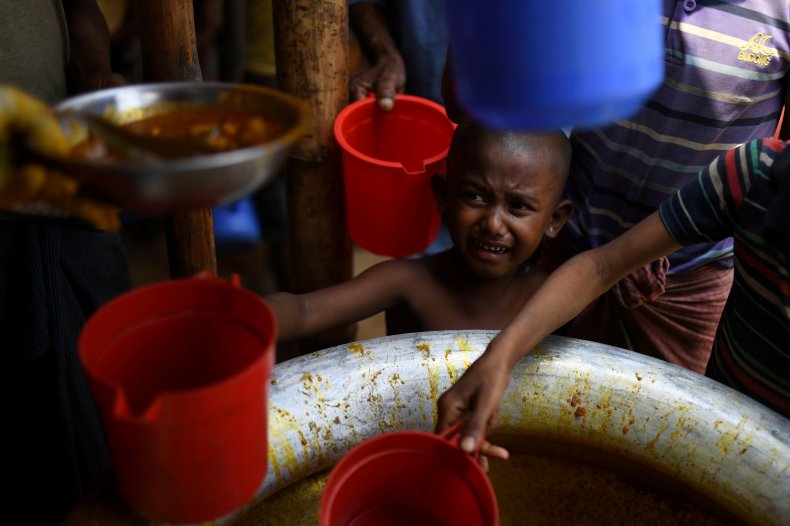 Approximately 905,000 Rohingya refugees live in Cox's Bazar. Refugees began fleeing persecution in Myanmar's Rakhine State, where state security forces were launching attacks against Rohingya communities, last August.
The Rohingya, who have been denied citizenship since 1982, are an ethnic group that is mostly comprised of Muslims, and they have lived in the Southeast Asian country for centuries. Myanmar, meanwhile, is a predominantly Buddhist country.
Media coverage and human rights reports of the Rohingya persecution, which the U.N. has called a "textbook case of ethnic cleansing," has documented widespread arson attacks against entire villages, torture, rape and murder. U.N. human rights chief Zeid Ra'ad al-Hussein said in December 2017 the acts perpetrated by state security forces against the Rohingya indicate that genocide cannot be ruled out.
Myanmar's leaders have forcefully denied allegations of systematic violence and ethnic cleansing. The army also conducted an internal investigation that exonerated its personnel of allegations of rape and murder, but rights organizations called this report a "whitewash."
The exact number of Rohingya killed by Myanmar's army is unknown, but international humanitarian medical organization Médecins Sans Frontières estimated in December 2017 that the death toll was at least 6,700, while nearly 730 children under age five had been killed.