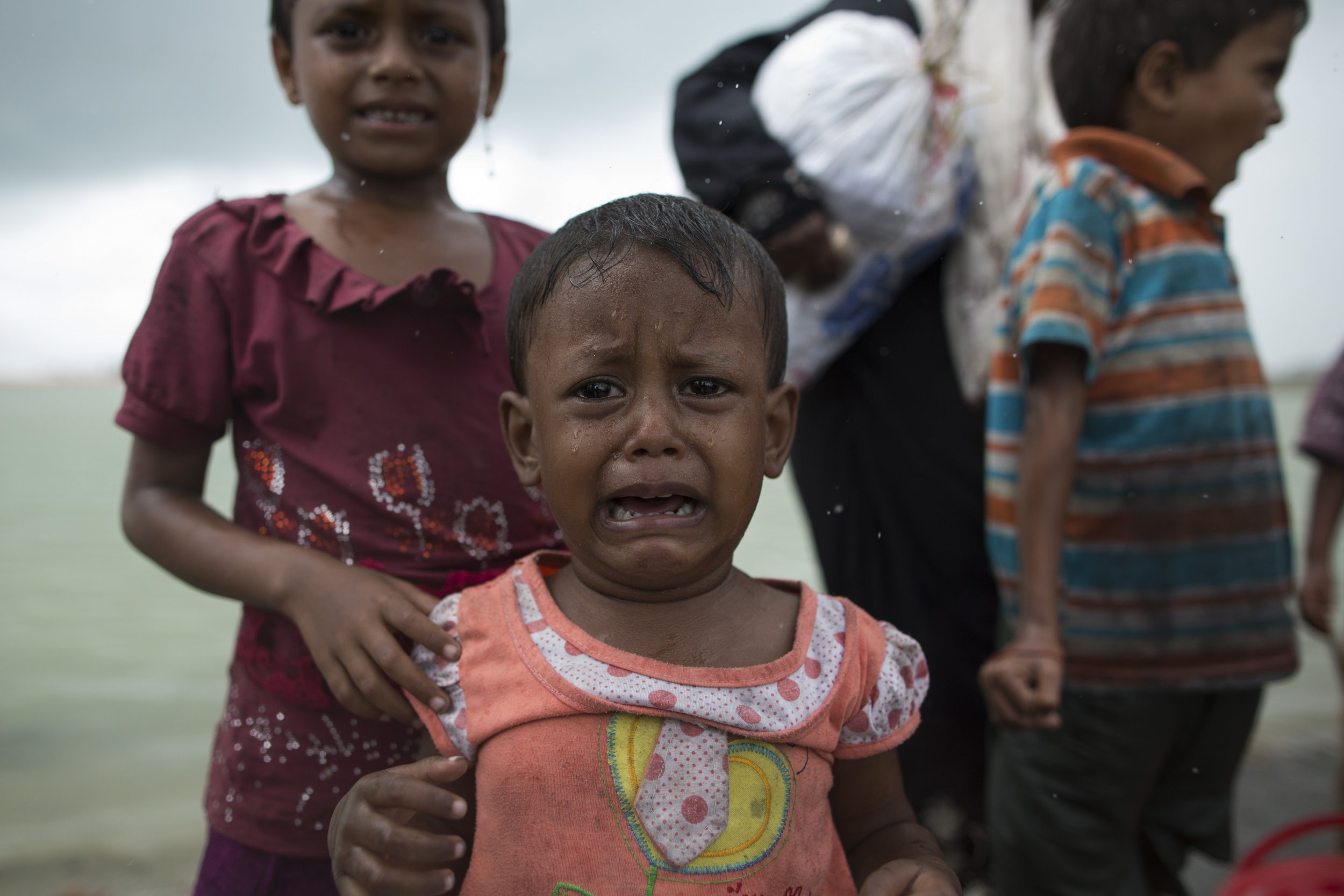 The U.S. government will provide $32 million in aid to help the hundreds of thousands Rohingya refugees who've fled Myanmar since late August, the State Department said Wednesday.
The aid includes "emergency shelter, food security, nutritional assistance, health assistance, psychosocial support, water, sanitation and hygiene, livelihoods, social inclusion, non-food items, disaster and crisis risk reduction, restoring family links" for more than 400,000 Rohingya who have fled to Bangladesh or been displaced within Myanmar, the State Department said in a statement.
The help from the Trump administration came as a surprise because the president did not refer to the Rohingya in his United Nations remarks on Tuesday, nor in a brief chat with Bangladeshi Prime Minister Sheikh Hasina on Monday.
"He just asked how is Bangladesh? I said, 'It's doing very well, but the only problem that we have is the refugees from Myanmar,'" Hasina told Reuters. "But he didn't make any comment about refugees."
Trump frequently demonized refugees during his 2016 campaign and has moved to ban refugees from entering the U.S.
Moreover, the Rohingya are a predominantly Muslim group and Trump's proposed ban on visitors from several Muslim-majority countries has been widely seen as Islamophobic.
More than 400,000 Rohingya have fled from Myanmar (also known as Burma) to Bangladesh since August 25. The Burmese military has burned down villages in northern Rakhine state, where the Rohingya live, and committed mass killings along the way, according to Matthew Smith, a founder of the human rights group Fortify Rights. It's estimated roughly 400 have been killed in recent weeks.
The Rohingya minority in Myanmar is frequently described as one of the most persecuted groups in the world.
Despite the fact the Rohingya have lived in Myanmar for generations, they aren't considered citizens by the government. Religious tensions between the Muslim Rohingya and the majority-Buddhist population turned violent several years ago. More recently, the Myanmar military has justified attacks on civilians based on the fact Rohingya militants targeted police outposts and killed roughly a dozen members of security forces.
The Rohingya crisis is a "textbook example ethnic cleansing," a top UN official recently said.
Aung San Suu Kyi — the civilian leader of Myanmar and a recipient of the Nobel Peace Prize — said Tuesday that her country is "not afraid of international scrutiny" as she directly addressed the Rohingya crisis for the first time. Instead of denouncing the violence perpetrated by the military, Suu Kyi said more time was needed to investigate why so many Rohingya are fleeing.
Suu Kyi's speech was a "mix of untruths and victim blaming," according to Amnesty International.