Daughter Pleads for Help After Father, Community Advocate, Detained by ICE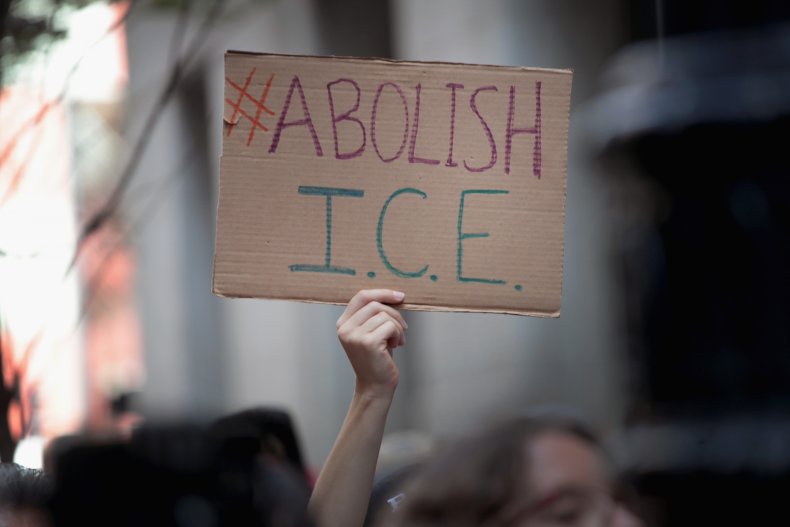 A 40-year-old Houston community activist, father of five and grandfather has been detained by Immigration and Customs Enforcement (ICE) after inviting the agency to attend a town hall he had organized to assuage concerns about President Donald Trump's anticipated immigration raids, the Houston Chronicle reported Friday.
At 15-years-old, Guatemala-born Roland Gramajo arrived in Houston with his mother in the mid-90s, where he attended high school and met the woman who would become his wife. After a well-intentioned prank went awry and the police were called, he sustained a criminal record which would come back to haunt him, leading to his deportation years later, according to the paper.
After a subsequent, unauthorized return to the United States, Gramajo became a cornerstone of the Houston immigrant community. The Chronicle said that in building community ties, he hoped to engage with ICE representatives to facilitate a dialogue with the immigrant population, who were fearful of pending ICE raids that Trump had announced in July.
Although ICE is said to have declined to attend, Gramajo was picked up by immigration agents weeks later while driving to work and taken into custody, acting on the extant final order of deportation against him.
Raed Gonzalez, Gramajo's lawyer, told Newsweek he doesn't have evidence his client was targeted by ICE, but that there were suspicious people at the town hall meeting.
"While I do not have any evidence that he was targeted because of the Town Hall meeting with ICE, everyone, including the congresswoman present, noticed the presence of individuals that looked suspicious and made comments that they did not belong at the meeting," Gonzalez told Newsweek. "Moreover, these individuals did take pictures of Mr. Gramajo while he was at the meeting. Shortly after, he gets arrested. Coincidence? Perhaps, but doubtful."
A GoFundMe page set up by his daughter Katherine indicates that Gramajo was detained on Thursday at 8 a.m.
"My dad has helped the Latino community and Alief community ever since he lived here," she posted. "He [always] gave and gave to the community because he want[ed] us Latinos to grow. Please, anything will help. My dad is a good man, a great father. Please anything will help. [It's] just me and my mom w 4 kids please."
As of Saturday morning, the fundraiser had brought in just over $1,500 out of a $20,000 goal.
Just one day prior to his arrest, Gramajo posted on a Twitter account appearing to belong to him about his love for the immigrant community.
"With great people [from] Middle East, Filipino, Coriana/Guatemalteca," he wrote. "I love HOUSTON the diversity is great."
Gramajo founded the Centro Organizativo Guatemalteco, a non-profit supporting the Guatemalan diaspora in Texas, in 2010 and the American Systems Chamber of Commerce in 2015, also retaining his spot as president of the Crescent Park Home Owner's Association.
On September 8 Newsweek received a statement from ICE categorically denying that immigration officers attended the August 18 meeting. "To be abundantly clear, ICE personnel did not attend this Immigration Forum in any capacity — official or unofficial," an ICE spokesperson wrote.
The statement concluded: "Gramajo-Reyes's repeated actions have demonstrated that he has no regard for U.S. laws. To portray him in one-sided media reports — based on vague and unsubstantiated allegations — as a victim of some "covert" law enforcement operation is an insulting affront to public safety; and it does a great disservice to the thousands of law enforcement officers who risk their lives daily to protect our communities, and our country."
A 2018 Houston City Council proclamation declaring May 17, 2018, as "Roland Omar Gramajo Reyes Day" praised him as a "very well-known community activist whose qualities represent a true leader with an exceptional drive to improve the quality of life throughout the [diverse] community in Houston."
"He is an extremely positive role model who is dedicated to serving and inspiring the community to get involved," Councilmember Steve Le noted. "He is a remarkable man who finds time to raise his family and time [for] every project he takes on, and his selfless volunteer efforts [inspire] the community to become future humble, honest and protective leaders of this great city."
This article was updated to reflect the statement from Gramajo's lawyer, Raed Gonzalez.
This article was updated to reflect the statement from Immigration and Customs Enforcement.