Dozens Stuck 100 Feet in the Air after Roller-Coaster Emergency at Universal Studios Japan
A roller coaster at the Universal Studios Japan in Osaka broke down on Tuesday, leaving some passengers stuck at 100 feet for as long as two hours before they were brought down to safety.
There were 64 people on two cars of the Jurassic Park-themed "Flying Dinosaur" attraction when the emergency stop was activated around 4.40 p.m. local time (3.40 a.m. EST) likely due to an engine issue, Japanese news outlet Asahi reported.
One of the carriages stopped at the terminal level, but the other was stuck at about 100 feet in its upward path, leaving its passengers facing the drop below them.
Local channels sent helicopters to film the rescue operations, some of them broadcasting it live. The footage captured by Asahi showed some of the people descending the ride while theme park goers on the ground continued to enjoy their day.
No one was injured and all passengers descended the attraction within the next two hours, according to Japanese broadcaster NHK. People got in the line again for the ride as soon as it reopened shortly afterward, Japanese news agency Kyodo reported.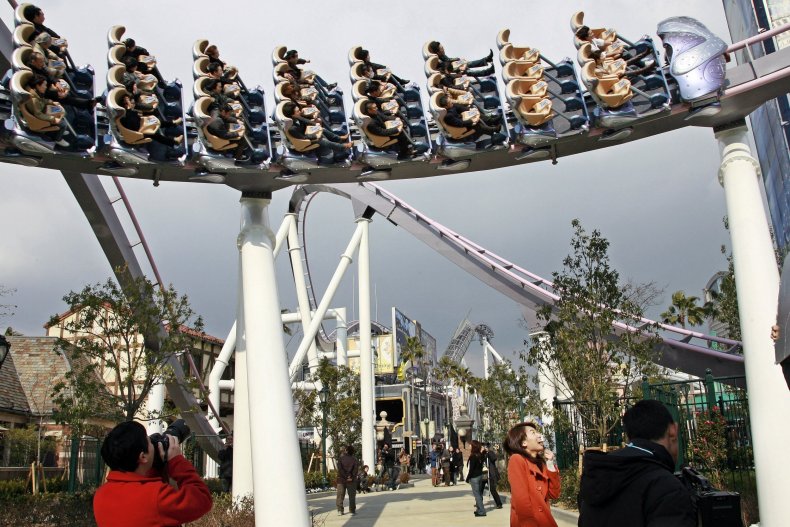 The Flying Dragon attraction is one of the latest additions to the Universal Studios Japan, boasting the world's longest track and the farthest initial drop, according to the theme park's website.
The ride promises to deliver an "over-the-top, thrilling experience"—a far cry from the "slowest rollercoaster" that derailed and stopped mid-ride at the Arakawa Amusement Park in Tokyo in March, which passengers hardly noticed.