Rolling Stones Arrive In Cuba To Play Historic Free Concert In Havana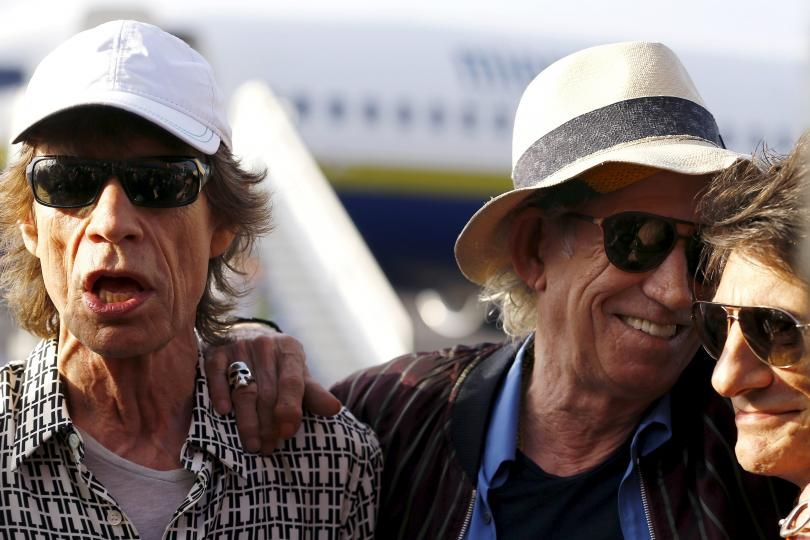 The Rolling Stones arrived in Havana on Thursday March 24, one day ahead of their historic, free concert that marks the end of a historic week on the island and a new chapter in their relationship with the United States.
The concert is the latest sign of Cuba's thaw with the West, decades after Cuba banned music from artists such as the Stones, the Beatles and Elvis Presley on the radio and television after the 1959 revolution that brought Fidel Castro to power.
After the Stones' plane landed, Mick Jagger walked down to the tarmac to speak to reporters and was accompanied by bandmates Keith Richards, Ronnie Wood and Charlie Watts.
Some well-known Cubans, including composer Pablo Milanes and Cardinal Jaime Ortega, suffered more for their love of rock and roll, including being sent to farms in labour brigades meant to correct "ideological deviation."
Many rock musicians later left the country.
When asked about the former ban on his music in Cuba after landing, Jagger, appearing to allude to the Stones classic, "Tims is on my Side," noted that "time changes everything."
The Stones have performed in Argentina, Brazil, Chile Colombia, Mexico, Peru, and Uruguay during their Latin America 'Ole' tour. They added the Cuba show to the end ot the tour, becoming the first major international rock stars to play Cuba.
"I think it's going to be historic because they haven't had any big shows before and it would have been surprising ten years ago for this to happen, and anyone who has been here a long time knows that," he added.
The performance comes just days after U.S. President Barack Obama visited the country-- the first visit to the island by a U.S. president in 88 years-- opening a new chapter in U.S. engagement with the island's government after decades of hostility between the former Cold War foes.
Jagger said he was pleased with the president's visit.
"I think he (U.S. President Barack Obama) made a very good impression here. He made... yes, a great front man. He made a very good impression. He said some very interesting things and he was very charming and we're very pleased to be here after him," he said.
The concert will take place on the grounds of an outdoor sports complex, where 400,000 spectators are expected to crowd the football field and adjoining baseball fields.
Cubans are invited to attend the concert at Ciudad Deportiva for free on a first-come, first-served basis.
Fidel Castro later regretted the censorship of music and attended the unveiling of a statue of John Lennon, one of the four Beatles, in a Havana park on the 20th anniversary of his death on December 8, 2000.