Here's Why the Rolling Stones May Sue Donald Trump
The Rolling Stones are prepared to take legal action against President Donald Trump.
Trump has continued to use music the Stones' music—specifically the band's 1969 classic tune "You Can't Always Get What You Want"—during his campaign rallies, despite the group's multiple requests that their music not be played at Trump campaign events. Following Trump's Saturday rally in Tulsa, Oklahoma, during which he once again used the track as his walk-off theme song, the Stones are now threatening to sue the president.
Deadline was first to report that the group is working with performing rights organization BMI, which has officially notified the Trump campaign of intentions to sue if their cease and desist demands continue to be ignored.
"This could be the last time President Donald Trump uses Stones songs. Despite cease & desist directives to Donald Trump in the past, the Rolling Stones are taking further steps to exclude him using their songs at any of his future political campaigning. The Stones' legal team is working with BMI. BMI has notified the Trump campaign on behalf of the Stones that the unauthorized use of their songs will constitute a breach of its licensing agreement. If Donald Trump disregards the exclusion and persists, then he would face a lawsuit for breaking the embargo and playing music that has not been licensed," the group said in a statement obtained by Newsweek on Monday.
A BMI representative explained in a statement to Newsweek that although the Trump campaign has a Political Entities License allowing the organization to play more than 15 million musical works at campaign events, "there is a provision, however, that allows BMI to exclude musical works from the license if a songwriter or publisher objects to its use by a campaign."
"BMI has received such an objection and sent a letter notifying the Trump campaign that the Rolling Stones' works have been removed from the campaign license, and advising the campaign that any future use of these musical compositions will be in breach of its license agreement with BMI," the statement continues.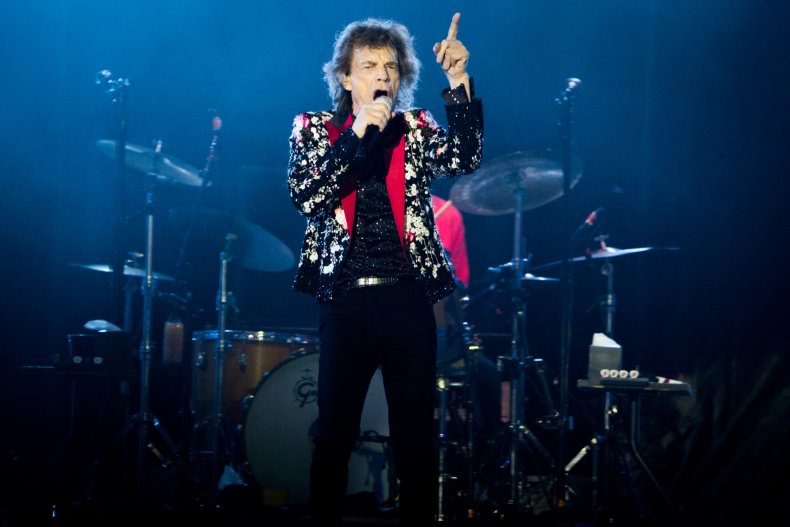 The Rolling Stones first asked Trump to playing their music at events and rallies back during the 2016 U.S. presidential race. At that time, though, the band did not threaten to take any legal action, as noted by CNN. Stones frontman Mick Jagger later told BBC that he thought Trump's use of "You Can't Always Get What You Want" was a "weird" choice.
"It's a funny song for a play-out song—a drowsy ballad about drugs in Chelsea," Jagger said in a 2018 interview with the news outlet. "It's kind of weird. He couldn't be persuaded to use something else."
The Stones aren't alone in being upset with the Trump campaign using their music at events. Trump's campaign was also hit with a cease and desist letter from Tom Petty's estate after the group played Petty's hit song "I Won't Back Down" at a Tusla rally earlier in June. Petty's estate noted that the late singer and his family "would never want a song of his used for a campaign of hate."
Artists including Neil Young, Adele, Panic! At the Disco and Aerosmith have also issued statements claiming to have not given Trump permission to use their songs for political campaigning.
Newsweek reached out to the Trump campaign for comment. This article will be updated if a response is obtained.