Rolling Stones Drummer Charlie Watts Dies at 80
Charlie Watts, the famed drummer for The Rolling Stones, has died in London at the age of 80.
"It is with immense sadness that we announce the death of our beloved Charlie Watts. He passed away peacefully in a London hospital earlier today surrounded by his family," a statement from The Rolling Stones said on Tuesday. "Charlie was a cherished husband, father and grandfather and also as a member of The Rolling Stones one of the greatest drummers of his generation."
A cause of death was not immediately provided, but the news comes just weeks after Watts said he would miss the band's U.S. tour dates to recover from an unspecified medical procedure. Watts had been previously treated for throat cancer in 2004.
A long-time member of The Rolling Stones, Watts joined the legendary rock-n-roll group in January 1963, alongside Mick Jagger, Keith Richards, Bill Wyman and Brian Jones. He remained in the band for 60 years, joining Jagger and Richards as one of the group's longest-lasting and most essential members.
He was born in London in June 1941, and started his early career playing in jazz bands throughout the 50s.
"I bought a banjo, and I didn't like the dots on the neck," Watts told The New Yorker in 2012, recounting his early music days. "So I took the neck off, and at the same time I heard a drummer called Chico Hamilton, who played with Gerry Mulligan, and I wanted to play like that, with brushes. I didn't have a snare drum, so I put the banjo head on a stand."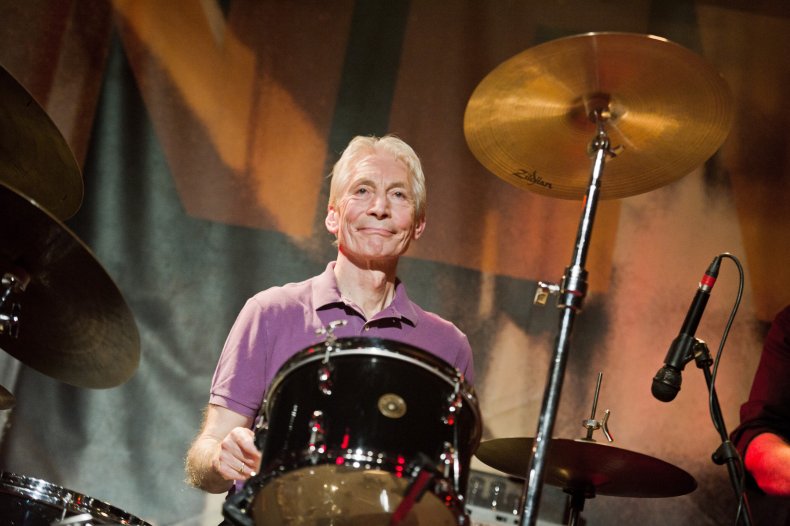 In the following decade, Watts split his time playing drums in Alexis Korner's Blues Incorporated and working as a graphic designer before he was recruited into the Stones by Jagger and Richards. He went on to play on the Stones' self-titled debut record in 1964, and quickly became the pulse of the band's music.
Known for being elegantly dressed and dapper, Watts often appeared more like a quiet jazz musician than a rockstar. But the drummer's speed, rhythm and timing on hits such as "Gimme Shelter," "Brown Sugar," and "Tumbling Dice," made him one of the most famous and respected drummers of all time.
In 1979, Richards famously said: "Everybody thinks Mick and Keith are the Rolling Stones. If Charlie wasn't doing what he's doing on drums, that wouldn't be true at all. You'd find out that Charlie Watts is the Stones," according to Rolling Stone magazine.
Even Watts knew his sound was irreplaceable to the band. In one famous story during the Stones' heyday, Jagger reportedly phoned Watts' hotel room during late-night party, asking, "Where's my drummer?"
In response, Watts got up, shaved, dressed in a suit, put on a tie and new shoes before descending the stairs to punch Jagger in the face and say: "Don't ever call me your drummer again. You're my f****** singer!"
When he wasn't playing music, Watts and his wife Shirley owned an Arabian horse farm. The couple has one daughter, Serafina, and a grandchild, Charlotte, according to Rolling Stone.
On Tuesday, his death was met with a wave of condolences from a range of fellow musicians including Patti Smith, Billy Bragg, Duran Duran, Def Leppard, Abbey Road Studios, and the estates of Jimi Hendrix and Louis Armstrong, to name a few.