The Rolling Stones have decided against performing their popular 1971 hit "Brown Sugar" during their "No Filter" tour this fall, Mick Jagger and Keith Richards confirmed during a recent interview with The Los Angeles Times.
The song has stirred controversy for decades because of its lyrics, which reference a slave ship and violence against Black women in its opening lines. Jagger told the LA Times the band has played the song onstage routinely for five decades, and it ranks second on the group's list of frequently performed songs at live shows, according to Rolling Stone.
In 1995, Jagger said during an interview with the magazine that he "didn't think" about the potential controversy at the time the song was written and said he "never would write that song now." Last summer, as people protested against systemic racism throughout the U.S. and around the world, record producer Ian Brennan raised concerns about the Stones continuing to play "Brown Sugar."
"The concern is that they continue to perform and profit—and not just perform it, but feature it as the penultimate or final number on their most recent worldwide tour, a tour that shattered the all-time concert industry record for monetary gross at a single show," Brennan told Rolling Stone at the time.
More than a year later, the Stones are back on tour and have decided to stop playing the song—at least for now. Speaking with the Times ahead of their concerts in Los Angeles later this week, Jagger said, "We've played 'Brown Sugar' every night since 1970, so sometimes you think, 'we'll take that one out for now and see how it goes.'" He added the band "might put it back in" at some point, and Richards also said he is "hoping that we'll be able to resurrect the babe in her glory somewhere along the track."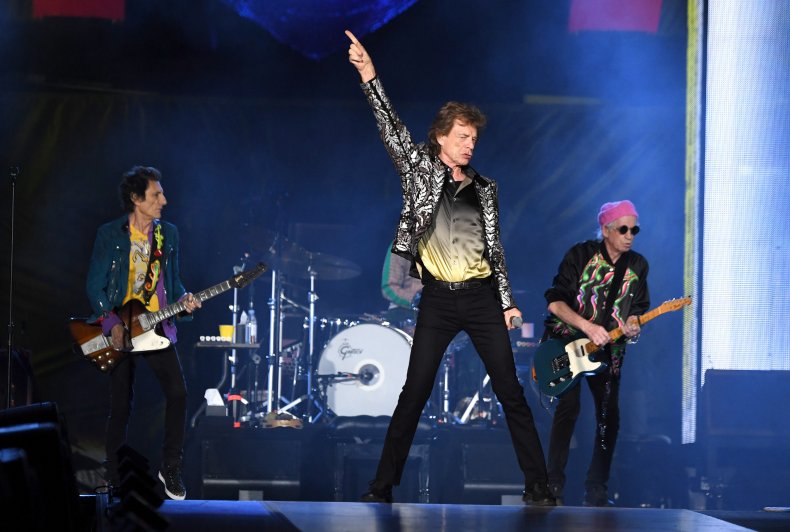 The band is far from the first to reconsider performing lyrics identified as controversial years after a song's release. In some cases, those reassessments have occurred just a few years after a given song's initial popularity.
Robin Thicke's "Blurred Lines" attracted controversy soon after it was released in 2013 for its lyrics, which quickly inspired debate about consent. In 2019, Pharrell Williams, who was featured on the track alongside T.I., told GQ he was "embarrassed" by some of his older songs, which he said he "would never write or sing today."
Addressing "Blurred Lines" specifically, Williams said he initially didn't understand why some people objected to its lyrical content but later "realized that there are men who use that same language when taking advantage of a woman, and it doesn't matter that that's not my behavior."
Shortly after the Lifetime documentary series Surviving R. Kelly aired in January 2019, Lady Gaga publicly apologized for her 2013 collaboration with the R&B singer, titled "Do What U Want," both for the collaboration itself and for the song's lyrical content.
"The song is called 'Do What U Want (With My Body)', I think it's clear how explicitly twisted my thinking was at the time," Gaga said in a statement she released at the time on social media, in which she expressed regret for the collaboration and said she believed and stood behind the women featured in the documentary series "1000%."
In 2017, three years after the release of Lana Del Rey's Ultraviolence, the singer told Pitchfork she no longer sang the controversial lyric, "he hit me and it felt like a kiss," from the album's title track. "I don't like it. I don't," she said. "I don't sing it. I sing 'Ultraviolence' but I don't sing that line anymore."
The Black Eyed Peas, Lorde, Eminem, Katy Perry and Iggy Azalea are just a few of the other artists who have either expressed regret or vowed to stop singing controversial lyrics as pop culture continues to confront how to weigh fans' love for the art with the messages that art encompasses.