Rollplay 12V Nighthawk Review: A Fun Electric Vehicle for Kids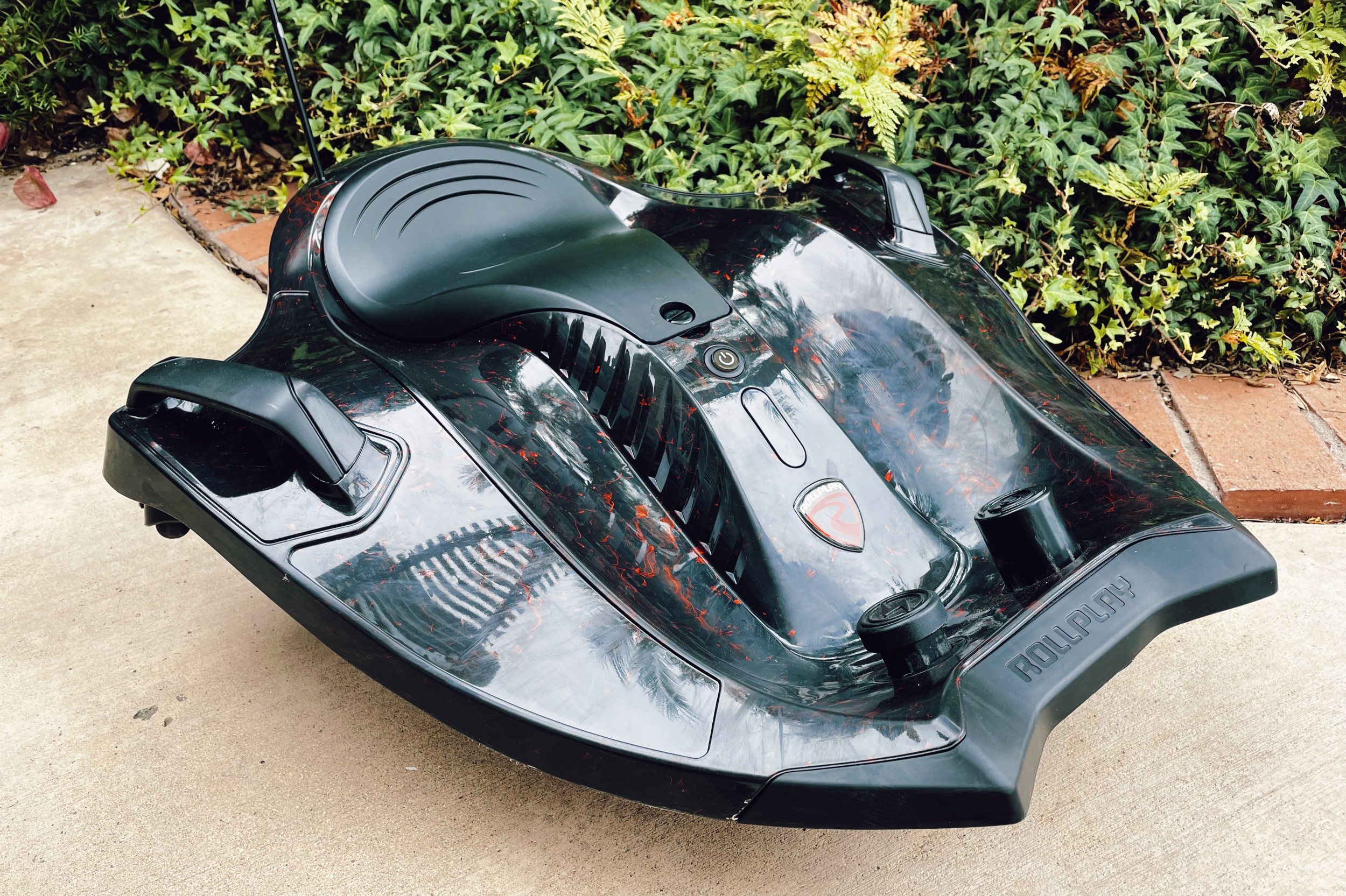 "This is so much fun," both my kids said to me individually, after each finished their first ride on the Rollplay 12-Volt Nighthawk. I had no doubts that they would like it—because what kid wouldn't want to drive their own electric vehicle? But, with the cart's unique balancing mechanics on a single wheel in the back, I was curious how quickly they would take to the toy. They each felt a little uncomfortable in the first couple of minutes with the Nighthawk, but after their inaugural loop at a park, on a flat, open surface, there was no looking back.
The Nighthawk from Rollplay not only looks fun, but it is fun. The driving mechanics introduce a bit of a learning curve to getting started, but overall that tiny bit of challenge only adds to its longevity, before kids will want to move onto something else.
TL;DR
Pros:
Fun electric vehicle
Over an hour of run time
Easy assembly
Cons:
Heavy to carry
Charging cable a pain to access
Buy at Amazon.
Nighthawk Electric Cart Features
The best kind of toy is one that you can use immediately. The Nighthawk is a double-edged sword in this way because the only assembly necessary is to insert the flag into a hole on the back. The instructions also say to charge the battery for 24 hours before its first use. In fact, if you actually read through the instruction booklet, most of it is dedicated to the battery and charging—around temperature, time or a multitude of other details.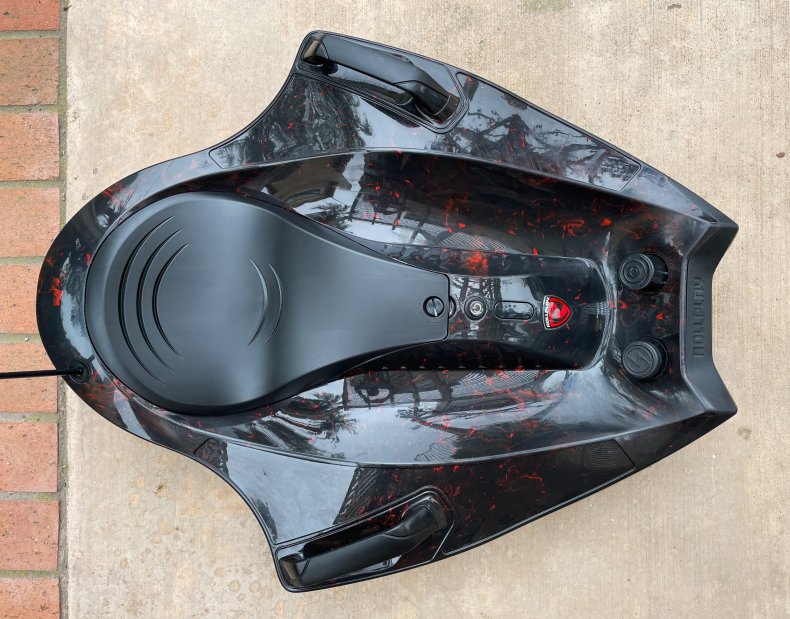 The battery is a key part of the product and should allow for 90 minutes of run time. In practical use, the battery never died while my kids were riding the Nighthawk. It always provided enough time for each of them to have their fill. To charge the battery, you need to remove the seat and unhook a connector. This process isn't hard, but it is a little time-consuming.
As for the specs, the vehicle goes 6.5 miles per hour and has a 2-meter turning radius. The flag can be removed easily, but it's recommended so kids on the cart, sitting low, can be seen while riding.
Riding the Rollplay 12V Nighthawk
Underneath the Nighthawk is what looks like a set of skateboard wheels in the front and a single larger, rubber wheel in the back. Once the vehicle gets moving, it balances itself out, or is supposed to. That's where some practice comes into play. Immediately upon sitting down, you'll lean to one side or another. This is how you steer. Lean your body to the left and you glide left. The same is true for turning right.
At first, turning can feel unnatural, and like you'll be scraping the sides of the plastic sled-like seat. Under each handle is a wheel that looks like it was taken from a Rollerblade. These side wheels keep the cart navigating freely as you lean your body into each turn.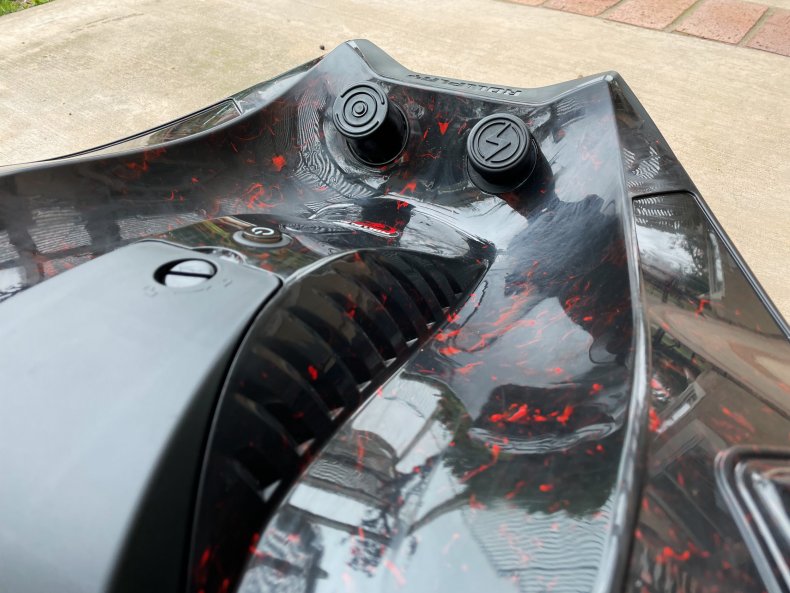 There are two pedals on which your feet naturally rest when seated. The right is the accelerator, and the left is the brake. Although you might be able to master a gradual speed increase after lots of use, the primary use of the right pedal is simply to go. Interestingly, I noticed myself and my kids both initially having a slight aversion to using the brake pedal. The temptation is to take your foot off the acceleration and put both feet onto the ground. I'm not sure why this is, but it happened organically, between different people.
To answer the question raised a moment ago, yes, I drove it, too. The official guidelines state the Nighthawk is for ages 6 and older. I was so delighted by this stat that I initially missed that there's also a weight limit of 110 pounds. But I can report that the cart will still work with a rider around the 150-pound weight.
While the balancing aspect is thrilling for people of all ages, the short distance from the seat to brake and accelerator pedals are the biggest hindrance to making it quite as fun for taller adults. Read the directions and follow the recommended guidelines. (It can work for some adults.) For kids who might fall within the recommended guidelines, but who are too tall, there is a Nighthawk NexGen model that extends the pedal and hand grips.
During my brief test run, I didn't get the same sense of speed my kids did. Proportionally, they felt like they were flying. The 6.5 miles per hour felt reasonable for this vehicle type. Sure, after lots of familiarity with it, a faster speed would have been welcomed, but overall the speed felt just right.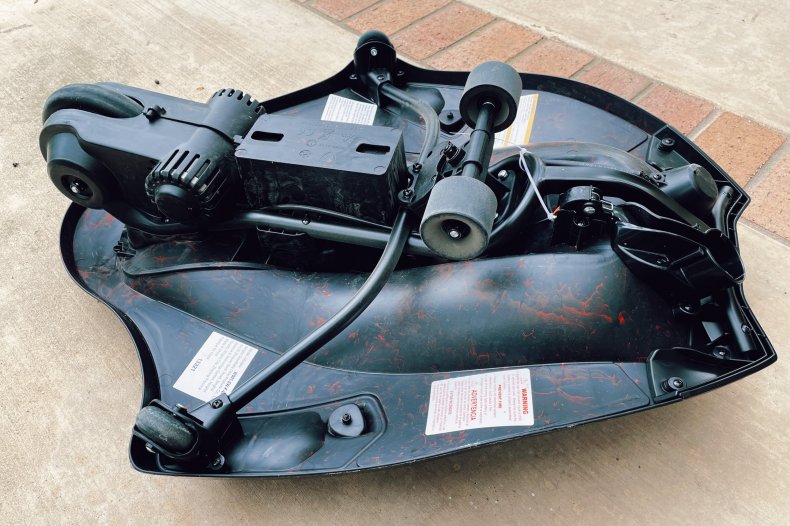 My kids, both under 10 years old, loved the Nighthawk vehicle from the moment they saw it. They liked it just as much after plenty of time using it, as well. The potential a kid sees in a toy they can "really" drive takes little imagination. And ultimately, the vehicle delivered on the promise they saw in it.
The biggest downside with Nighthawk is that it's a little heavy to carry. It weighs 20 pounds, but most people will be able to lift the cart to put it in a car trunk or move it around the garage. The weight and physical shape does make the vehicle a little difficult to carry for long distances. Carrying it down the block to a park, it became quite heavy.
Should You Buy the Rollplay 12V Nighthawk?
The Nighthawk is a little unassuming in its appearance. It's not one of those novelty electric vehicles, like a small version of a car or an SUV. What it lacks in looks, it makes up for in utility. There is a thrill in learning to balance it, plus there's fun in being able to turn in circles and have a wide range of maneuverability.
You'll have to decide whether spending around $150 on a toy vehicle fits within your budget, but I can verify that kids think it's fun and it works as advertised.
Buy at Amazon for $143 and Walmart for $139.
Newsweek may earn a commission from links on this page, but we only recommend products we back. We participate in various affiliate marketing programs, which means we may get paid commissions on editorially chosen products purchased through our links to retailer sites.