Rolls-Royce Unveils Flying Taxi Plan That Could Launch as Soon as the 'Early 2020s'
Rolls-Royce, the British luxury car and plane engine manufacturer, has unveiled plans to develop a flying personal vehicle that could be available by the early 2020s.
The company says the vehicle, which can take off and land vertically, could be adapted to serve as a flying taxi for personal or public transportation purposes, or used for military or logistical applications.
The "electric vertical takeoff and landing" (EVTOL) vehicle will be able to carry four or five people and travel at speeds of up to 250 miles per hour, with a range of 500 miles.
The concept features gas turbines that generate electricity for six propulsors—a type of propeller that can be swiveled to give forward, upward or downward flight. These will be specifically designed to limit noise, according to the company.
The aircraft's wings will be capable of rotating 90 degrees, enabling it to take off and land like a helicopter. Furthermore, the four propellers fitted to the wings will fold away once the vehicle reaches cruising height, reducing cabin noise and drag, with the rear propellers providing thrust.
Rolls-Royce say the vehicle will be designed to make use of existing infrastructure, such as heliports and airports.
"We believe that given the work we are doing today to develop hybrid electric propulsion capabilities, this model could be available by the early to mid-2020s, provided that a viable commercial model for its introduction can be created," Rolls-Royce said in a statement.
As more of the world's population migrates to large cities that are already plagued by congestion, EVTOL vehicles are emerging as a potential alternative to conventional transport systems.
Companies such as Uber, Chinese company EHang and Kitty Hawk (backed by Google co-founder Larry Page) are all developing their own personal flying vehicles. Meanwhile, the United Arab Emirates city of Dubai has unveiled plans to develop a drone taxi service.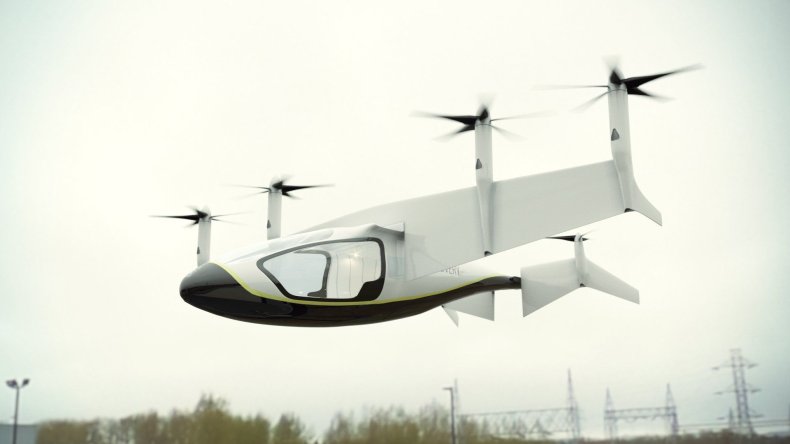 Rolls-Royce announced its new concept at this year's Farnborough International Airshow, now taking place in the U.K.—the second-largest airshow in the world and a major opportunity for the aerospace and defense industries to showcase their new designs and secure new business.
The company says it will reveal more details of the concept vehicle over the next few days, although it has said it is searching for partners to manufacture the airframe of the new vehicle and to provide aspects of the electrical system.