Roma Petition Pope Over Forced Evictions in Rome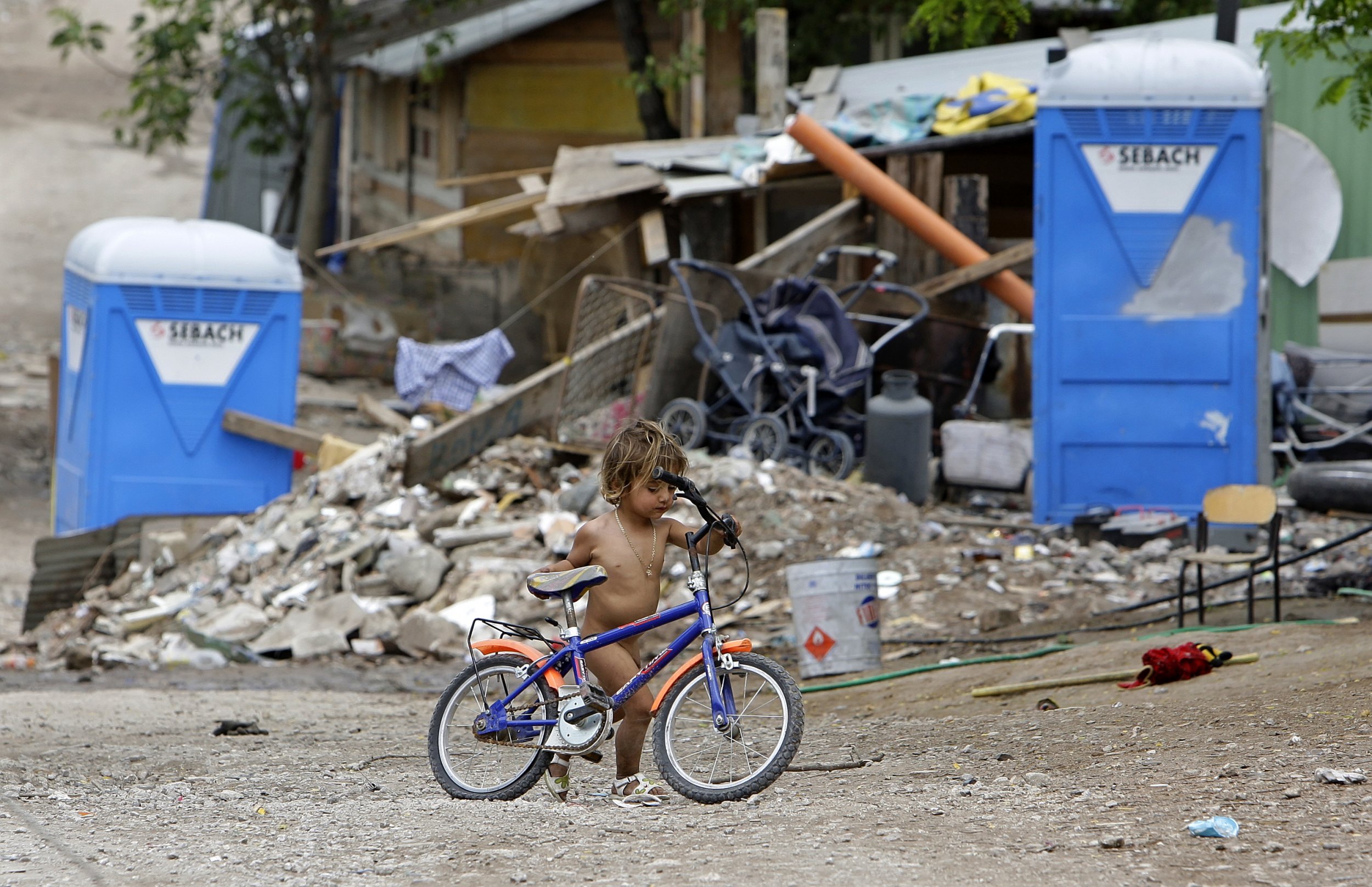 Romani families in Italy are calling on the pope to save them from eviction and separation as Rome cracks down on their makeshift accommodation ahead of the Vatican's so-called 'Year of Mercy' jubilee celebration.
The number of forced evictions of Roma from their homes in dilapidated shacks across the Italian capital increased fivefold in the three weeks following the pontiff's announcement of the celebration, independent monitors Associazione 21 Luglio told Newsweek.
Since March 13, when Pope Francis - known for his work with the poor and homeless - declared a year-long jubilee beginning in December focusing on forgiveness and hospitality, more than 300 Roma have been evicted.
When the last jubilee year took place in 2000-01 under pope John Paul II, an average of 710,000 visitors attended Vatican masses and celebrations each month.
2,200 Roma living in unofficial settlements in Rome which are considered illegal by municipal authorities, while a further 8,000 Roma live in overcrowded municipally-sanctioned camps on the outskirts of the city which activists describe as "concentration camps".
Enrico Guida, Associazione 21's human rights officer, says forced evictions frequently result in Roma families being rendered homeless or fathers being separated from their wives and children in alternative housing.
The Vatican must intervene and protect Roma communities if the trend continues, says Dijana Pavlovic, project manager for Roma in Italy for the European Commission and the Council of Europe.
"You cannot destroy the poorest people for the purpose of a jubilee," says Pavlovic, who is herself a Serbian Roma.
"Maybe Pope Francis could intervene about this. He has already said some positive things and visited Roma communities so it could be a good thing."
She fears that those within the city could be forced into the overcrowded camps on the outskirts, which often lack basic infrastructure, such as clean water and waste removal, and are isolated from other communities which precludes Roma integration, according to Pavlovic, who describes them as "concentration camps".
Guida says he is fearful of a "systematic campaign of forced eviction" over the summer as the jubilee approaches. "We will for sure try to involve the Vatican," says Guida. "If they know this is happening they would immediately intervene because this pope would never accept this approach."
Francesca Danese, Rome's councillor for social policy and emergency housing, says the increase in evictions is due to a proliferation in illegal settlements.
"There has been an increase in unauthorised settlements, often located close to legal ones, but the city is stepping up controls to restore law and minimum hygienic conditions," says Danese.
She insists that the jubilee would have no impact on the city's policy towards evicting and rehousing Roma.
However, activists believe that the the Milan Expo, a global technological exhibition beginning in May, sets a precedent for what will happen in the run up to the jubilee. Pavlovic says that some 2,000 Roma were evicted from their homes ahead of the exhibition.
Last year, Associazione 21 recorded 1,135 Roma being forcibly evicted across Italy, costing an estimated €1.1m in taxpayer's money.
Carlo Stasolla, the group's president, says he has received no response from the Roman municipality concerning the recent rise.
"Our concern is that the jubilee could result in an increase in forced evictions of Roma as a consequence of a 'sweeping under the rug' policy," he says.
The European Union's Agency for Fundamental Rights estimates there to be 200,000 Roma living in Italy, with almost 100% living in households at risk of poverty - more than double that of non-Roma Italians.
UPDATE: This article has been updated on April 24 to include the response of Francesca Danese on behalf of the municipality of Rome.