Romaine Lettuce Recall Update: 72 People Hospitalized by E.Coli Outbreak as CDC Say It's Still Not Safe to Eat
Dozens of people across the country have been hospitalized after eating romaine lettuce grown in the Salinas, California growing region.
There have been at least 138 cases of food poisoning reported in 25 states across the country, from California on the West Coast to North Carolina on the East Coast—including 33 cases in Wisconsin alone and 72 hospitalizations.
Each of these have been linked to an outbreak of E. coli first announced in November. The most recent case was reported on December 1, 2019.
On Thursday, the U.S. Food and Drug Administration (FDA) issued an update on the situation. It is something the agency continues to investigate in coordination with the U.S. Centers for Disease Control and Prevention and other groups.
As investigations continue, the CDC advises people to avoid eating products grown in the Salinas, which may not be safe to eat.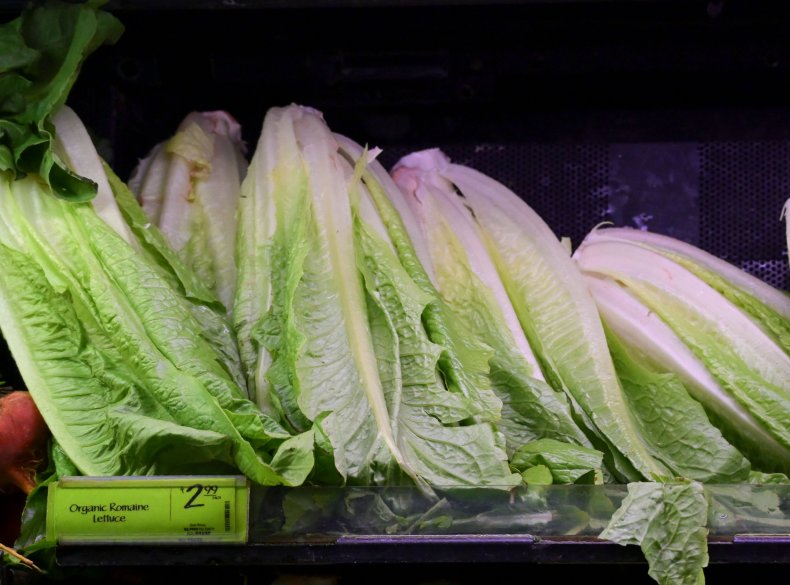 On November 21, 2019, the United States Department of Agriculture (USDA) issued a notice recalling more than 75,000 pounds of salad products containing meat or poultry from the food manufacturer Missa Bay.
According to the update, "Current traceback investigations have identified a common grower in Salinas." The FDA advises consumers to "not eat romaine lettuce harvested from Salinas, California."
"Additionally, consumers should not eat products identified in the recall announced by the USDA on November 21, 2019."
The agency has also warned consumers against eating romaine lettuce if they cannot confirm where it was grown. The exceptions are if it was produced hydroponically or in a greenhouse (and is labelled as "indoor grown"), neither of which have been implicated in the outbreak so far.
E. coli is a group of mostly harmless bacteria. However, certain strains (including E. coli O157:H7) can cause people to become seriously ill. According to the Mayo Clinic, symptoms can include severe abdominal cramps, bloody diarrhea and vomiting.
While most people will recover from a bout of food poisoning within around a week, some can develop a potentially life-threatening form of kidney failure called hemolytic uremic syndrome (HUS). This is especially true for certain higher risk groups, such as young children and older people
According to Food Safety News, 13 people have developed HUS during the current outbreak.
As the investigation continues, officials will analyze samples of soil, animal droppings, compost, water and any other substances they believe could be possible sources of the outbreak from a grower based in the Salinas.
This follows an announcement from the Wisconsin Department of Health Services on December 10, 2019.
The authorities traced a particular strain of E. coli O157:H7—found in an unopened packet of Fresh Express brand Leafy Green Romaine—to a supplier of romaine that had produced lettuce related to other E. coli outbreaks, including one in Washington state. These secondary outbreaks concern different strains of E. coli to the one being looked at in this investigation.