Romaine Lettuce Warning Update: When Can You Buy, Eat Lettuce Again After E. Coli Scares?
The Centers for Disease Control and Prevention released a warning about romaine lettuce on Tuesday following an outbreak of E. coli infections linked to the vegetable. The CDC has not advised when it will be safe to purchase and consume romaine again.
In its warning, the CDC advised consumers, restaurants and retailers not to eat, serve or sell any romaine lettuce. Consumers who had any type of romaine lettuce, including whole heads of romaine, hearts of romaine, bags of pre-cut lettuce and salad mixes, to throw it away. As Thanksgiving approaches, many people are asking when it will be safe to eat again. However, the CDC did not respond to Newsweek's questions regarding when it may be safe to resume buying and consuming romaine lettuce.
Grocery stores heeded the CDC's call and pulled romaine lettuce from shelves on Tuesday. In a statement to Newsweek, a spokesperson for Albertsons subsidiary, Shaw's, said the grocery chain was removing any products containing romaine lettuce until the CDC announces it is safe.
"In response to the Centers for Disease Control's Consumer Advisory issued November 20, Shaw's and Star Market is removing all romaine lettuce and products containing romaine lettuce from sale due to potential contamination of E.Coli 0157:H7. Customers who have purchased these products should discard them or return for a full refund," spokesperson Teresa Edington told Newsweek.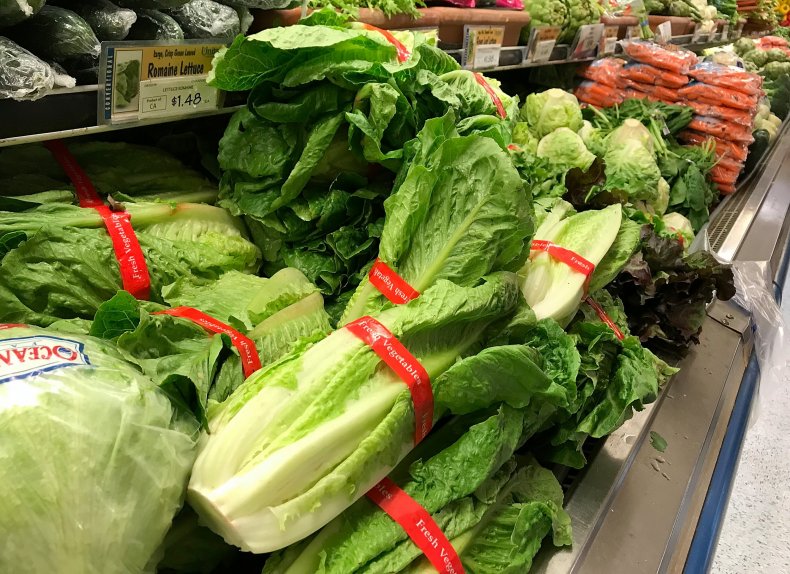 The CDC also urged consumers to wash and sanitize drawers or shelves where the lettuce was stored.
At least 32 people from 11 states have been infected with the outbreak strain of E.coli. The CDC said that 13 people were hospitalized, including one person who developed a kind of kidney failure. No deaths have been reported. Another 18 people were identified as infected with the same strain in Canada.
The CDC said that the people sick in the latest outbreak were infected with the same DNA fingerprint as the E.coli strain isolated from people sick during a 2017 outbreak. The illnesses began from October 8, to October 31.
According to the CDC, people typically get sick from the Shiga toxin-producing E.coli 2 to 8 days after ingesting the germ. Some people may develop a type of kidney failure called hemolytic uremic syndrome.
The last E.coli outbreak involving romaine lettuce was announced on April 10. The CDC said that the time that more than 200 people became infected with E.coli in 36 states. The last outbreak resulted in 96 hospitalizations and five deaths. The CDC announced that the outbreak appeared to be over on June 28.
The current outbreak was not related to the multistage outbreak earlier this year, the agency said.