Morocco Extradites Fugitive Catholic Priest to Face U.S. Sex Charges
An elderly Catholic priest who had evaded the law for almost three decades in Tangier, Morocco after allegedly committing a "long history of child sex abuse against vulnerable victims" was extradited and back on American soil as of Friday.
He is facing child molestation charges. If found guilty, he could spend the rest of his life in jail.
Arthur Perrault, 80, served as a Roman Catholic chaplain on a New Mexico Air Force Base in the 1990s and pastor at a local Albuquerque, New Mexico parish. Before that he was a pastor in Rhode Island.
Authorities say that once allegations of sexual abuse emerged against him in both New Mexico and Rhode Island, he fled the country.
Perrault was formally charged Friday afternoon in federal court with criminal aggravated sexual abuse and abusive sexual contact with one boy on federally-protected land.
U.S. Attorney John Anderson said that Perrault broke trust with the community while he was supposed to safeguard them and be "a mentor to young people."
He added that while the alleged crimes spanned decades, he said the indictment proves that his office will "pursue justice for victims despite the passage of time or the many years that this defendant sought to put between him and these alleged offenses."
The unsealed indictment accuses Perrault, who had been teaching at a school in Tangier up until his arrest, of engaging in sexual acts with unnamed victims at Kirtland Air Force Base and also Santa Fe National Cemetery.
The victim, who the indictment describes as not yet 12-years-old was said to have been repeatedly violated by Perrault.
That same year he was suspended from his role with the Archdiocese of Santa Fe, according to court papers.
The FBI brought new charges against Perrault in the Spring of 2016 when Doe came forward, a U.S. Attorney's Office District of New Mexico official confirmed.
So far only one accusation falls within the statute of limitations to bring criminal charges. But the unnamed child is apparently one of several boys who came forward with similar claims.
In a written statement, the Archdiocese of Santa Fe described the charges against Perrault as "very serious" and confirmed that it alerted authorities to the findings from an internal investigation conducted back in 1992.
"The Archdiocese of Santa Fe began its own canonical process of investigating these allegations in 1992," the statement reads. "The accusations against Perrault were reported immediately to the Albuquerque civil authorities."
And over the past year, the archdiocese declared that it has "fully cooperated with the U.S. Attorney's Office and the FBI during the federal grand jury investigation" that led to Perrault's indictment.
In a letter sent by Perrault to a New Mexico judge in response to civil lawsuits lodged against him, he claimed to receive "about $17,000 in retirement income" from the church back in 2015, according to a Motion to Detain document.
The motion describes how federal prosecutors are attempting to show that the 80-year-old is an "extreme flight risk" despite his age and "poses an extreme danger to the community."
Prosecutors refer to Perrault as a "serial child molester" who as a Roman Catholic priest committed "horrific" crimes until he fled in 1982, and would have remained in Morocco were it not for the government expelling him "involuntarily" into FBI custody, the court papers say.
They say he "poses an extreme risk of flight and danger to the community" and that "the strength of the evidence" against him and that a possible prison term of up to 121 months creates a "powerful incentive to flee" again.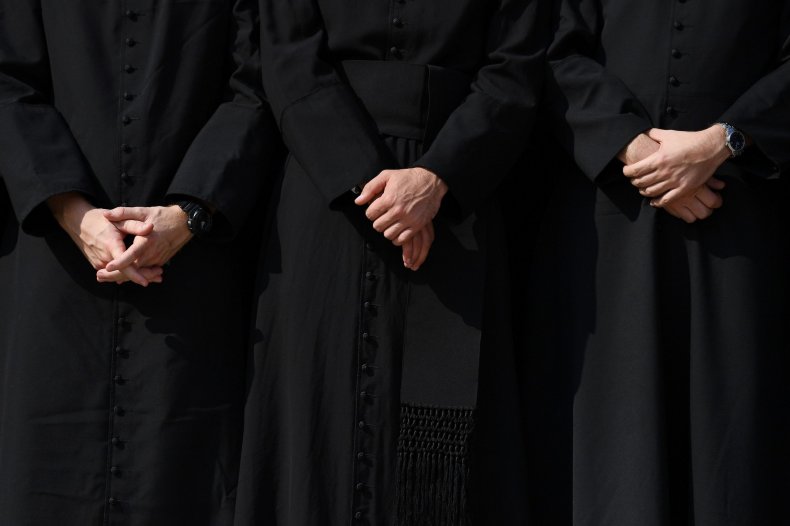 "Indeed, the proximity of New Mexico to the southern border of the United States greatly enhances [Perrault's] flight risk, particularly because he has proven that he will relocate abroad to avoid the American judicial system," the Motion to Detail Defendant Pending Trial states.
The details of Perrault's alleged pedophilia are described in some detail in the document.
Numerous other children and young adult victims described in the priest's 20 years of alleged sexual abuse told investigators how they remember the priest for his signature silk underwear and pipe smoking in his presence.
The unnamed boy at the center of the charges was an altar boy at one of the Albuquerque parishes where Perrault served.
He groomed the boy with platonic gestures, such as kisses, prosecutors say, and gave him gifts including trips to amusement parks, restaurant meals, a military medal, a stereo, and a video game player
The first sexual attack against the boy took place at the parish's rectory when the boy was "about 10 or eleven years old," the motion reads.
Other altar boys joined in describing Perrault's alleged pedophilia on the base or sometimes inside the holy man's car. Like Doe, they were gifted presents and meals.
Back in 1971, the motion notes, Perrault allegedly offered an apology letter to one of his alleged victims. But the letter blamed his sexual impropriety on "a cancer diagnosis."
But prosecutors contend that Perrault was lying and that the cancer mea culpa was "not true," the motion notes.
The letter was used as part of a civil lawsuit last year where a default judgment against Perrault awarded the victim, identified publicly as Kenneth Wolter, $16 million in damages, The Albuquerque Journal reported.
"This is pure fantasy," Perrault wrote.