Roman Reigns Ignores Fake Cancer Conspiracy Theory, Thanks 'Good Morning America' for Raising Leukemia Awareness
Four-time WWE world champion Roman Reigns ignored rumors that his cancer diagnosis and remission wasn't real. Some conspiracy theorists claimed Reigns didn't have leukemia and that it was just a plot for his wrestling career.
When users type "Roman Reigns" into Twitter autofill, one of the first things that come up next to Reigns's name is "fake." Despite some netizens claiming his illness was a farce, Reigns ignored the naysayers when he appeared on Good Morning America on Tuesday with host Robin Roberts.
"Thank you to @RobinRoberts and everyone from @GMA," he tweeted. "Thank you for the support and the platform to raise awareness for leukemia research. Now, it's time to get ready to go back to work!!"
On Monday's WWE Raw, Reigns revealed his leukemia was in remission and that he would be returning once more. Reigns, whose birth name is Leati Anoa'I, told Roberts he thought about Monday night's appearance "over and over."
"This journey not going to be complete until I step back in that ring," Reigns added. "I was so nervous last night."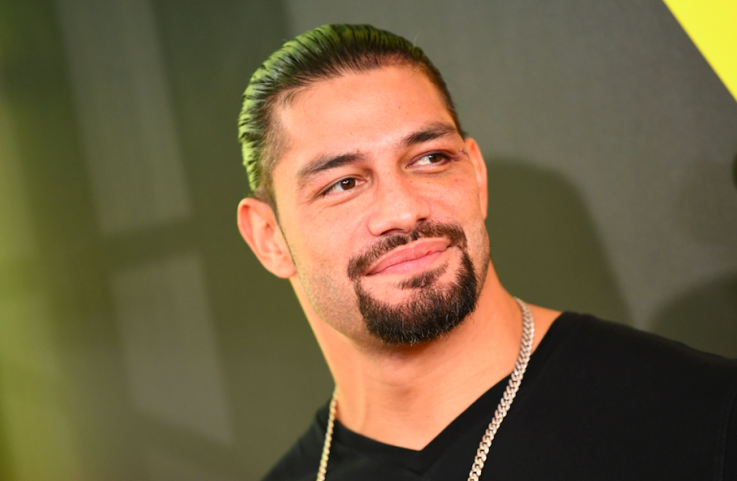 Reigns, 33, revealed his leukemia diagnosis in October 2018. Since then, he's received overwhelming support from his followers. "Everybody was thinking about me," he said. "I feel so blessed to receive that type of attention, that type of love."
He wasn't battling alone. His family, especially his mother, stuck by his side. "They are the ones worrying to death, my mom bless her heart, she is the biggest worry wart in the world," he said. "The first time it felt like I was on an island. This time it just felt like I was surrounded by guardian angels."
Reigns was first diagnosed with leukemia when he was 22 years old. "My real name is Joe and I've been living with leukemia for 11 years and unfortunately it's back," Reigns revealed in October. "And because the leukemia is back I cannot fulfill my role, I can't be that fighting champion and I'm going to have to relinquish the Universal championship."
On Monday's episode, Reigns was thrilled to say he was back. He joked that the crowd actually cheered for him. "I don't feel like I would be in this position without all of you guys. So one more time—not the last time—but more time, thank you," he said in a clip, posted to his Twitter account. As of Tuesday morning, the video has been viewed more than 400,000 times.
Roman Reigns Ignores Fake Cancer Conspiracy Theory, Thanks 'Good Morning America' for Raising Leukemia Awareness | Culture