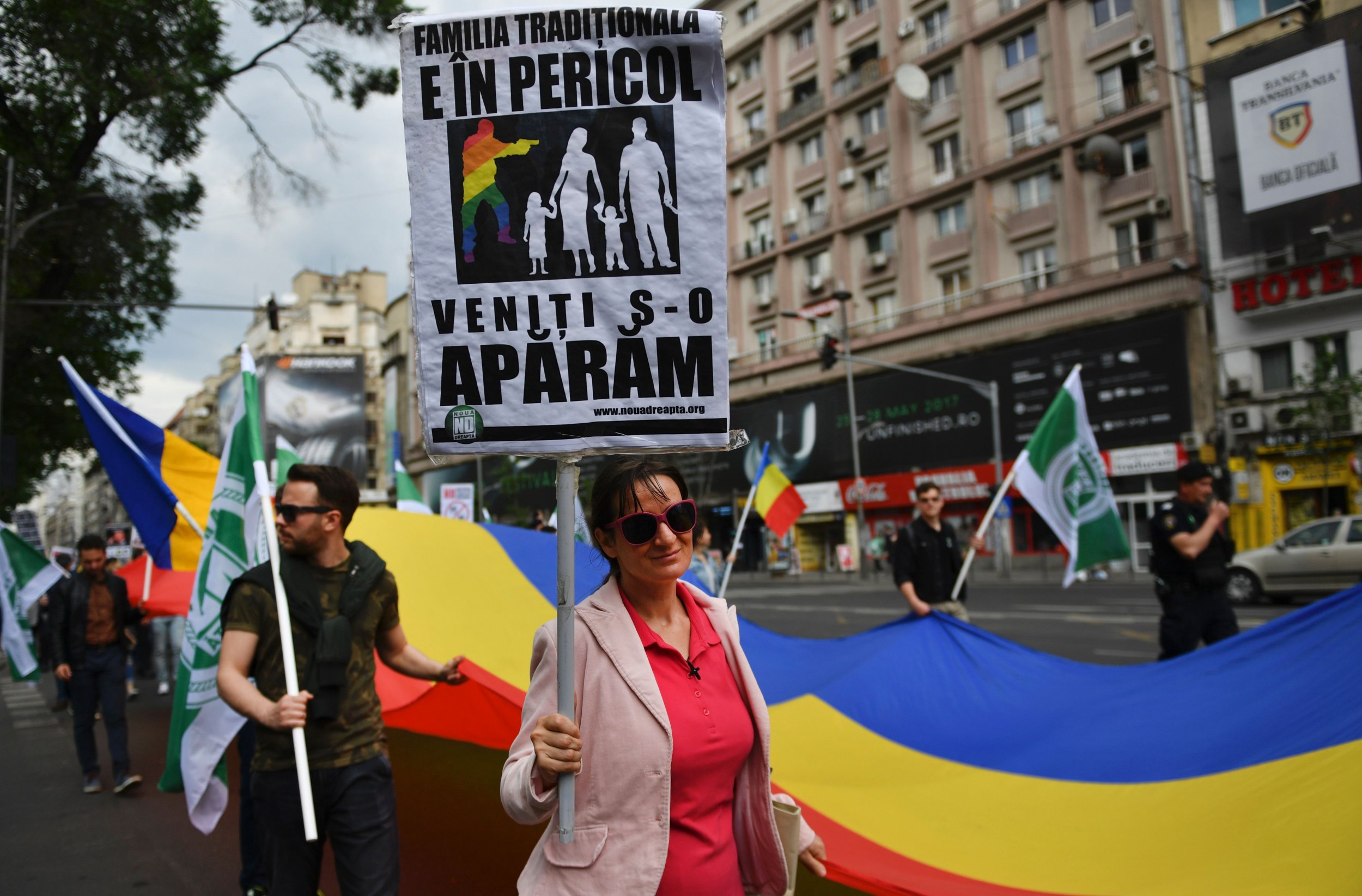 Romanian senators voted on Tuesday to approve a law that could make it impossible for same-sex marriages to be legalized.
Romania's constitution states that marriage is between two "spouses," but a 2016 petition signed by 3 million people called for a referendum to redefine marriage as being between "a man and a woman." According to Romanian law, the constitution can be changed if at least 500,000 citizens back a proposal.
Romanian senators agreed when they voted 107-13 in favor of the referendum—with seven abstentions—after the same measure passed the Parliament's Chamber of Deputies in 2017.
Serban Nicolae, a senator from the ruling Social Democratic Party, said that the referendum—which is backed by the Roman Catholic, Greek Catholic and Orthodox churches—was voted on religious grounds, adding that Romania has "been a Christian nation for 2,000 years," according to the Associated Press. Social Democratic Party's chairman Liviu Dragnea said that the referendum could be held as early as October of this year.
Accept, a group that champions equal rights of same-sex couples in Romania, said that the politicians were "raising homophobia to state value and sacrificing constitutional protection for many families," according to the Independent.
If the referendum passes, Romania will join seven EU countries—Bulgaria, Croatia, Hungary, Latvia, Lithuania, Poland and Slovakia—that have a constitutional ban on same-sex marriage. Some of these countries do not offer any type of legal protection for same-sex couples.
Although countries can still decide on the legality of same-sex marriage, a landmark ruling by the European Court of Justice last summer said that all EU countries cannot refuse residency rights to non-European Union partners of EU citizens. The decision came after a man from the U.S. who is married to a Romanian was unable to obtain a residency permit and was told that he'd be allowed to stay for a maximum of three months.
"Although the member states have the freedom whether or not to authorize marriage between persons of the same sex, they may not obstruct the freedom of residence of an EU citizen by refusing to grant his same-sex spouse, a national of a country that is not an EU member state, a derived right of residence in their territory," the judges said, according to the Independent.
The Netherlands was the first country in Europe to legalize same-sex marriage in 2001, and 14 countries—Belgium, Spain, Norway, Sweden, Portugal, Iceland, Denmark, France, the United Kingdom, Luxembourg, Ireland, Finland, Malta and Germany—followed suit, according to a report from The Council on Foreign Relations. Austria is set to join that list in 2019 when same sex-couples will be able to marry.