Rombauer Wins Preakness, Derby Winner Medina Spirit Denied Triple Crown
Rombauer on Saturday won the 146th Preakness Stakes at Pimlico Race Course in Baltimore, Maryland. The thoroughbred had 12-1 opening odds to win the race, which is the second leg of horse racing's Triple Crown.
Medina Spirit, who won the Kentucky Derby two weeks ago at Churchill Downs, finished third after entering the race as the favorite at 5-2 and a week of doping allegations. The final leg of the Triple Crown will be June 5 at Belmont Park in Elmont, New York. This means another year will pass without a Triple Crown winner.
The last horse to win the Triple Crown was Justify in 2018. Only 13 horses have completed the three-race sweep. Bob Baffert, the trainer of Medina Spirit, had a 5-1 shot at winning the Preakness as he's the trainer of both Medina Spirit (5-2) and Concert Tour (7-2), who were two of the favorites heading into the race. Midnight Bourbon was also a race favorite at 5-2 by Saturday.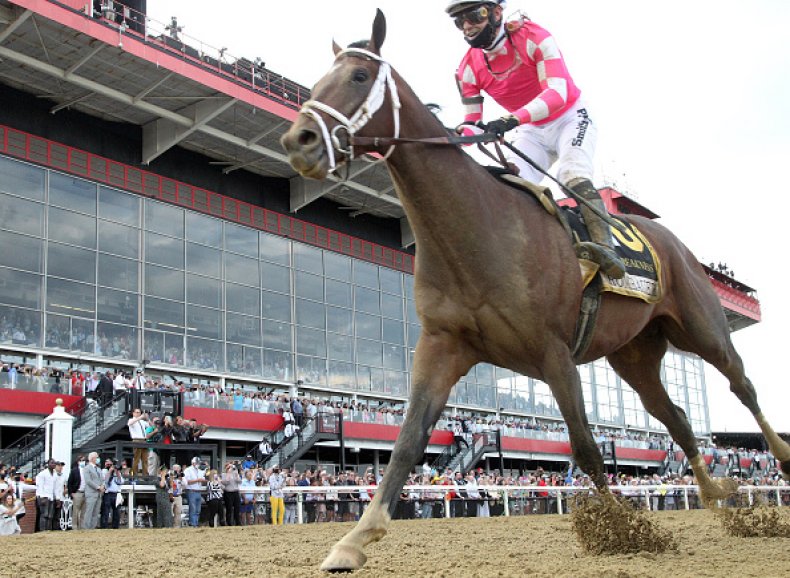 Here is the Preakness Stakes 2021 Result:
Rombauer
Midnight Bourbon
Medina Spirit
KeepMeInMind
Crowded Trade
Unbridled Honor
Franco Go De Ina
Risk Taking
Concert Tour
Ram
Three glaring omissions from the Preakness Stakes were Kentucky Derby favorites Essential Quality and Hot Rod Charlie, and Derby runner-up Mandaloun.
The three omissions weren't the biggest story of the last week, though. That belonged to Medina Spirit, who tested positive for elevated levels of an anti-inflammatory steroid called betamethasone.
Bob Baffert, who won a record seventh Kentucky Derby as a trainer with Medina Spirit's victory, denied any doping of the race horse that almost led from wire-to-wire in the first leg of the Triple Crown.
"Yesterday, I got the biggest gut punch in racing for something that I didn't do," Baffert said Sunday. "[It's an] injustice to the horse. I don't feel embarrassed, I feel like I was wronged. But I'm going to fight it."
Baffert later claimed they used an ointment on the horse, and the ointment had the corticosteroid in it. A second, split sample of the test won't be revealed for at least another few weeks, which means Medina Spirit could still be stripped of the Kentucky Derby title, which would default to Mandaloun.
Though Churchill Downs said Baffert was banned from entering anymore horses at its track, officials at Pimlico reached an agreement with the trainer that included more stringent testing of Medina Spirit during the week of the race.
Maryland Jockey Club attorney Alan Rifkin said it was about keeping "integrity of the sport" ahead of Saturday's race.
"We reached an agreement with Mr. Baffert and his lawyers that allows for additional testing, additional monitoring—essentially a watchlist to ensure the integrity of the sport leading up to the race," Rifkin said. "We're very pleased to have that, and we appreciate Mr. Baffert's patience and the way in which his lawyers went about it."
Medina Spirit drew the third post in a 10-horse race after winning the Derby two weeks earlier from the eighth post in a 19-horse race.
News of Medina Spirit testing positive surfaced last weekend, and former President Donald Trump weighed his opinion, calling the horse a "junky" and comparing cheating to today's America.
"So now even our Kentucky Derby winner, Medina Spirit, is a junky," Trump said. "This is emblematic of what is happening to our Country. The whole world is laughing at us as we go to hell on our Borders, our fake Presidential Election, and everywhere else."