Italian Soccer Fans Deny Monkey Chants at Romelu Lukaku Are Racist, Insist They're a Form of 'Respect'
A group of Italian soccer fans are defending monkey chants aimed at Belgian player Romelu Lukaku, insisting the cheers are a form of "respect."
In a matchup between Internazionale Milano and Cagliari Calcio on Sunday, Lukaku, who was born in Antwerp to Congolese parents, scored the winning goal, taking Inter Milan to a 2-1 victory. After the score, Cagliari fans in the risers began making monkey noises.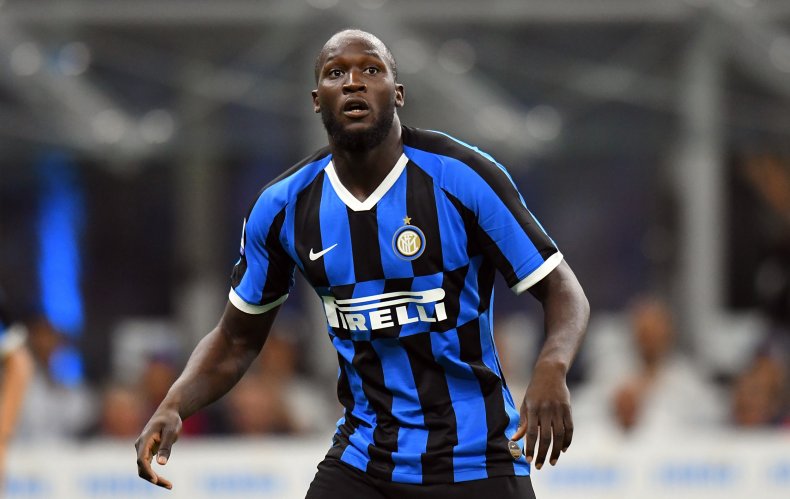 The 26-year-old striker later condemned the incident on Instagram, complaining that the sport is "going backwards" and chants like those "put our game in shame."
But in an open letter on the Inter Milan fan group Curva Nord's Facebook page, the group claimed the chants weren't racist, merely gamesmanship.
"You have to understand that Italy is not like many other north European countries where racism is a real problem," the letter read. "We understand that it could have seemed racist to you but it is not like that. In Italy we use some 'ways' only to 'help our teams' and to try to make our opponents nervous, not for racism but to mess them up.
"Please consider this attitude of Italian fans as a form of respect for the fact they are afraid of you for the goals you might score against their teams and not because they hate you or they are racist," it added.
Serie A, the premier Italian soccer league, condemned the chants and said it would conduct an investigation.
Cagliari management issued a statement, as well, indicating that it intends to "identify, isolate and ban those ignorant individuals whose shameful actions and behaviors are completely against those values that Cagliari Calcio strongly promotes in all their initiatives."
But Sunday's incident was just the latest in a series of racial incidents sparked by Cagliari fans: Juventus player Moise Kean was subjected to similar monkey chants last season when playing against Cagliari. Despite admitting the actions were "reprehensible," Serie A didn't issue any sanctions against the team or its fans.
A season earlier, Cagliari boosters were called out for abusing another Juventus player, Blaise Matuidi, but no action was taken against the team.
In 2017, Ghanan footballer Sulley Muntari, a midfielder with Pescara, walked off the pitch after being abused by Cagliari fans. Muntari received a one-game suspension for his protest.
Pro footballers of African descent have called out Sunday's incident, with former Newcastle striker Demba Ba tweeting, "Here's the reason why I decided not to play [for Cagliari] when I could."
Former player Clinton Morrison said that, after the fan club's open letter, Lukaku should consider leaving Inter Milan. "Basically what they're saying is in that country it's acceptable to be racist. And if you're going to come over and play in Italy you might as well get on with it."
Lukaku only signed with Inter Milan a month ago, snagging a lucrative $89 million contract. In 2017, while he played for Manchester United, he was also the subject of racist taunts when fans started singing a chant about his penis.
Lukaku comes from something of a football dynasty: His father, Roger Lukaku, played professional football in Zaire and his younger brother, Jordan, currently plays for Lazio in Italy. Lukaku's cousin Boli Bolingoli-Mbombo is a winger for Celtic FC in Glasgow.