Romney Explains Vote to Remove Trump From Office on Fox News: 'I Swore an Oath… That I Would Apply Impartial Justice'
Republican Senator Mitt Romney of Utah said he was voting to convict President Donald Trump Wednesday because he took an oath to apply "impartial justice."
Speaking to Fox News anchor Chris Wallace, Romney explained his reasoning on becoming the first U.S. senator to vote to remove a president from his own party. Romney said that he believed Trump should be removed from office for interfering with an election.
"I believe that the act he took, an effort to corrupt an election, is as destructive an attack on the oath of office and on our Constitution as I can imagine. It is a high crime and misdemeanor within the meaning of the Constitution, and that is not a decision I take lightly. It is the last decision I want to take," Romney said.
"The personal consequences, the political consequences, that fall on me as a result of that are going to be extraordinary. But I swore an oath before God—and I'm a religious person—that I would apply impartial justice. And applying impartial justice said what the president did was grievously wrong. And I had to vote—if I was going to live with my own conscience—in a way that was consistent with that oath of office," he added.
"I do believe he should be removed from office. That's the vote I will take in just a short while," Romney concluded.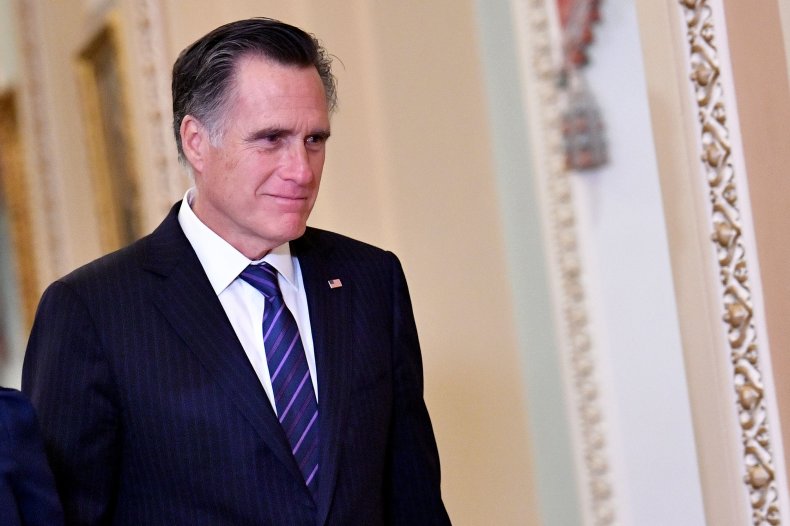 The Senate voted on Wednesday to acquit Trump of the charges levied against him by the House of Representatives. The voting was split along party lines, with Romney as the only Republican to vote to convict on the impeachment charge of abuse of power. He voted to acquit on the charge of obstruction of Congress.
"The president's purpose was personal and political. Accordingly, the president is guilty of an appalling abuse of public trust," Romney said in a floor speech. "What he did was not perfect, no. It was a flagrant assault under electoral rights, our national security and our fundamental values. Corrupting an election to keep one's self in office is perhaps the most abusive and destructive violation of one's oath of office that I can imagine."
The final votes were 48-52 on the abuse of power charge, and 47-53 on the obstruction of Congress charge. A two-thirds majority—or at least 67 votes—would have been needed to convict Trump, requiring 20 Republicans to side with Democrats. With this ruling, Trump has become the third president to be acquitted of articles of impeachment.
The central issue in the impeachment trial was a phone call between Trump and Ukrainian President Volodymyr Zelenskiy during which it was alleged Trump proposed a quid pro quo—Trump would release nearly $400 million of aid that had already been approved by Congress to Ukraine if the country would open an investigation into former Vice President Joe Biden and his son Hunter, who served on the board of Burisma, a Ukrainian energy company.